The Orange Hand Migrates To Miss Ireland...
Japers. You'd think with all the hullabaloo over Rozanna Purcell's 'ronsealed' tannage at the Miss Universe Ireland contest recently that the gals over at the Miss Ireland contest would cop-on and tone it down a tad? Not so folks. Miss Waterford Emma Waldron won the M.I.2010 tiara at the weekend (congrats btw) with those darn orange hands in full-effect. Beauty Queens of Ireland, please step away from the fake bake...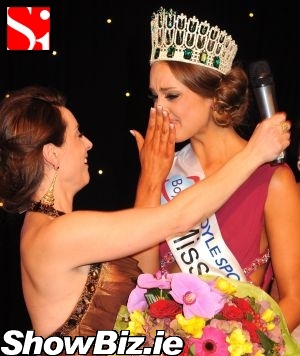 Emma Waldron (Miss Ireland 2010) & Sinead Desmond
Tut tut and another tut. With all the prep that goes into these numerous beauty pageants and all the subsequent press the winner gets, you would think at this stage the organisers and stylists and makeup artists would be on-the-ball and able to advise the hoards of hopefuls how to apply the aul fake tan? Like, how hard can it be NOT to tango oneself?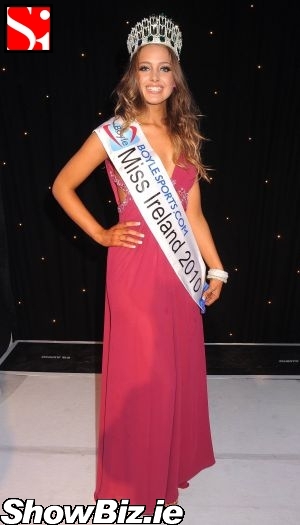 Emma Waldron (Miss Ireland 2010)
When Rozanna Purcell won the M.U.I.2010 crown a while ago, our wee ShowBiz.ie feature on her spray tan nightmare (no thanks required) caused a national scandal bigger than Brian Cowen's Gargle Gate. Well, Almost. Anyways, we thought that subtle nudge might give all future lovely girls the hint to tone-down the tan and even sway them away from all the fake nails, fake eyelashes, fake hair-pieces, and chicken fillets...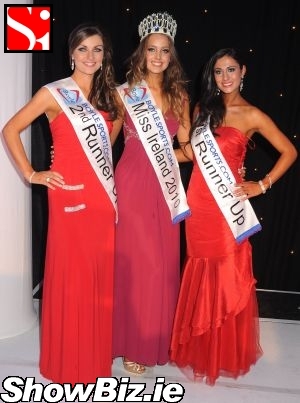 Miss Wexford Laura Scanlon, Miss Ireland 2010 (Miss Waterford) Emma Waldron, Miss Antrim Natasha Shafai
Sadly, Miss Ireland 2010 winner Emma Waldron seemed to be exhibiting that dreaded deep orange hue on her hands and arms when she was handed the winner's sash by Sinead Desmond at the D4 Berkerley Hotel. As she threw her hand up to her face at the moment her name was pulled out of the envelope, the stark contrast between skin tones was all too evident. Mr. Ronseal struck again.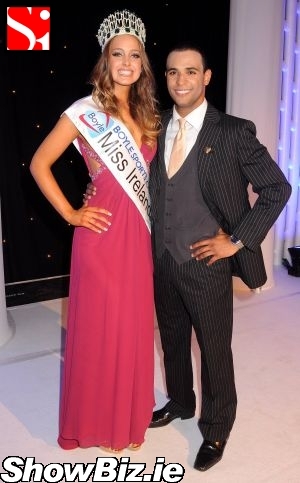 Miss Ireland 2010 Emma Waldron, Kamal Ibrahim
Although, don't let that take away from her achievement, we reckon our Emma was the deserving winner on the night and we have high hopes for her at the Miss World finals. But can someone in the Miss Ireland organisation please give her the heads-up on the proper application of false tan ala Rozanna Purcell? Uniform skin-tone a must.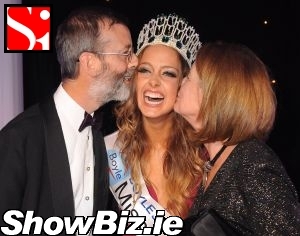 Miss Ireland 2010 Emma Waldron with Dad Michael & Mother Yvonne
Apart from Tan Gate at the Miss Ireland finals there isn't much else to gossip about, the night was a success, well done to all. Oh, there was Supper Gate, where all the judges (Sinan O'Mahony, Michael Doyle, Amanda Brunker, Lukas Hassel, Virginia Macari) ordered in a few bags of chips as they apparently didn't get any dinner (at least that's what they told our snapper!). Proper order too, keep that bunch honed and hungry we say.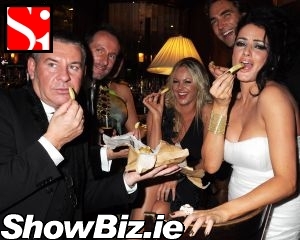 Sinan O'Mahony, Michael Doyle, Amanda Brunker, Lukas Hassel, Virginia Macari
So there you have it folks - stunning and gracious winner Emma Waldron is going forward to represent Ireland at Miss World 2010. We wish her the best of luck with that and all of her future prospects too...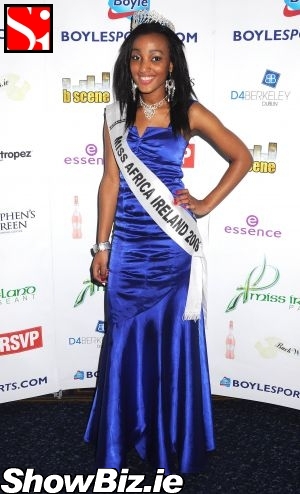 Miss Africa Ireland Stazia Costa
Right. Other peeps we snapped on the night included: runners-up Miss Wexford Laura Scanlon and Miss Antrim Natasha Shafai; Mr World Kamal Ibrahim; PR Queen Valerie Roe; Miss Africa Ireland Stazia Costa; Big Brother babe Noirin Kelly; former Industry singer Michele McGrath; Clinic actress Leigh Arnold; and models Niamh Walsh & Dervla Hogan...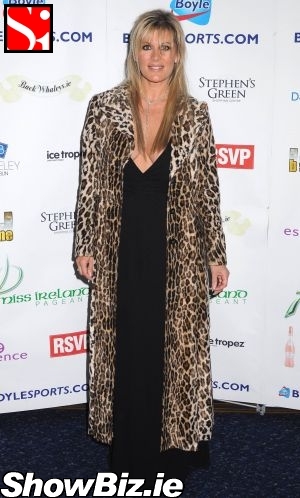 Valerie Roe
And the list goes on, other guests included: Lisa Fitzpatrick, Kerrie McMahon, Orla Sexton, Miss Fermanagh Niki Cartmill, Miss Wicklow Holly Elliot, Patrice McGillycuddy, Nicola Hughes, Rachel McHugh, Siobhan McClafferty, Amy Martin, Miss Longford Zarah Shah, Michael Scott, Elaine Crowley, Julien Benson, Geraldine O'Callaghan, Liam McMahon, and many more...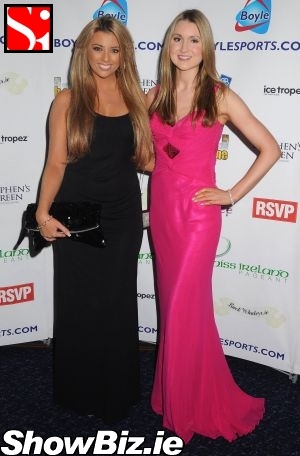 Niamh Walsh, Kerrie McMahon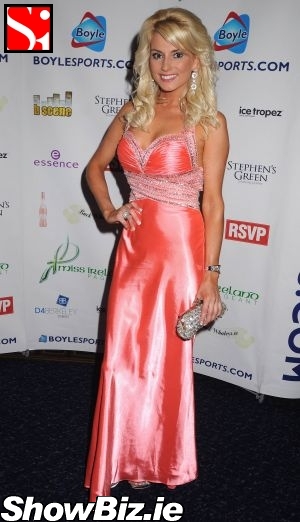 Orla Sexton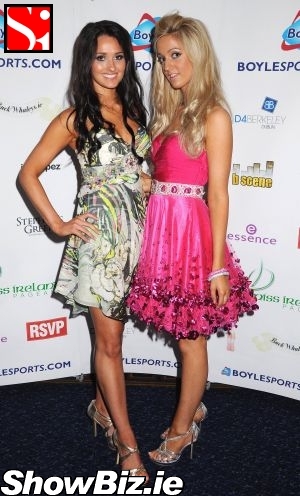 Miss Fermanagh Niki Cartmill, Miss Wicklow Holly Elliot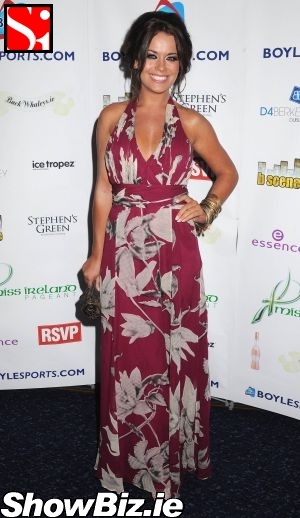 Michele McGrath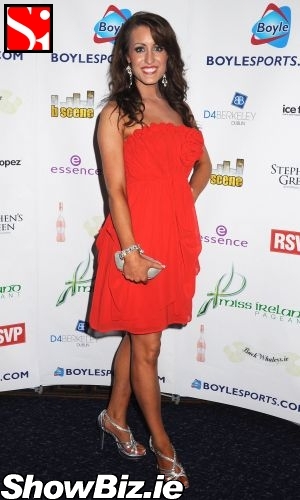 Patrice McGillycuddy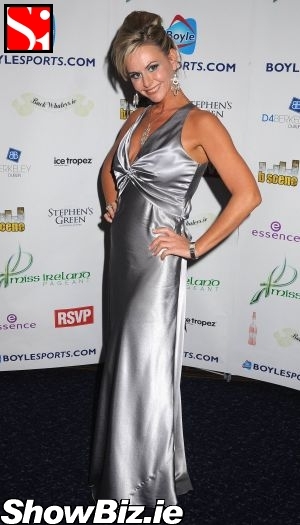 Siobhan McClafferty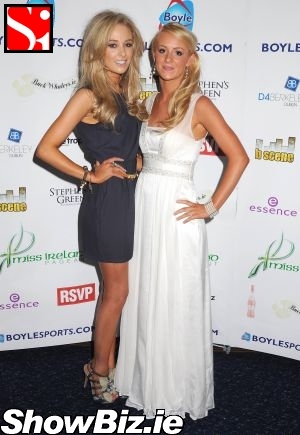 Nicola Hughes, Rachel McHugh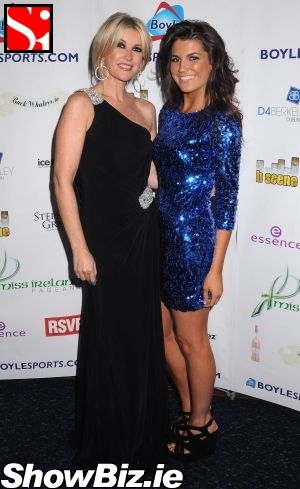 Lisa Fitzpatrick, Amy Martin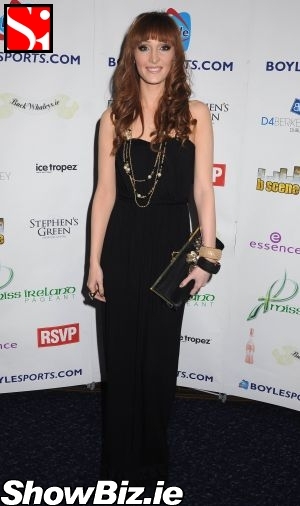 Dervla Hogan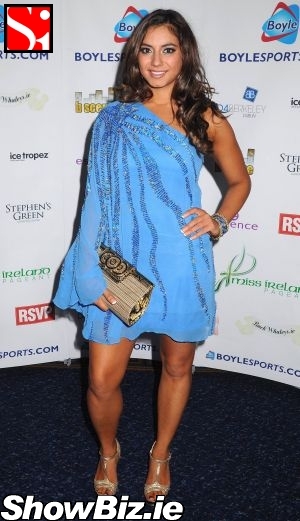 Miss Longford Zarah Shah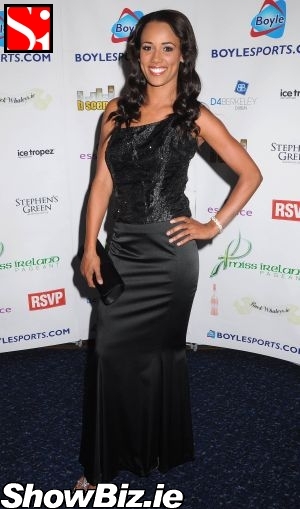 Noirin Kelly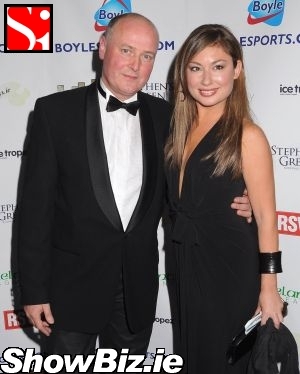 Michael Scott, Leigh Arnold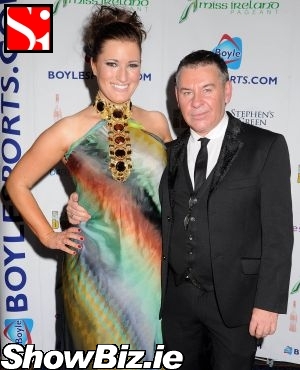 Elaine Crowley, Michael Doyle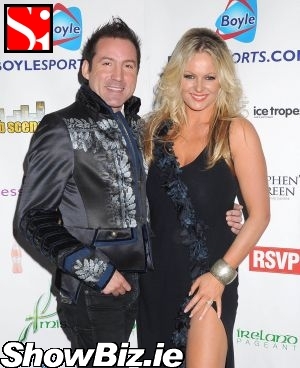 Julien Benson, Amanda Brunker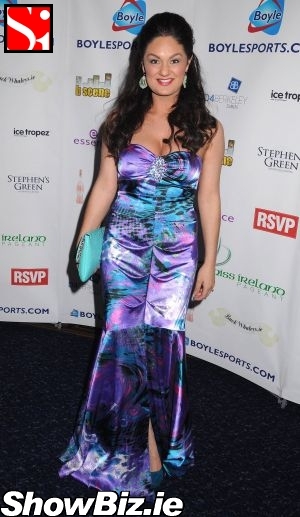 Geraldine O'Callaghan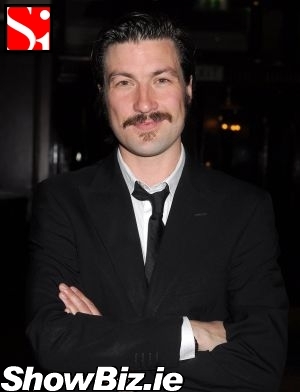 Liam McMahon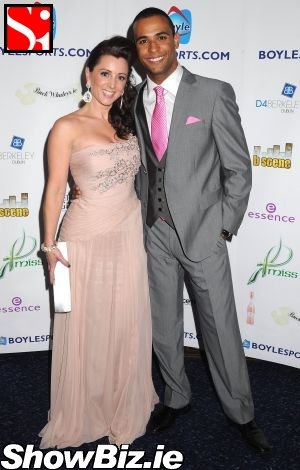 Sinead Desmond, Kamal Ibrahim
Emma Waldron (Miss Ireland 2010)