It's Kat Von D-ublin...
She's hot, she's American, and she's got tattoos on every conceivable part of her rather sexy body. And yes, we've conceived every part of that body many-a-time. Last weekend Kat Von D left Miami Ink behind in the States and launched her book 'The Tattoo Chronicles' in Dublin. Weather permitting...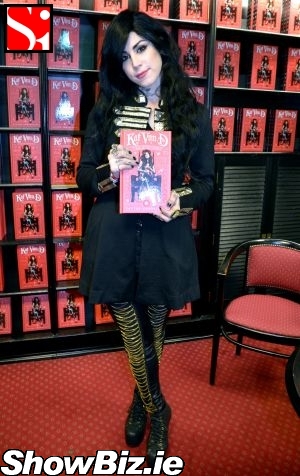 Kat Von D
With all the blizzards of freezing snow and all the blizzards of angry protestors on the streets of Dublin last Saturday, the queen of ink Kat Von D was a wee bit last to her book signing at Waterstones. About two hours to exact, but hey, she's worth waiting for... A real live human work of art.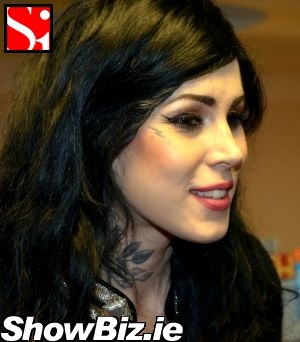 Kat Von D
With hundreds and maybe even thousands of Miss Von D fans lined-up on Dawson Street last Saturday afternoon, no one was budging in the queue even though the inked-icon was very running late... Some of those committed fans even gave-up storming Leinster House to see the raven haired beauty. As did we. Nationalists we are not.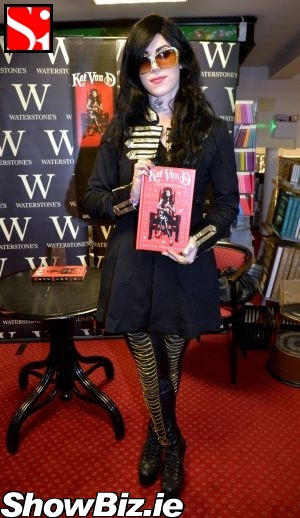 Kat Von D
Once on the scene Kat met-up with one of the guys from Dublin Ink tattoo parlour in Temple Bar, John Connolly, but didn't drop by their studio to get some extra skin art applied. Apparently she has no room left... Or perhaps she was just too scared Dani from like Fade Street would try to like befriend her at the trendy studio like... God forbid. Like.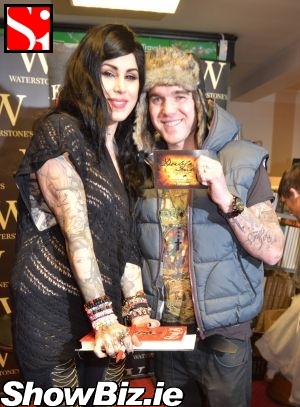 Kat Von D & John Connolly of Dublin Ink
Anyways, Kat Von D's new publication 'The Tattoo Chronicles' is in all good book stores now so check it out if you're planning to get inked-up.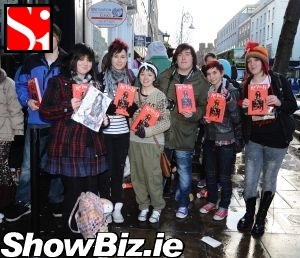 Kat Von D Fans
You don't have to be a 20 stone skin-headed biker with a pierced willy to appreciate this type of thing. But it sure helps.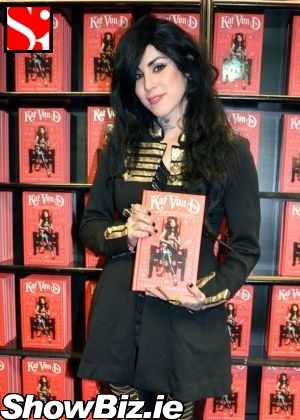 Kat Von D