Oh Yeah. GlenRo In Da Bag...
It takes us a while to get it going folks, but after a few doses of Bizagra, we always get up there in the end. Yup. We somehow managed to track down the elusive Glenda Gilson and her fiance boyfriend Rob McNaughton yesterday and snap the cute cameraphobic couple. You said it. GlenRo in da bag...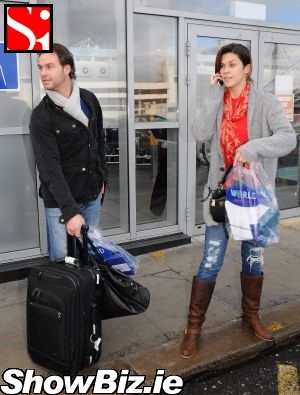 Glenda Gilson & Rob McNaughton
After teasing and punking us over her virtually invisible from the media relationship last week in Jervis Street, we felt it was our civic duty to get one back on Xpose presenter The Glenda. Thus, when we heard she'd be flying back in from an official X Factor weekend assignment, we hid a wee smelly snapper in the long grass at Dublin airport all set for an ambush.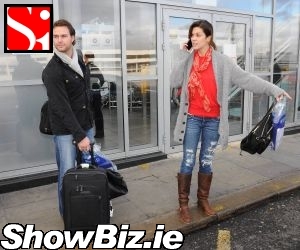 Glenda Gilson & Rob McNaughton
And did it pay off? Sure did. Herself and handsome Robbo jetted back in to Ireland carrying her batch interview footage cassettes in see-through airport bags and spent what seemed like ages trying to flag down a cab. What. No chauffeur?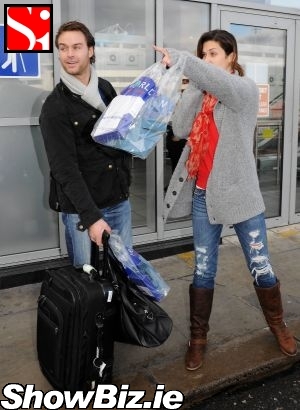 Glenda Gilson & Rob McNaughton
It wasn't long before GlenRo realised they were the focus feature for our unwashed and oily cameraman lurking amidst the fag ash and snot rags in a nearby putrid dustbin. And being the politically correct people's party that we are, we of course gave the two the opportunity to pose together in a nice and clean family portrait. Alas, they declined... Don't say we didn't ask.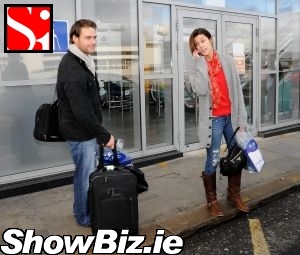 Glenda Gilson & Rob McNaughton
So there you have it folks, some rare candid photos of Glenda Gilson and her new fella Rob McNaughton... Sure who knows? They may even book our boys for their big day.