The George: 25 Years of Gayness...
Ireland's Premier Gay Club 'The George' celebrated 25 years of outright unabashed outness at the weekend with performances by Jonathan Ross' '4 Poofs & a Piano' and our very own '4 Drag Queens & A Cake'. Yes folks, we were there supporting our gay brothers and sisters...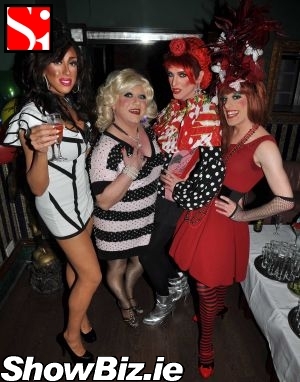 Davina Devine, Golly Grip, Veda Beaux Reves, Shirley Temple Bar (4 Drag Queens & A Cake)
Dusty historians in corduroy coats will try and tell you that gayness was invented by the Greeks or the Romans, when in fact gayness was invented right here in Dublin 25 years ago when Oscar Wilde and Senator David Norris threw the world's first ever gay bingo night in a little known bar on Georges Street. FACT.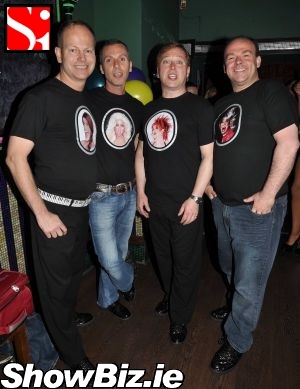 David Roper, Dave Wichenden, Ian Parkin, Stephen De Martin (4 Poofs & A Piano)
Okay. Okay. Maybe none of that is true but seeing as Dublin is the most OUT city in Europe, nay, The World - it may as well be true for we have more gays per capita than anywhere else on the planet. A figure you won't see on the Bord Failte website... Really? Yes. The Irish Tourist Board in conjunction with the Government should be chasing the 'Pink Pound' instead of all this NAMA nonsense for there is NO gay recessions going on.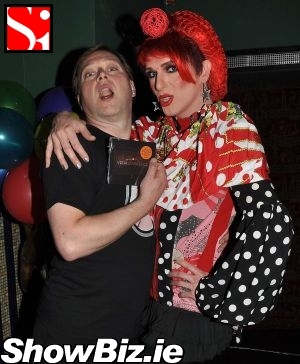 Ian Parkin, Veda Beaux Reves
Annnnyways, back on point. If there is something the Irish gay community do well its celebrate. Yup. These lads don't need an excuse to party like it's 1999 yet they find one several times a week. Several times a day in some cases...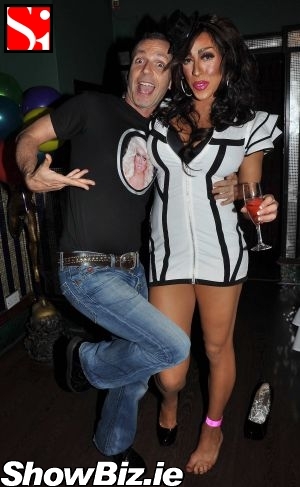 Dave Wichenden, Davina Devine
So you can only imagine the out-and-out craic that was had at the weekend when the birthplace of proud Irish gayness hit a quarter of a century old? It was like the 4th of July meets St Patricks Day at Mardi Gras in New Orleans on New Years Eve. Except far gayer.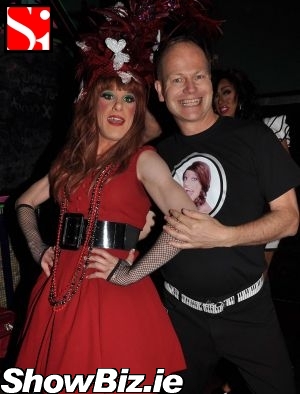 Shirley Temple Bar, David Roper
And to get the party started The George invited over Jonathan Ross' flaming houseband (wonder will Graham Norton keep them on?) '4 Poofs & A Piano' who hooked-up with some of our very own top Drag Queens to put on a memorable show to a packed-to-the-brim house... Use your imagination. There was even a Mr. Whippy van parked out back serving 99ers. No double-entendre implied.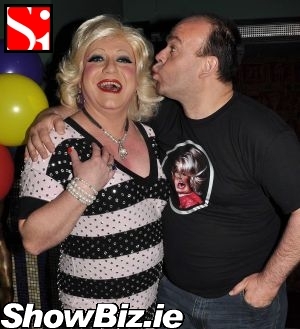 Golly Grip, Stephen De Martin
ShowBiz.ie is a big supporter and promoter of Ireland's vibrant gay community - everything from The Alternative Miss Ireland to Gay Pride March to TV3. We're there folks.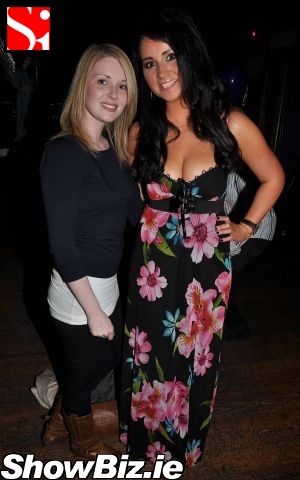 Sarah Brown, Erica Leavey
Thus, we'd like to wish The George a Happy 25th Birthday. Here's to 25 more years when Ireland will be a completely gay Nation and even the Pope will have finally come out of his gilded Vatican closet. Huzzah!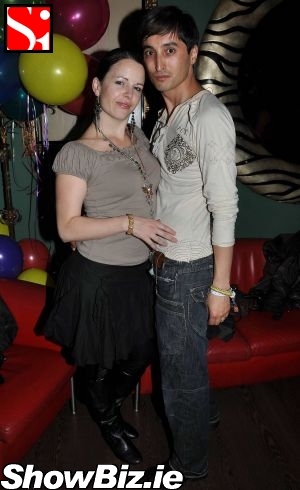 Emma Smith, Shamil Sharshek
Other than The Poofs & The Queens - other guests at the party we snapped were: Greg Manley, Sarah Brown, Jack Wai, Erica Leavey, Daniel Grobbler, Emma Smith, Shamil Sharshek, Donna O'Keefe, and many more...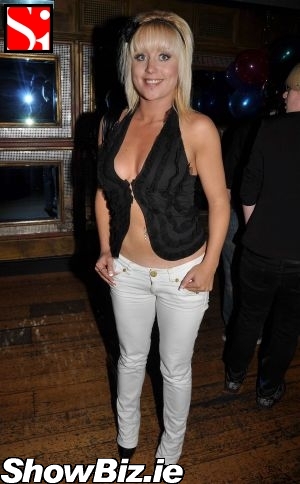 Donna O'Keefe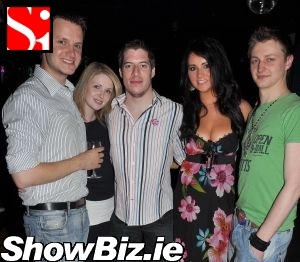 Greg Manley, Sarah Brown, Jack Wai, Erica Leavey, Daniel Grobbler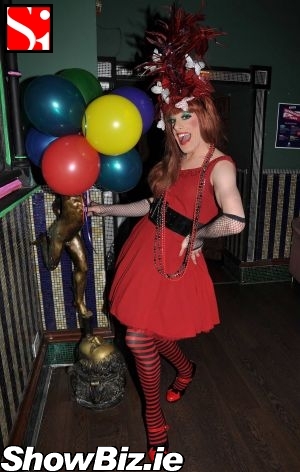 Shirley Temple Bar