Today's Name That Photocall...
New game folks, exclusively the brain child of ShowBiz.ie. It's called 'Name That Photocall', a bit like Name That Tune except not really at all... Basically we present you with all the pictures from a recent photocall without the press release blurb - all you have to do is guess what it was all about and: Name That Photocall!!!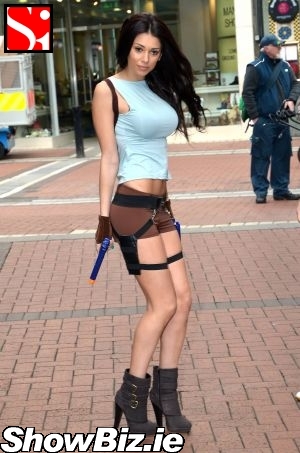 Georgia Salpa
Today's Name That photocall is a complex one, shot just off Grafton Street with three models and one popular radio personality. First off we had a gun toting Georgia Salpa dressed as Lara Croft from Tomb Raider... Any idears yet?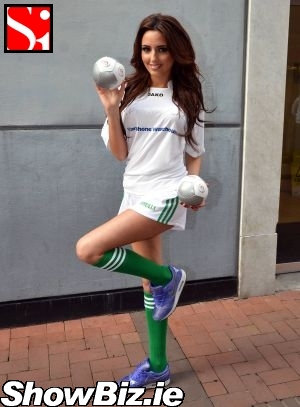 Nadia Forde
Then we had Nadia Forde dressed in a sexy soccer outfit holding two balls in her hands... Getting any closer?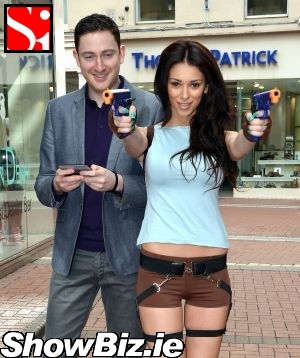 Ray Foley, Georgia Salpa
After that DJ Ray Foley stepped into the fray, fiddling around on his phone as our Georgia pointed her big guns at the camera. Surely you have it now folks?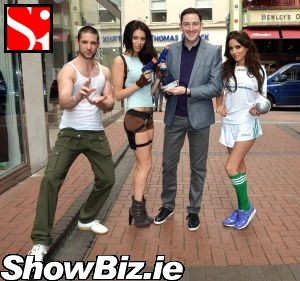 Gergo Gacsi, Georgia Salpa, Ray Foley, Nadia Forde
Lastly, we had a group shot of a guy in his vest doing a Kung Fu pose, Georgia being all Tomb Raidery, Foley displaying his phone's screen, and Nadia gripping a ball like nobody's business...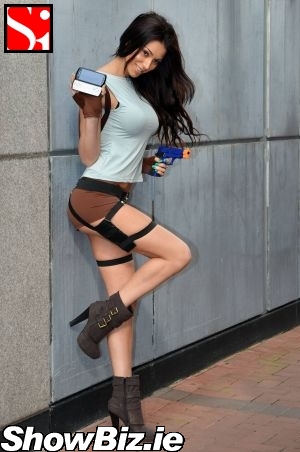 Georgia Salpa
So there you have it avid ShowBiz.ie readers, all clues are in, can you Name That Photocall?? Later on we'll be posting the caption from the PR peeps below and let's see who got it right... This game rocks, it's like the new Sudoku. Only more shite.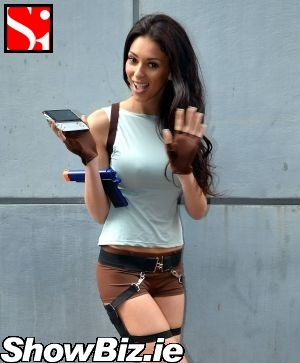 Georgia Salpa
Update... The photocall was: The launch the world's first Playstation smartphone by Sony Ericsson available exclusively at The Carphone Wharehouse. Well done 'mowbli' - we'll see if we can arrange a date with either Nadia, Georgia, or Ray as your prize.