Girls Prepare For Style Awards...
We spotted top Irish gals Glenda Gilson and Claudine Palmer out shopping for fancy gowns and sparkly heels on the eve of the VIP Style Awards last week. Both looking tres casual yet still faaabulous in their civvies. Plus we snapped a certain famous Irish actress slumming-it on the Luas...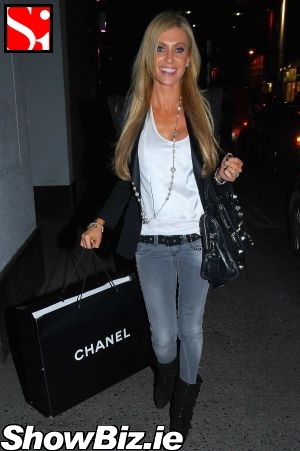 Claudine Palmer
There was a hive of activity about the city centre last Thursday night as our finest females rushed about sorting-out dresses and shoes for the VIP Style Awards red carpet. First off we spotted top WAG Claudine Palmer swanning about town with her massive Chanel bag swinging on her arm. Careful dearie, you could have someone's eye-out with that... Our Claudine is officially Ireland's most blingy person. Ever.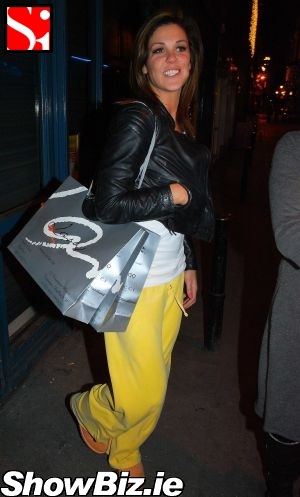 Glenda Gilson
Meanwhile, and just streets away, Glenda 'don't mention the war' Gilson was spotted leaving Lara's Boutique with her fancy-schmancy awards guna under her arm, and legging it towards the nearby car-park with her devoted mother Aileen.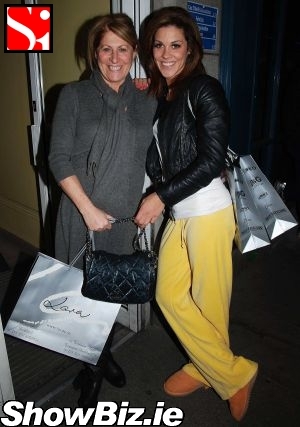 Glenda Gilson, Aileen Gilson
Now, we know The Glenda was up for a VIP style award (alongside her 'friend' Rosanna Davison) but we're not too sure about the look she was going for here with the bright yellow tracksuit bottoms... Ah sure she's still a feckin' roide no matter what she wears...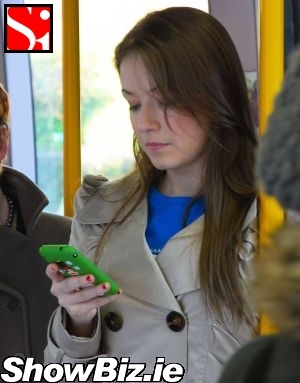 Sarah Bolger
Lastly, we spotted In America actress Sarah Bolger on the Daniel Day-Lewis (Luas) at St Stephen's Green obliviously texting away on Thursday afternoon. Nice to see that despite being one of our busiest and in-demand actresses on the international stage, our Sarah still gets public transport... Total ledge folks.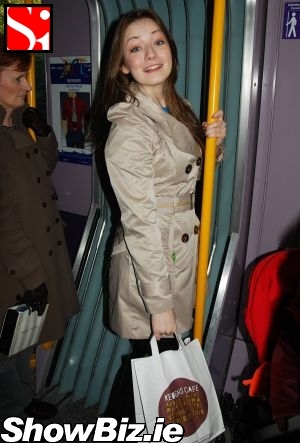 Sarah Bolger