Andre & Atwell Flip The Bird...
So we're a bit slow with our first on-set pictures from the 'All Is By My Side' Jimi Hendrix biopic movie shooting in Dublin at present. Truth is folks, all we was gettin' was frames full of umbrella blockers and face-palms. That was until yesterday when Andre 3000 & Hayley Atwell got stopped and searched by three Bobbies on the beat...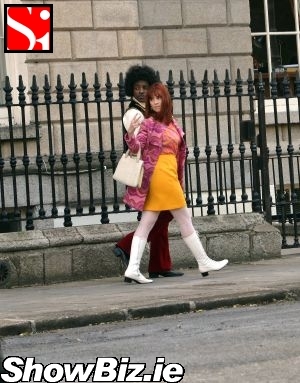 Andre 3000 & Hayley Atwell
Andre Benjamin aka Andre 3000 has been hanging around Dublin for about a month or so portraying Jimi Hendrix in 'All Is By My Side'. We've been on the case from time to time but to be honest, nothin' we shot has really been ShowBiz.ie worthy... We prefer photocallites in their smalls... If it aint broken etc.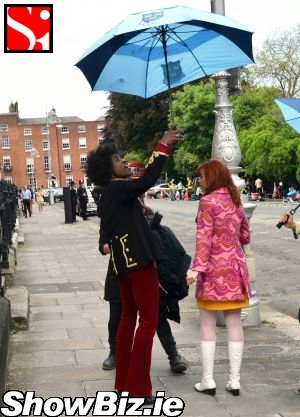 Andre 3000 & Hayley Atwell
But yesterday we managed to grab a few decent frames between the ever present golf umbrellas. Like what's with the brollies lads? We thought Andre 3000 wuz gonna give it the aul Gene Kelly Singing In The Rain routine Outkast stylee... And for once, it wasn't even raining.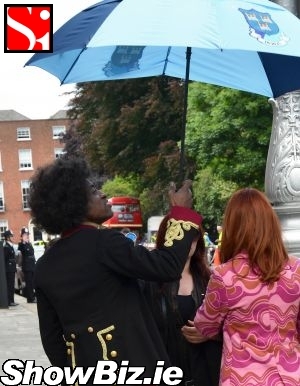 Andre 3000 & Hayley Atwell
Yesterday folks, wee Dublin was transformed into London during the swinging sixties with big red London buses and even Bobbies-on-the-beat as Andre and Atwell swanned around Fitzwilliam Square full of the joys of Spring. Very Austin Powers baby.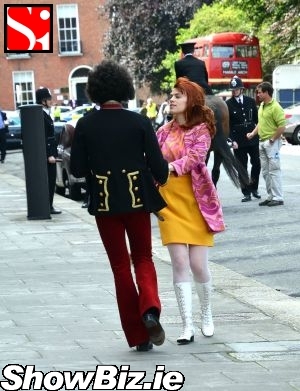 Andre 3000 & Hayley Atwell
But from what we could see (spoiler alert) it wasn't all peace and love with the British peelers and Jimi Hendrix for they stopped and searched the legendary guitarist... Jacketless, the mixed race couple stormed away none too happy with Hayley flipping the bird at the Coppers. These days there'd be an all-out riot and a few furniture shops burned down.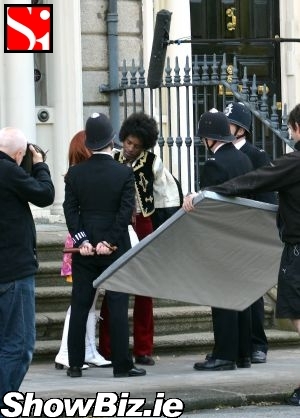 Andre 3000 & Hayley Atwell
So there you have it folks, Andre 3000 sure makes a convincing looking Jimi Hendrix and Dublin a decent doppelganger for 60s London. Thus, we are really looking forward to 'All Is By My Side' when it hits cinemas sometime in the future... Jimi gets hassle from The Man... Trippy.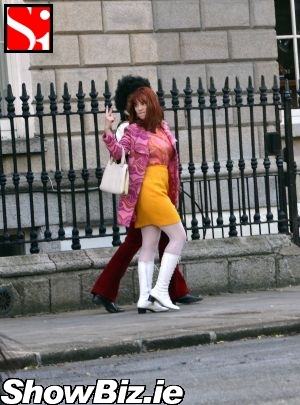 Andre 3000 & Hayley Atwell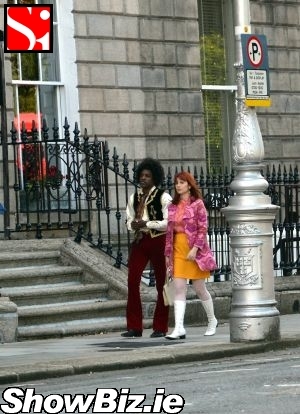 Andre 3000 & Hayley Atwell