Playboy Club 50th at Lillies...
2010 marks the 50th anniversary of the opening of the original Playboy Club in Chicago which totally revolutionized the idea of nightlife all over the world. To mark this birthday Dublin hotspot Lillies Bordello was chosen as the Irish venue to celebrate the milestone with bunnies galore...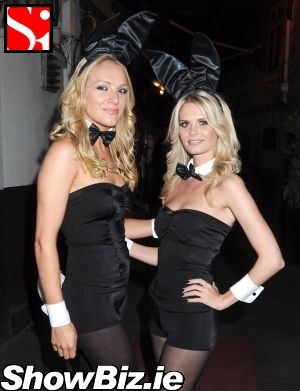 Hayley Rock, Marie Claire Nolan
On our travels last night, one of our snappers happened by Lillies Bordello only to see the club's super hot blonde hostesses Hayley Rock and Marie Claire Nolan dressed in bunny ears, black dickie bows, white cuffs, and furry little tails. Well, it would have been rude NOT to take a fotee now wouldn't it! We fricken love gals in bunny outfits.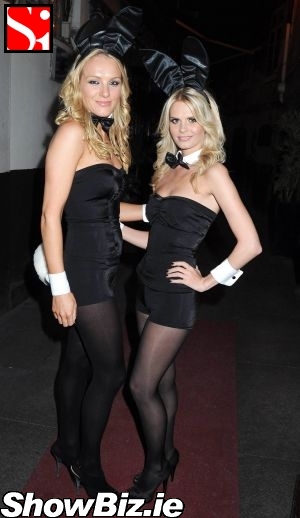 Hayley Rock, Marie Claire Nolan
Yup. Our good pals Hayley and Maire Claire were decked out in archetypal Playboy Bunny garbs to meet and greet guests as they arrived for the Playboy Club 50th Anniversary Party. And Dublin wasn't the only club on the planet celebrating the big birthday bash - only a mere 50 select nightlife venues around the world were especially given the honour, so well done all at Lillies!