Lynn Kelly - Miss Universe Ireland 2008...
Year after year for as far back as we can remember Ireland got a new household name as the winner of Miss Ireland was announced. Now, with the advent of the opposing Miss UNIVERSE Ireland beauty pageant, we'll have two lovely new girls to deal with on an annual basis. Question is: Can you handle it? Well, can ye...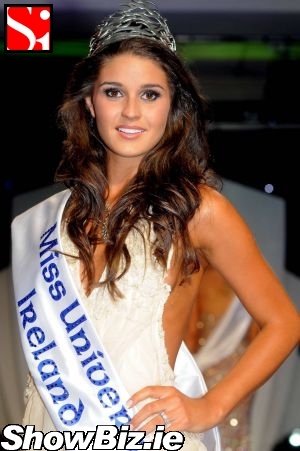 Lynn Kelly
On Sunday night City West hotel saw twenty something lovely girls lined-up and vying for the Miss Universe Ireland crown. And TV3 were there to broadcast the whole glamorous thing on the telly. Great, so it was...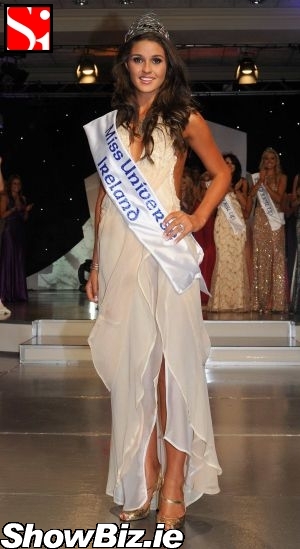 Lynn Kelly
All the girlies paraded around in their bikinis and pretty dresses with their left hands stuck to their left hips like they thought it was a teapot handle impression night. Not bother to them. They could all walk, talk, smile, and keep that hand glued to the hip no problem. Even simultaneously. Well, some of them.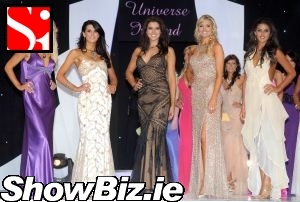 Runner Up, Lorraine Turner, Julie Kavanagh, Runner Up, Lynn Kelly
Afterdark.ie party girl and Assets model Julie Kavanagh was the clear favourite from the start. So when it got down to the last five and Julie was one of them - it looked like she was going to romp home with the Newbridge tiara...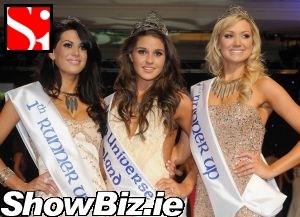 Lorraine Turner, Lynn Kelly, 2nd Runner-Up
But it wasn't to be. Even with her model sister Sara Kavanagh and sponsor Ivano Cafolla making the most noise in the venue, the viewers went for 20 year old Dublin lass Lynn Kelly instead... Poor Julie didn't even make 1st or 2nd runner up.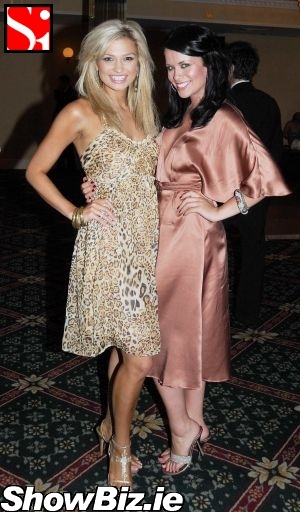 Sara Kavanagh, Michele McGrath
Miss VIP Lynn Kelly was the deserved winner on the night, and to be honest the whole show was a far cry better than anything (beauty pageant wise) that we've seen in Ireland before. The competing Miss Ireland contest has a lot to live up to... Big stilettos to fill.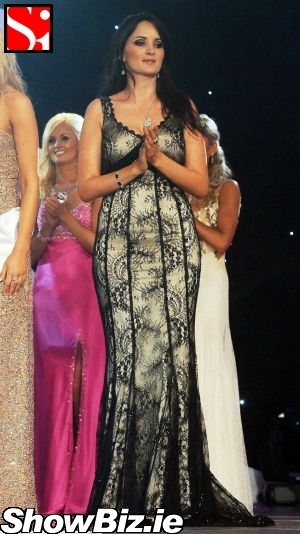 Andrea Roche
Organised by a former Miss Ireland Andrea Roche, M.U.I. seems to have set the bar far too high for Krishna Naidoo and his competing show to top. We may be wrong, but he must be kicking himself that he let cunning and stunning Rochey jump-ship... Or was she pushed?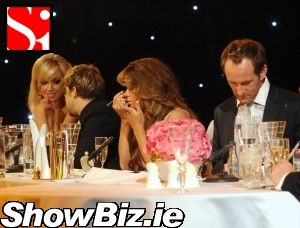 Rosanna Davison, Duncan James, Bianca Gascoigne, Synan O'Mahony
Judges on the night included former Miss World Rosanna Davison, Peter Marks' top stylist Michael Doyle, and Irish Designer Synan O'Mahony. There were also a few passenger celebrity judges like former Blue singer Duncan James and erm, Bianca Gascoigne?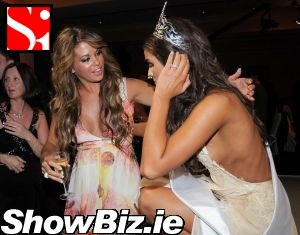 Bianca Gascoigne, Lynn Kelly
No offense, but we have absolutely NO IDEA what qualifies Bianca Gascoigne to be a judge in an Irish beauty pageant. Wet t-shirt competition maybe... But Miss Universe Ireland? Come on. At one stage when we looked over at the judging panel discussing the finalists, there was Bianca in the middle unawares and reapplying her eyeliner. Classic.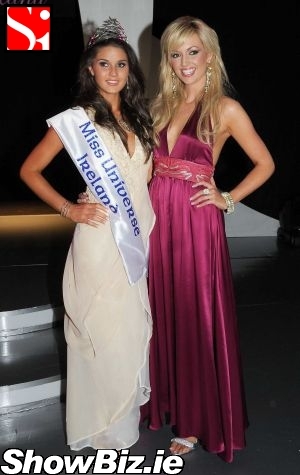 Lynn Kelly, Rosanna Davison
We really don't wanna knock the show. It got great viewing figures on TV3 and for a debut it wasn't half bad and gives Andrea Roche and Co. a strong platform to build on next year and into the future. But the beauty pageant format in general needs updating for the 21st century.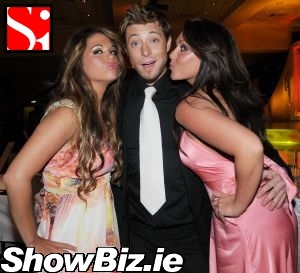 Michelle Heaton, Duncan James, Bianca Gascoigne
If we have one complaint from the event it would be that the girls looked over processed with fake nails, fake tan, fake hair extensions, fake eye lashes and forced smiles. In fact, most of the girls looked a little like backing singers for flop-star Michelle Heaton, who was another of the UK zeelebrities at the event.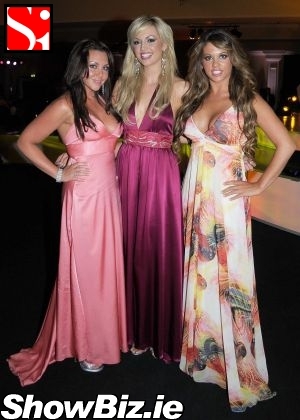 Michelle Heaton, Rosanna Davison, Bianca Gascoigne
We were somehow on some level reminded of that line from the Beautiful South song ĎRotterdamí - "when blondes and beautiful are multiple, they become so dull and dutiful..." We don't think with the endorsing format that these types of shows promote that a natural beauty could ever be uncovered at a Miss Anything pageant...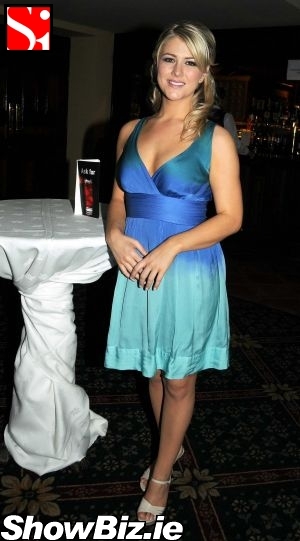 Susan McFadden
Let's face it... If a fiery red headed coleen with pale white skin, freckles and her own sense of style entered an event like this, she wouldn't stand a chance. Dog forbid if a contestant didn't wear the products provided by the sponsors, or didn't dip coat herself in orange fake-bake... We're sure the people who run events like these say they aren't just looking for a beauty; they are looking for a personality. Yeah. Just as long as itís the personality they give her... If they want you to have an opinion they will quickly tell you what that opinion is.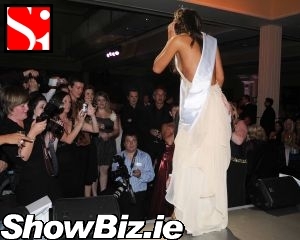 Lynn Kelly Meets Her Press
There we go slipping back into cynical mode again. Well, in this day-and-age the whole beauty pageant thing seems a little dated / contrived. We're sorta uncomfortable with the principal of pretty girls being judged on how well they conform in physicality and character to predetermined globalised and homogenised standardised classification of beauty. Thatís not beauty, thatís The Stepford Wives... It's all a load of bollox really, isn't it?