Cameras Rolling, Dublin Ink Begins...
Ireland just got its own Reality TV tattoo show folks and it began inking away today in Temple Bar. Aptly called 'Dublin Ink' the skin artists chose hot Irish model Hazel O'Sullivan as their first human canvas when those cameras started rolling...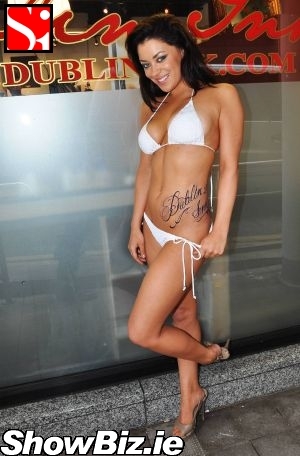 Hazel O'Sullivan
It seems like every world renowned town worth its salt has an 'Ink' folks. Sure there's Miami Ink, LA Ink, hell there's even a London Ink... Well hide your Horny Leprechaun and Tricolour Shamrock tattoos in shame coz now there's a Dublin Ink too.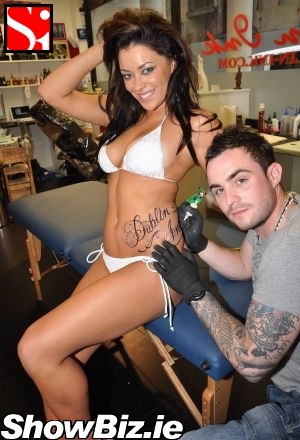 Hazel O'Sullivan, Leigh Guerrine
Yup. Going out from Cows Lane in Temple Bar each day, the uber cool parlour's clientele will be cherry-picked to have their tattoo of choice chronicled by the TV show. And as we all know there is a real story behind the inspiration for every tattoo on this planet. Some of them happy, some of them sad - all of the rest them probably down to a bet in a pub when too much sauce has been downed... Christ on a bike - HOW the hell did 'Mum' get inked on me arse? Hic!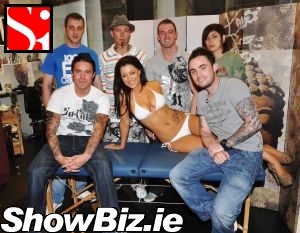 Dublin Ink Crew: (B) Dave Murphy, Chris Gherman, Rob Connolly, Raquel Cude (F) John Connolly, Hazel O'Sullivan, Leigh Guerrine
Anyways, we caught up with the Dublin Ink team as they got the ball rolling on the show which follows in the wake of the hugely successful Ink series on the Discovery Channel. And don't you worry girls looking for a 'too - they have a female artist called Raquel Cude working there, so you don't have to have a big ugly lad doing the inking on your most private of privates! Plus our sweet Raquel scrubs up well...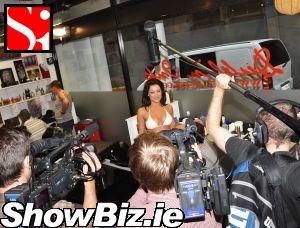 Hazel O'Sullivan, Film Crew
Other dedicated to the cause tattoo artists working on the show are Leigh Guerrine, Dave Murphy, and Chris Gherman. While brothers John and Rob Connolly managed the organised chaos... Should be fun folks!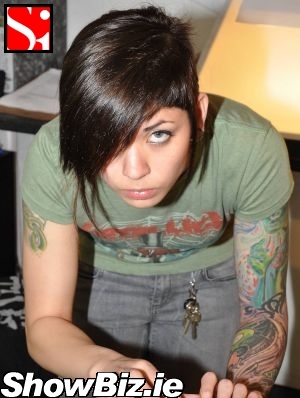 Raquel Cude
To be honest, we dropped into the studio as the ball got rolling on the show mainly because newly brunette Dublin model Hazel O'Sullivan was booked in for some branding in her bathing suit... What? We're so easy and you all know it... It just occurred to us - if all their female clients wore bikinis while getting work done the show is bound to be a sure-fire hit! Men wearing mankinis, ehhh, not so much.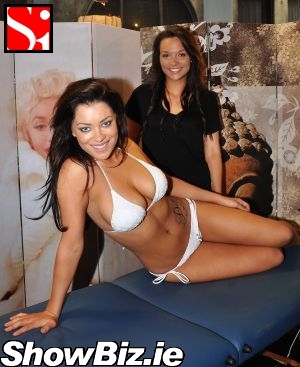 Hazel O'Sullivan, Caitlin McBride
We must of course point out that our Hazel didn't get a permanent 'Dublin Ink' tattoo etched onto her skin, master tatter Leigh Guerrine merely gave her a wash-off job... At least we think he did? If not, that gal Hazel has some amount commitment to her profession! Trooper.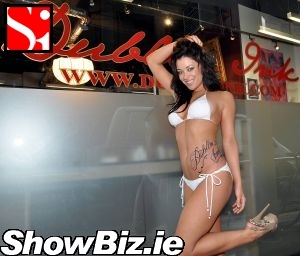 Hazel O'Sullivan
We'll be keeping our eye on Dublin Ink as it shoots away over the coming weeks, we hear there may be a few big names booked into get some permanent artwork on their skin. Wouldn't it be great for the peace process if The Glenda & Rosie Dee came in together and got one-another's names inked on their arms? Or any other body part they liked really... Just sayin' that's all...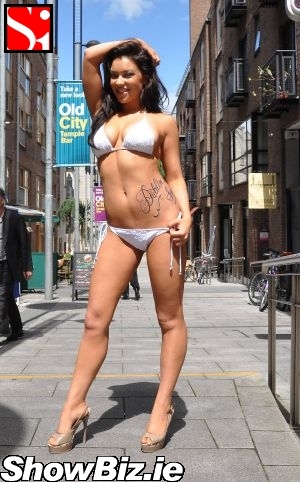 Hazel O'Sullivan