The Glenda V Rosie Dee: The Showdown....
Awkward. Yup awkward is the only word we can find in our severely limited vocabulary to describe the meeting of arched-eyebrowed rivals Rosanna Davison and Glenda Gilson at the crowning Miss Universe Ireland 2010 in The Wright Venue last night. Talk about a chilly reception, their encounter was colder than a witch's extremities...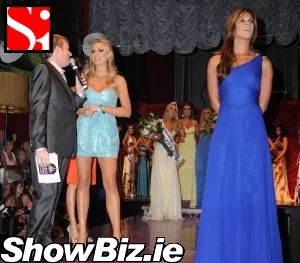 Rosanna Davison & Glenda Gilson
This was the one we've been waiting for folks. The anticipation of the main event. Two of the Irish modelling world's biggest alpha females on the same stage, doing the same nixer, at the same time - and neither of them willing to give a stiletto's inch in the greatest showdown since Ali V Foreman at Rumble in the Jungle. We're calling this one: The Wrangle at Wrights.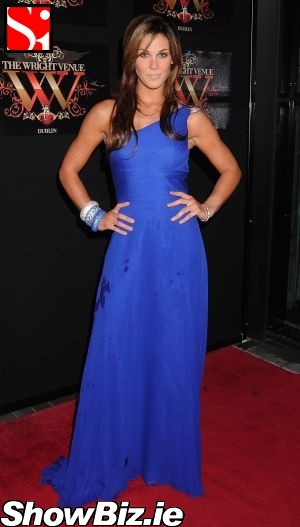 Glenda Gilson
The Glenda wan weighed in early at her MUI hostessing gig with a face on her coz the damn rain got her Royal Blue gown all wet in places. Yup. She looked rightly peed-off and the night hadn't even begun. We could feel the trepidation in the air. It was electric. Hair standing on the back of neck stuff.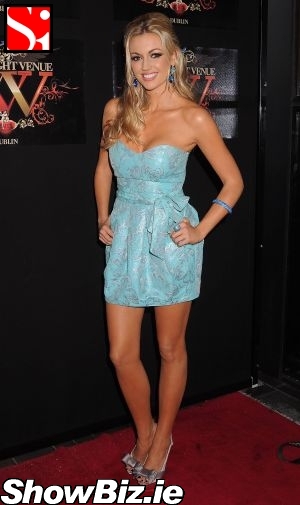 Rosanna Davison
Then the Rosie Dee wan showed up, also wearing a blue dress, albeit a lighter shade and far shorter... Would The Glenda see this as an act of war? Would there be streelings intertwined with reefings? All we could do was wait and hold our breath... Then folks, at last, the moment came.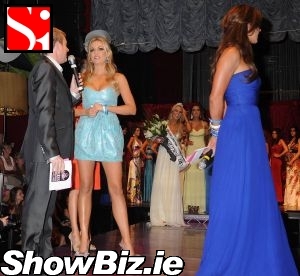 Rosanna Davison & Glenda Gilson
Just before the moment Miss Lillies Bordello Rozanna Purcell was crowned Miss Universe Ireland 2010, head judge Rosanna Davison found herself on the same stage as her arch nemesis. The room froze... You could hear a pin drop... No one dropped a pin, but if they had of, you would have been able to hear it. That's how quiet the moment was... Just in case you wanted to know.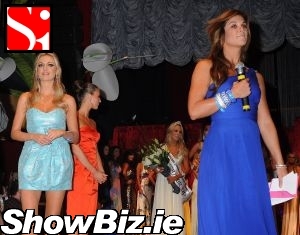 Rosanna Davison & Glenda Gilson
But rather than a big row with hair and nails flying everywhere, all that happened was The Glenda wan spun around and completely turned her back on the Rosie Dee wan. BLANKED DOT COM. Oooooo naaaasty. There was nothing said between them but Rosanna's body language screamed: AWKWARD!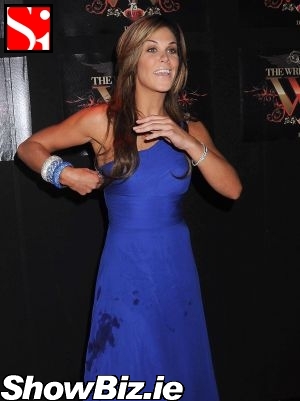 Glenda Gilson
Who won? Who lost? We don't know folks. That's for other more expert people to decide. We're calling this one a nil-all draw... For the moment. These two beauties are saying there is no friction between them but try telling that to anyone viewing these photos... If a picture tells a thousand words, then this sequence of pictures tell at least five or six thousand words. Maybe even more, we haven't yet counted this figurative amount of words. For the moment this merely remains an estimation of how many words these pictures tell. That's how serious this is.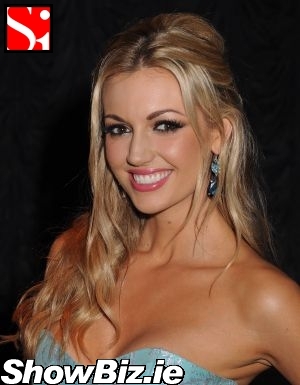 Rosanna Davison
Anyways. Now that's all out of the way, Miss Lillies Bordello Rozanna Purcell is now Miss Universe Ireland 2010. Yay! Hayley Rock and the rest of the Lillies' staff are only excira and delira for the gal as are we... Good luck in Vegas Rozanna with a Zee.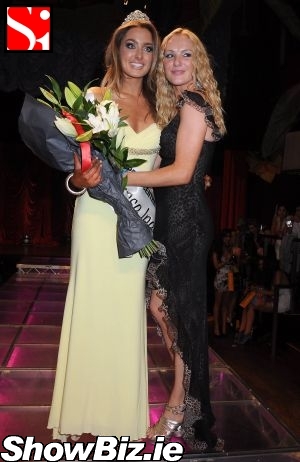 Rozanna Purcell & Hayley Rock