Saturdays Una is Christian's Girl...
With the voice (and looks) of an angel Irish singer Una Healy gave-up the solo guitar and joined much hyped UK girlband 'The Saturdays' this year. With an MTV showcase and music video in-the-bag it's looking very good for our Una. She came back to Dublin last night to lend her support (and voice) to her boyfriend's movie debut with indie flick 'Christian Blake'...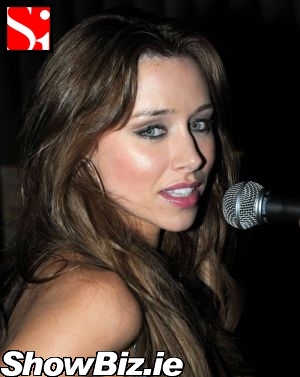 Una Healy
As a solo artist Una Healy was possibly the most talented singer and songwriter we've encountered in a decade. Add her stunning good looks to that mix and you would have thought record companies would be lined-up around the block to sign this complete-package? But no. With the music industry in virtual free-fall and opportunities slim, Una opted for the more commercial route and joined new UK based girl group 'The Saturdays' - the only Irish member.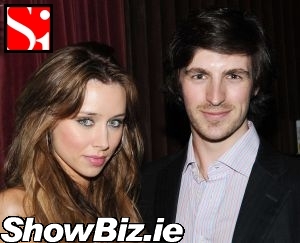 Una Healy, Eoin Macken
Okay. So you might think we're lamenting the loss of raw talent to yet another girlband? Not true. A girl's gotta do what a girl's gotta do... We're lamenting the complete break-down of the music industry and lack of investment in emerging artists like Una... Next time you download a free MP3 from the Web, remember, you are contributing to the death of new music. Remember new music?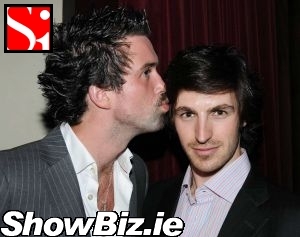 Emmett Scanlan, Eoin Macken
Una was back in Dublin last night to lend support (and her exquisite voice on the soundtrack) to her boyfriend Eoin Macken's directorial debut with his low budget independent movie 'Christian Blake'.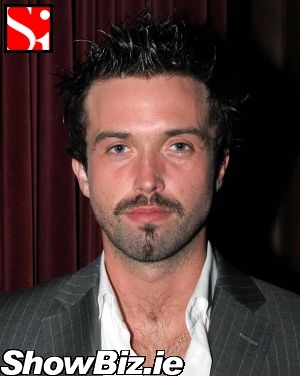 Emmett Scanlan
Held at The Sugar Club, the 'Christian Blake' Dublin Premiere guest list featured many of Ireland's new and established actors, models, producers, and artists... Many of whom contributed their time and talent to aid Eoin and his homegrown production.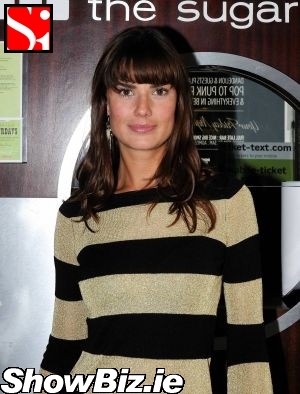 Alison Canavan
We've never witnessed a move screening, never mind premiere, at The Sugar Club... Now we have. And it has to be said, it's such a different experience and more relaxed and casual affair to screen a movie in a theatre bar. You can have a pint sitting on the table in your booth as you enjoy the feature on the big screen. What a marvel. We're totally converted folks...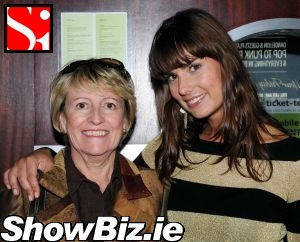 Alison Canavan, mother Margaret Canavan
And in these tight-times of recession and credit crunches, it's great to see young Irish independent movie makers like Eoin Macken and his contemporaries getting out there and experimenting with film media and whole production, editing, scoring and everything else that goes into making a movie, process. It's most definitely a labour of love.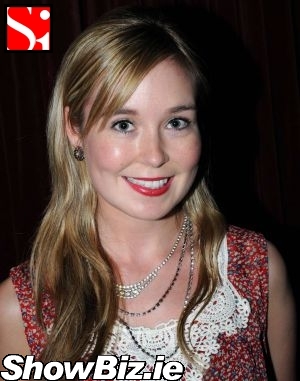 Christina Hughes
Before the 'Christian Blake' movie screened we were treated to a short film made by Eoin in the USA and a teaser trailer for an upcoming documentary on the Irish High-Fashion Modelling industry which, will feature top catwalk model Alison Canavan, amongst others. No cheesy photocalls Grafton Street in this one folks.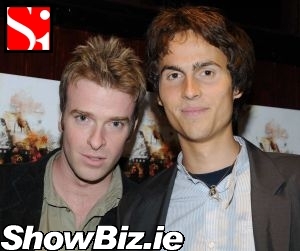 Nigel Linden, Dylan Townsend
It's good to see that there's a young and hungry pool of Irish film makers and actors busting their arses to get projects off-the-ground and somehow even finding funding. We noticed that Hollywood actor Stuart Townsend's younger brother Dylan got a "Documentarian" credit (ye wha?) on the 'Christian Blake' feature. He's got a direct line to Oscar winner Charlize Theron you know?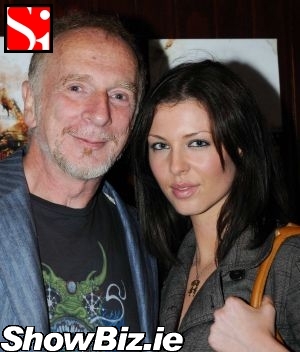 Jim Fitzpatrick, Emma Roche
And speaking of Stuart Townsend - his fellow campaigner to stop the motorway being built through the Hill of Tara site, Jim Fitzpatrick, was also at the screening last night. Jim tells us that the government has sold-off much of the land surrounding our most sacred and ancient monument to greedy developers. What a shame. Seems like all may be lost for the shrine which pre-dates the Pyramids. We've elected blind moronic idiots to run & ruin our country. Grrrrr.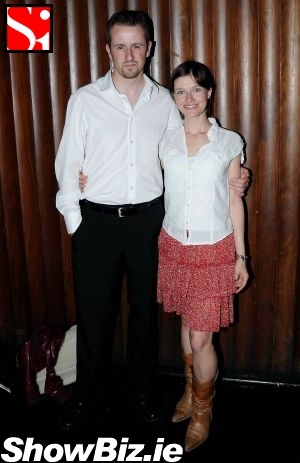 Jonathan Figgis, Rachel Rath
We also caught-up with movie producer Jonathan Figgis last night. Jonny and his brother Jason are busy putting the final touches to their much anticipated movie '3 CROSSES' at the moment - hopefully we'll see that one in cinemas before the end of the year. We say HOPEFULLY.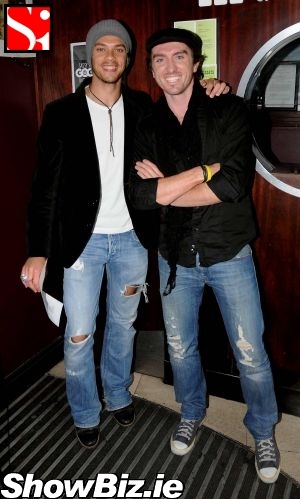 Carl Shaaban, Fergus Kealy
Guests at the 'Christian Blake' screening in The Sugar Club included: Carl Shaaban, Fergus Kealy, JG Murphy, Rachel Rath, Nigel Linden, Dylan Townsend, Peter & Anne Figgis, Jim Fitzpatrick, Emma Roche, Christina Hughes, Alison Canavan, Margaret Canavan, Emmett Scanlan, Una Healy, Eoin Macken, and many more...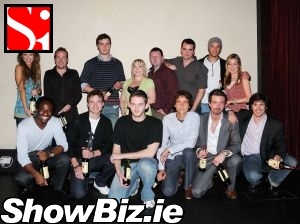 Christian Blake Cast & Crew
Lastly. Remember those wise words spoken so eloquently by that Sage Eric Cartman: "Follow your dreams. You can reach your goals, I'm living proof... Beefcake. BEEFCAKE!"