Rozanna Dines With The Stars...
Usually when they take a standard TV Reality Show and stick 'Celebrity' in front of it, the intense cheek clinching embarrassment ensues. But throw in Rozanna Purcell, Brian Kennedy, George McMahon, Noel Cunningham, and Paul Martin - and you have TV gold. But for ALL the wrong reasons folks...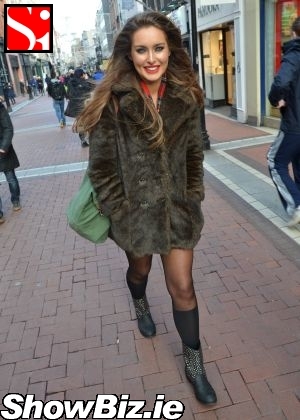 Rozanna Purcell
TV3 have created addictive viewing with their Irish interpretation of 'Celebrity Come Dine With Me'. Okay, so they're using the word 'Celebrity' very very very loosely but boy, this bunch in the same room most certainly puts the functional in dysfunctional. We find we have to watch it through our fingers less and less as they get drunker and drunker.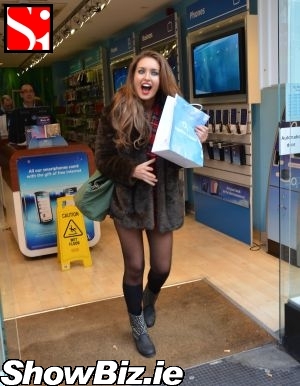 Rozanna Purcell
And to be fair to our Rozanna, who we snapped picking up a new iPhone at The O2 store yesterday, she hasn't come off all that bad on the show... The whole narrative is being driven by the intense hatred between journo Paul Martin and singer Brian Kennedy. Apparently, it's gonna come to blows on the last show. Exciting.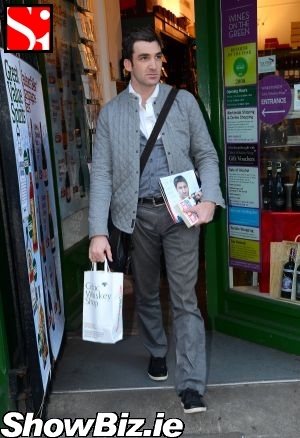 Paul Martin
Yesterday we spotted Mirror-man Paul Martin on Dawson Street in a foul mood after being handed a photo of Brian Kennedy with a note from a fan asking our Paulie to "leave poor Brian alone!" Yeah Paul leave Brian alone or you will end up with egg on your face! Well, that or red wine inanyways.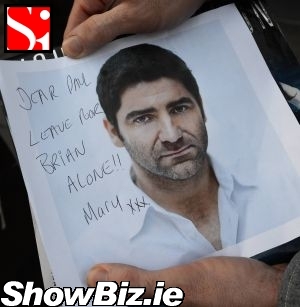 Paul Martin & Brian Kennedy fan photo
So incensed was the Moonwalking hack that he handed the offending photo to a nearby bemused binman and trotted off in a strop down Dawson Street holding his Michael Jackson and Piers Morgan books... Our Roz could take diva lessons from Mr. Martin wethinks.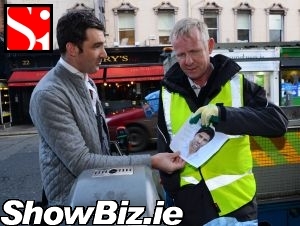 Paul Martin & binman
So there you have it folks. The last episode of Celeb Come Dine With Me is gonna be a worth watching on TV3. We hear the gloves come off... And with our Georgia Salpa in Celebrity Big Brother for the foreseeable, looks like Miss Rozanna Purcell is gonna take her place as Ireland's top model... See? Everything is improved with a little dash of celebrity.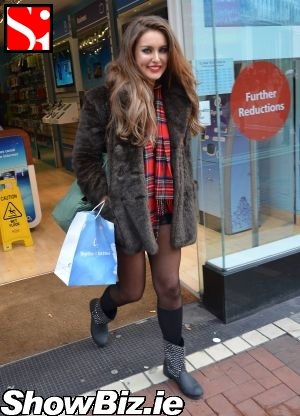 Rozanna Purcell