MOD Is Our Top Gooseberry...
Celebrating all that was shite in 2009, the annual Gooseberries were awarded in The Sugar Club last week where publisher Michael O'Doherty and his VIP Magazine were voted Worst Publication of 2009. Seriously? Worse than ShowBiz.ie? Now that is shite...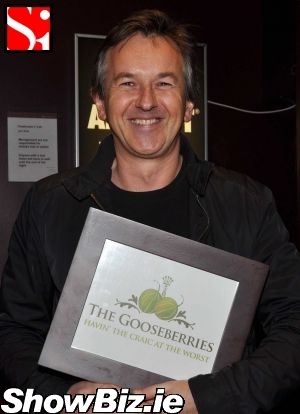 Michael O'Doherty (Worst Irish Publication: VIP)
Having never perused a copy of VIP Magazine we have no idea how good or bad of a publication it is. Sure, it's always sitting there in dentist waiting rooms but we always bypass the glossy cover (usually featuring Grainne Seoige or some other airbrushed RTE head creepily staring out at you) and grab the copy of Heat or FHM underneath. Yes. We are tacky feckers.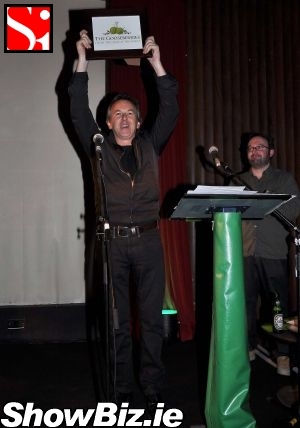 Michael O'Doherty (Worst Irish Publication: VIP)
Never the less, VIP is certainly the social bible for certain type of Irish person (not seen now for a while since the Celtic Tiger had its nuts removed), but hey, it's still on newsagents' shelves so Mr. O'Doherty must be doing something right... Kudos.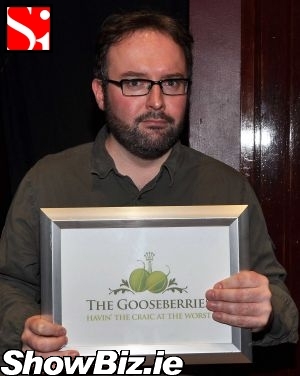 Presenter Clint Velour (The Camembert Quartet)
Anyways, MOD was awarded with 'Worst Irish Publication' for his efforts last week, and fair play to the fella - he actually showed up to accept the dubious honour... And there we were thinking that we had lowered the journalistic standard beyond anyone else in Ireland with ShowBiz.ie. Damn, looks like we'll have to stoop even lower.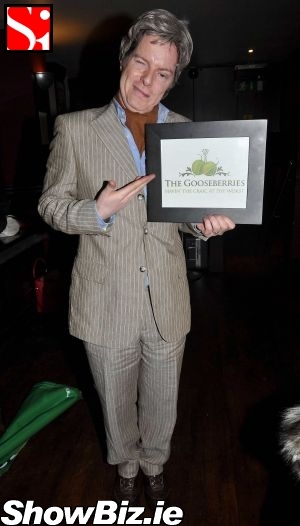 Eddie Naessens as Gay Byrne (Worst Irish TV: All Ireland Talent Show)
Apart O'Doherty there were no other brave representatives at The Sugar Club to accept their Gooseberries so we feel it's only right that we list who got the plaudits on the night... Again, journalistic integrity displayed on this website. Fook. We'll never get Gooseberried at this rate.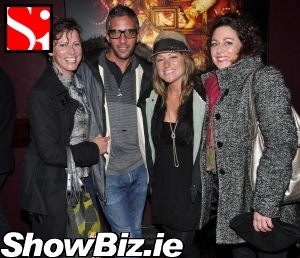 Sharon Greene, Freddie Kirk, Ca McKenna, Elaine McGrath
So here they are the list of Gooseberries 2009: 1. Worst Act: Jedward. 2. Worst Ad: Harvey Norman. 3. Worst Radio DJ: Joe Duffy. 4. Worst TV Show: All Ireland Talent Show. 5. Worst Single: Westlife's What About Now.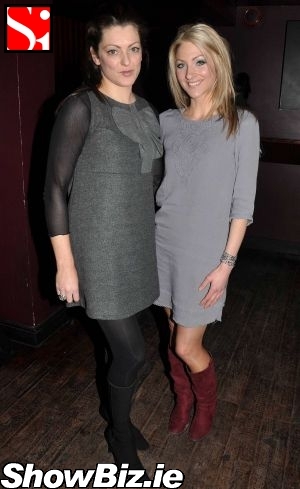 Jacqui Carvoll, Beverly Elder
6. Worst Album: Daniel O'Donnell's Peace in the Valley. 7. Worst TV Host: Brendan O'Connor. 8. Worst Irish Concert: Chris de Burgh at The Gaiety. 9. Worst Publication: VIP Magazine. 10. Worst Irish Journalist: Brendan O'Connor...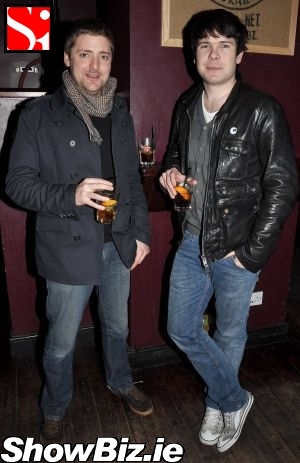 Jay Galligan, Donal Connelly Gorman
So there you have it dear reader, the 2009 Gooseberries handed out and not a mention of our wee online publication. Right. We're off to hire Brendan O'Connor and Michael O'Doherty. 2010 will be our year.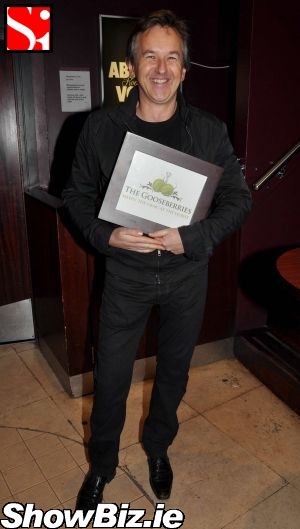 Michael O'Doherty (Worst Irish Publication: VIP)