No Biz Like SnowBiz Ireland...
With an icy start to 2010 in the Nation's Capital and beyond there's very little happening in the ShowBizzy world of celebs and socialite laden parties. Well folks, a whole centimetre of white flakes fell in yesterday, thus Ireland's 3rd world like infrastructure folded then fell apart as our impotent leadership became snowblind yet again...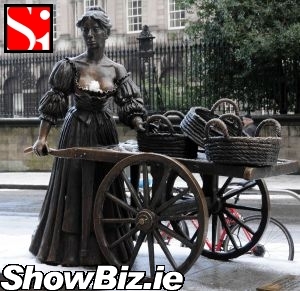 Molly Malone Statue with an icy cleavage!
It's official folks, Ireland has come to a full fecking stop. Why? We hear you scream... Well, there hasn't been a biblical flood or plague of locusts nor has there been a tsunami or even an earthquake... Nothing even remotely close to the realms of what some other countries have to deal with and still keep trains, planes and buses running.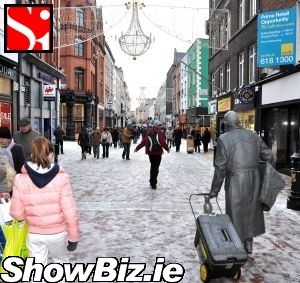 Even the Statues are going home on Grafton Street!
All that has happened to freeze the vital commercial business practises of our recession smitten banana republic was a mere dusting of snow that fell about Dublin yesterday afternoon bringing everything to a virtual standstill. And then some.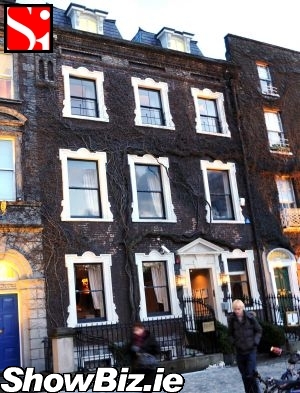 The Residence Club has a cold front coming in...
Yet again, since the beginning of 2010, commuters were the first to see the ridiculously ineffectual public transport infrastructure we have in Ireland as most had to walk out of the city centre to try to find a bus, train or taxi. In fact Dame Street, as far as Christ Church, was as jammed with cars and pedestrians last evening as any St Patrick's Day in living memory. Total chaos.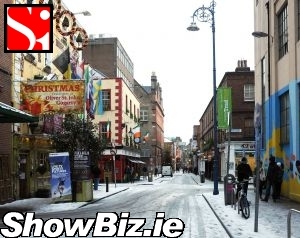 Temple Bar empties of tourists in the snow...
And today the silliness continued as we spotted a street sweeping vehicle doing doughnuts whilst pointlessly trying to sweep clean the icy snow on Lord Edward Street and five bored looking Council lads standing around staring at a massive JCB scraping a tiny patch of ice on Grafton Street. Seriously? 400,000 on the dole and those of us who have a job have to slip and struggle just to walk down Dublinís busiest boulevards.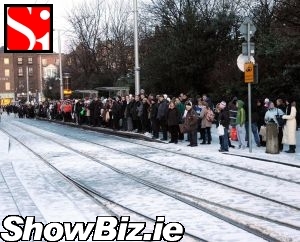 Commuters Wait for transport that will never come...
Anyways, as the country fell under the spell of the apparent widening of the Arctic Circle with reports of rampant Polar bears bounding across St Stephen's Green snatching children at will, we still managed to have a few snappers about the town taking pics of this unseasonal seasonal nonsense. Cameras work in the snow shocker!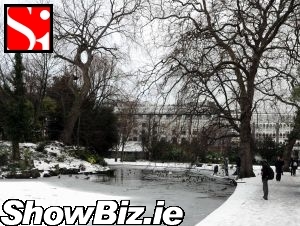 The Ducks in a dwindling pond in St Stephens Green...
We really do shiver and shudder to contemplate how this Irish government are supposedly in control of this country amidst the worst economic climate we're ever been in when they can't even oversee the gritting of a few primary and secondary roads and get a few lads to scrape a path through the thin ice on our main pedestrian walkways... It was hilarious to see a top civil servant slip on his arse leaving Dublin Castle today! Karma.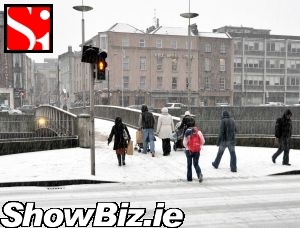 A snowy bridge over the Liffey...
Welcome to Ireland 2010 folks. Just think, Science Fiction writers of the last century thought we'd be flying around on autonomous hoverbikes at this stage. You'd be more likely to catch a cold than a bus in 21st century Ireland ... Aaah Chooo!