Ado, Nidge, Elmo & Franner...
You will have to forgive us folks, we're so excited that a small bit of wee just came out. Yup. The world's most awesome TV crime drama ever Love/Hate started filming on the 4th Season yesterday and ShowBiz.ie wuz there sneaking about the West Dublin set like weasels. Nidge weasels...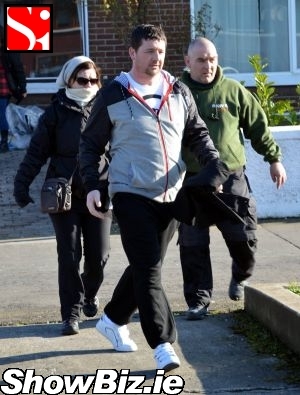 Mark Dunne (Ado)
You would think what with strong characters such as Darren, John Boy, and Hughie now pushing up the daisies that the Love/Hate cast would be looking a little thin going into the fourth Season? Not so.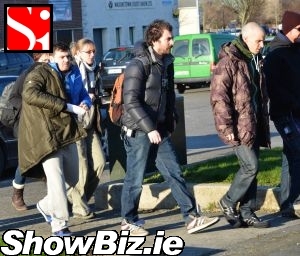 Laurence Kinlan (Elmo), Tom Vaughan Lawlor (Nidge)
Yesterday in a West Dublin housing estate the hairs on our necks stood up as Nidge, Elmo, Fran, and Ado emerged from their cars and walked onto the set like bosses. Suddenly you forget these lads are actors and start to believe they are the hardened blood stained gangers they portray. And your bum hole slightly tightens.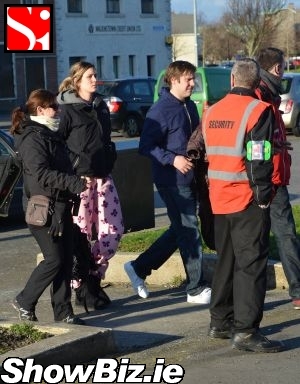 Peter Coonan (Fran)
But all that really matters is Love/Hate has kicked off filming and we're in for a few more glorious gory months of living vicariously through Laurence Kinlan, Tom Vaughan Lawlor, Mark Dunne, and Peter Coonan. Hopefully Killian Scott and the rest of them still above ground will also make a return too.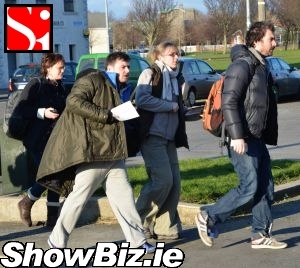 Laurence Kinlan (Elmo)
So there you have it folks, no spoilers other than to say the best thing RTE have ever done is coming back real soon. Only question left is: who will get-it this time around?
Mark Dunne (Ado) & actors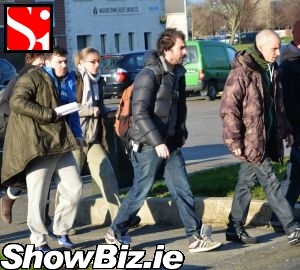 Laurence Kinlan (Elmo), Tom Vaughan Lawlor (Nidge)