Vogue's Got Big Tasty Buns...
Fade Street stunner Vogue Williams (we knew her when she was plain old Wilson) is fast becoming Dublin's most in demand model. Despite not stripping down to her underwear that often, she's fast knocking Georgia Salpa off her busty babe perch. We caught up with VW yesterday with her wee face stuck right into a massive 20lb burger...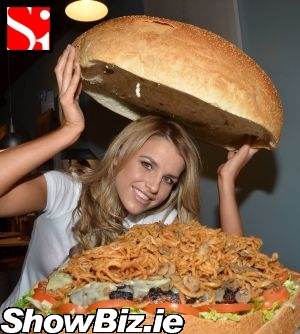 Vogue Williams
Maybe itís the recession or the election - or maybe we're all just a wee bit tired of seeing Georgia Salpa making the same surprised expression in yet another bikini shoot plastered across the tabloids each day? But whatever it is, there seems to be a new pretender to the position of top-dog in the photocall world... It had to happen folks.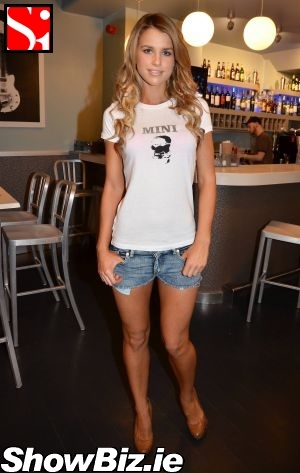 Vogue Williams
Yup. Hot off her exposure on much debated and mostly hated TV show, Fade Street, Vogue Williams seems to be the most in-demand photocallee on the scene at the moment. Strangely, her choice of outfit is usually a plain t-shirt and a pair of old denim shorts as opposed to the standard bikini top and hot pants as is more commonly worn by other girls in her field. You know who you are.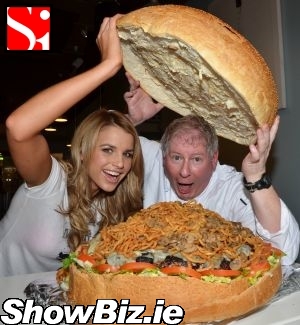 Vogue Williams with chef Ken Brown
Yesterday our Vogue launched 'The Counter' - Custom Built Burger joint on Suffolk Street with chef Ken Brown's giant 20lb burger as her chosen prop for the day... Some of you may call this photo-opp cheesy, we call it lunch... Like, do fries come with that?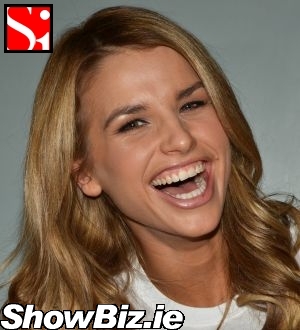 Vogue Williams