W.W.I.B? Rosanna OR Jade...
Who wore it best folks? WHO?? That's the very question on the lips of every single sane person in this darn country today. FACT. For actress Jade Yourell only went and wore the same red dress to the IFTAs that former Miss Worldliness Rosanna Davison wore to an event last summer. The gauntlet's down and a line is drawn in the sand - only ShowBiz.ie commentators (yes, that means YOU!) can solve this conundrum...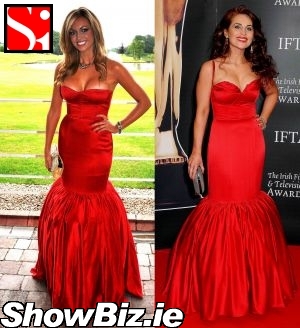 Rosanna Davison v Jade Yourell
There is no doubt that her fabulousness, Miss Rosanna Davison, IS the original lady in red. Sure she can slip into a little red number anytime she likes and grab the following day's headlines as lazy & unimaginative newspaper types go for the obvious: Rosanna is The Lady Red... We know where you live Paul Martin.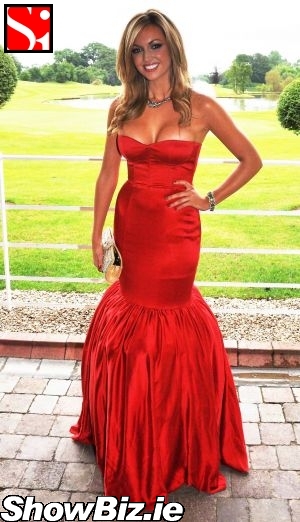 Rosanna Davison
But all that may be about to change as 'Happy Ever Afters' actress Jade Yourell nabbed Rosanna's dress from last summer's Miss Universe Ireland contest and wore it to the IFTAs... No! She didn't? Oh yes she did!. Albeit, Rosanna did lose the straps and folded down the breast cups to show off more of her ample knockerage, otherwise it's the same guna dearg... But hey! Without the straps HOW much tit-tape did our Rosie have to use?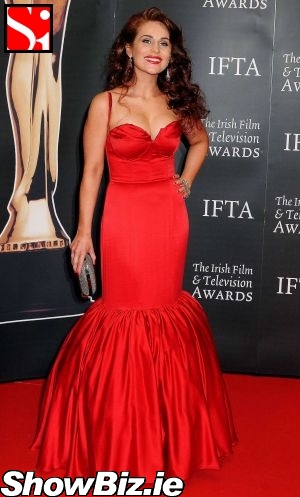 Jade Yourell
So folks. It really is down to you lot to decide who wore it best - Rosanna OR Jade? Until this question is answered nothing else in this country can function as the muddled minds of the masses contemplate and debate this conundrum. Yes. It really IS that serious. Help us, nay, help Ireland. W.W.I.B?