Nadia Forde Has Gone Gaga...
Well stone the crows and call me Sheila. It was double-take central on St Stephen's Green yesterday when our meek-minded weak-kneed snappers spotted what they thought was eccentric world fashion icon and hit singer Lady Gaga. Weirdly, it turned-out to be Ireland's No.1 supremo top bestest model ever Nadia Forde in sunglasses and a wig. What? Easy mistake to make...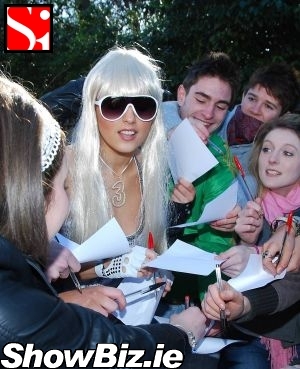 Nadia Forde
When you're top o' the heap in Ireland's uber competitive and glamorous modelling world you really have to good at your game. Sure, one day you could be doing a photocall on Grafton Street, and the next, you could be doing a photocall on St Stephen's Green. Mad! And with all that constant and drastic location changing you really have to be ultra adaptive, like some beautiful chameleon. In ridiculously high-heels. Yep. A high heel wearing chameleon. That's exactly what you have to be.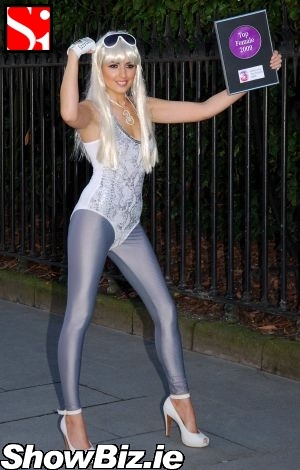 Nadia Forde
Just look to Nadia Forde folks. She's only the darling of this Nation's media and thusly deservedly voted our top of the pops model by an online poll or something scientific like that... And although she's apparently not-too-fond of this aul rag of a website we think she's a total ledge. No really, we do.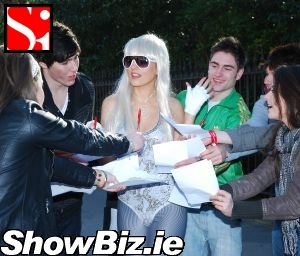 Nadia Forde
When our polio inflicted snap-force bumped into our Nadzer yesterday she was all dolled-up as bespoke-no-expense-spared-front-page-statement-making-outfit wearing singer Lady Gaga. And by that we mean she was wearing a wig, sunglasses, and a lacy top over silver leggins. What? Don't get all poker-faced on us.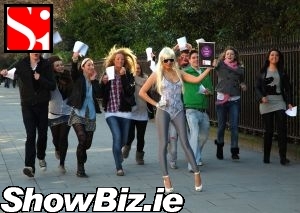 Nadia Forde
The reason for Miss Forde's doppelganger-ness was to promote the fact that Lady Gaga was the top downloaded female artist of 2009 on 3 Mobiles' 3MusicStore... Just in case you were wondering... Which you probably were... If you were bothered to read down this far.