Bono's Boys Go A Busking...
Right. We know we said we were all-done for Christmas, but like it's not every day Bono & the best musicians Ireland has to offer gather on Grafton Street of a Christmas Eve and go busking now is it? Par for the course, we were there too...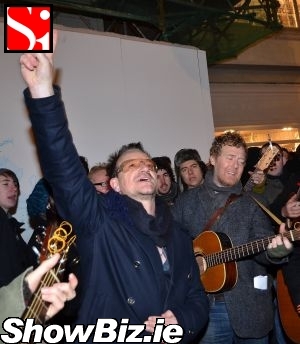 Bono, Glen Hansard
Darn it. We wanted to be all feet-up over the Crimbo full of ale and turkey watching re-runs of Spartacus, Willy Wonka, Ben Hur, and maybe even Digby The Biggest Dog in the World. Yup. We go old skool come Christmas.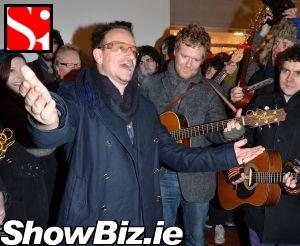 Bono, Glen Hansard
But before we even got near the stuffing, Glen Hansard gathered a rare group of Irish musicians together on Grafton Street this Christmas Eve to bang out a few Yuletide tunes and raise a few bob for the Peter McVerry Trust.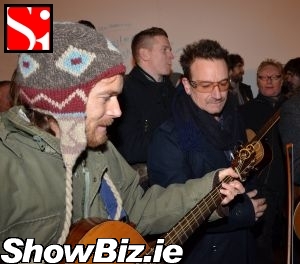 Damien Rice, Bono
Normally with the likes of Damien Rice, The Coronas, Luka Bloom, Paddy Casey, Liam O'Maonlai, Mary Black, Damien Dempsey, Paul Brady, and a few more - we'd be more than suitably impressed considering the day that was in it and the only-poxy weather conditions... It was like Irish Live Aid folks!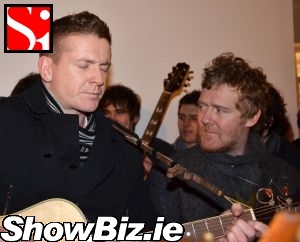 Damien Dempsey, Glen Hansard
But as the rumours of Mr. U2 making an appearance circulated around the hundreds of onlookers gathered outside Footlocker on Grafton Street, and subsequently laughed-off, Bono actually showed-up like a bespectacled Jesus on Easter Sunday or something. Miraculous... An actual Christmas miracle.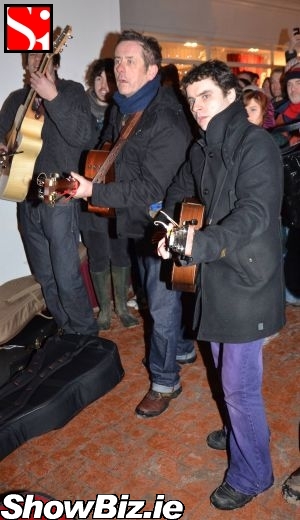 Luka Bloom, Paddy Casey
Yup. The world's biggest rock star showed-up with the wife Ali and knocked-out a few tunes with Glen and the boys. And no crazy security brigade or anything of the likes. Just a blue bucket getting passed around the crowd for the frozen punters to fill... All that was missing was Bob Geldof shouting: "Give us your f**king money!"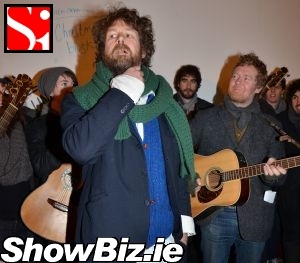 Liam O'Maonlai, Glen Hansard
Well, fair play to Bono and everyone else who gave up their Christmas Eve for the Peter McVerry Trust which, supports young homeless people to break the cycle of homelessness and move towards independent living. A worthwhile Christmas cause.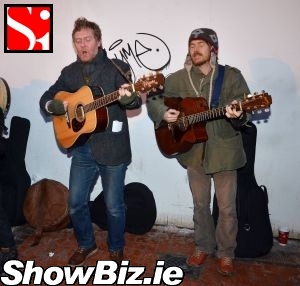 Glen Hansard, Damien Rice
And if all of this is news to you folks, well, mosty of our National newspapers really didn't give a fart about this impromptu gathering of Ireland's finest musicians for charity. Too busy stuffing their pages with UK soap stars and British glamour models flashing their Christmas crackers no doubt... And they have the brass neck to lecture politicians and bankers on Irish sovereignty. Arse.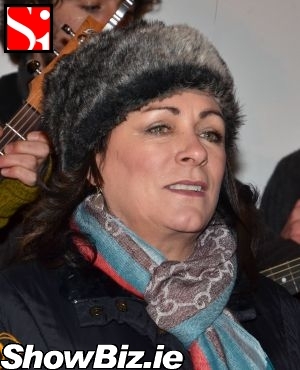 Mary Black
So there you have it folks, 2010 festivities broken for a charitable cause... Right. Back to Indiana Jones and The Indigestion Tablet.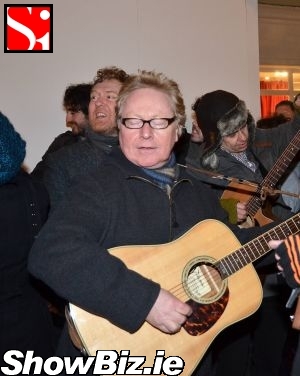 Paul Brady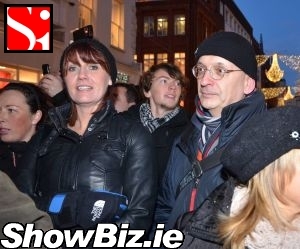 Roddy Doyle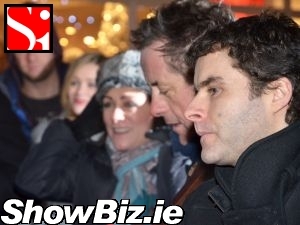 Luka Bloom, Paddy Casey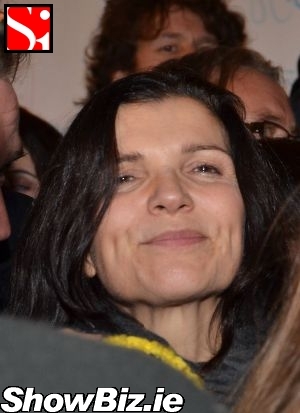 Ali Hewson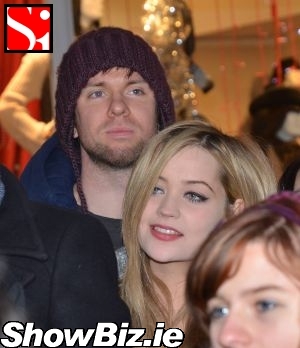 Laura Whitmore, Eoghan Mac Diarmada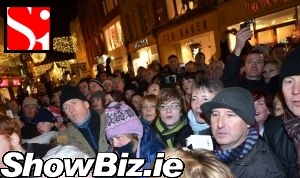 Grafton Street Crowd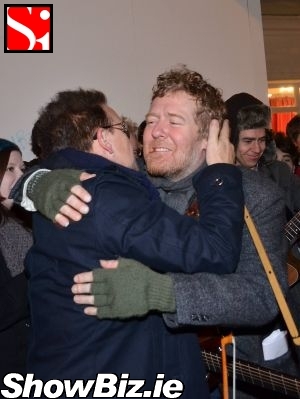 Bono, Glen Hansard