A Very Merry Bizmas One & All...
As we proudly march with chest puffed-out into our 11th glorious year (we're Ireland's oldest ever website) of papping celebs and having a wee chuckle at their expense, it's time to signout of 2010 and logon to 2011. Mainly because there's feck all else to snap over this bitterly cold & snowy Christmas period...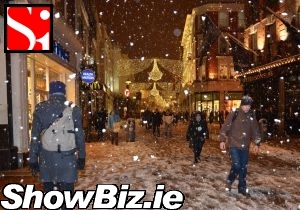 Grafton Street in the snow
It's time to say seeya to 2010 dear reader. A horribly bizarre year of economic meltdown, political ineptitude, the sad & scandalous passing of Gerry Ryan, the feckin' perpetual snow, and of course Fade Street... What a bloody shite year for Ireland & the Irish! Let's hope 2011 sees us Irish finally getting our acts together as a Nation and having the collective courage to demand real political & social change from those who would seek to govern us... But don't fret folks - we'll be back here updating as soon as there's a freezing photocall girl standing on Grafton Street, a flash-in-the-pan X Factorite flogging a CD, or a visiting Hollywood Z-lister wearing sunglasses in the airport. Cuz, it's what we do... A very Merry Christmas to the entire ShowBiz.ie omniverse... You guys rock! No. You really do.