Brogue Want Gay Marriage...
Singer Brian McFadden & his model girlfriend Vogue Williams have finally forgiven ShowBiz.ie our trespasses folks. Least we think they did when the handsome couple happily posed for our snappers at a city centre protest march for gay marriage last weekend...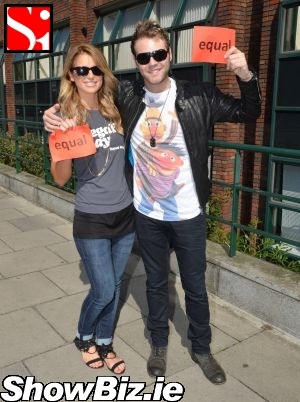 Brian McFadden & Vogue Williams
They either love ya or they hate ya in this game folks. Thankfully, we seem to have built a bridge and are back in the good books with Ireland's latest celebrity couple, Brogue. For the first time since returning to Ireland the lovely love birds posed-up for smelly old ShowBiz.ie last Sunday. Forgiven AND forgotten?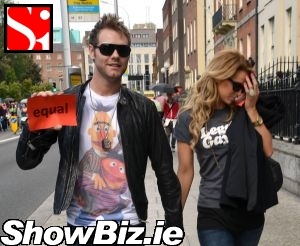 Brian McFadden & Vogue Williams
Pray tell, what had them so chipper ShowBizzz? Well, turns out the duo are down wiv the gays. And rightfully so... For same sex couples were out on the streets asking for equal civil rights as traditional man/woman partnerships... Sure, if Jesus had two Dads then it's in the bible and should be recognised by the church and government alike? Although, we have no idea how Mary fits in to that particular equation. Hmmmm... We have to stop trusting things written on placards.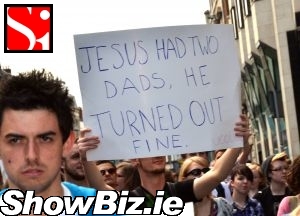 Gay March Atmosphere
Anyways, Vogue and Brian were out on the streets marching to Leinster House with their gay and lesbian chums asking for equal rights - the very same rights Bert & Ernie were afforded on Sesame Street. See? That's called legal precedent folks! Hmmmm... We have to stop trusting things written on t-shirts.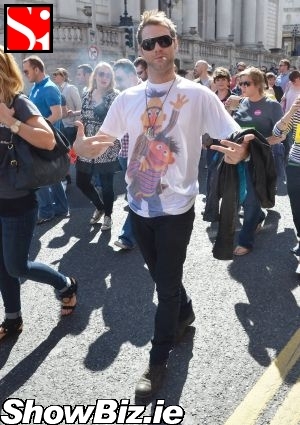 Brian McFadden & Vogue Williams
So there you have it, seems we're back in with our fav model/DJ Vogue Williams and her fella Brian. Hopefully, no more talking to the hand malarkey... Least, not until we pee them off again with our darn persistent paparazziness... Like we can help that. Jeez.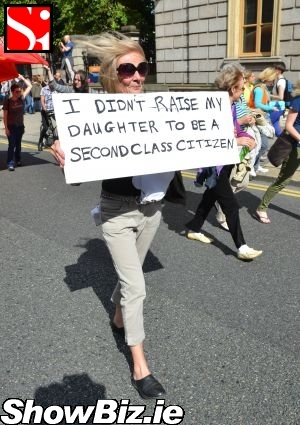 Gay March Atmosphere
ShowBiz.ie officially endorses the petition for the recognition of civil partnerships between same sex couples. How big of a boost is that? Just look what our official endorsement did to Gay Byrne's potential presidential campaign. We're only deadly so we are.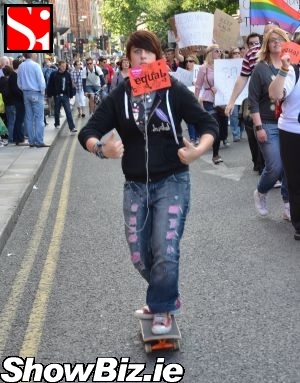 Gay March Atmosphere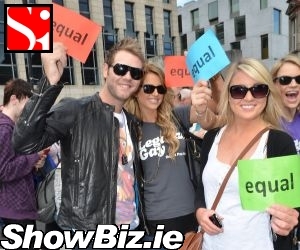 Brian McFadden & Vogue Williams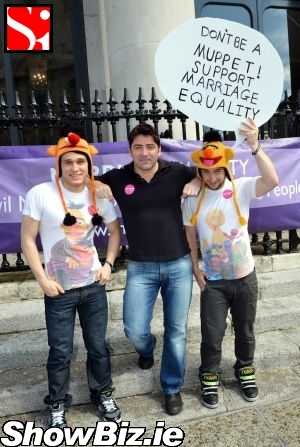 Brian Kennedy with Bert (Neil O'Brien) & Ernie (Chris Rowuan)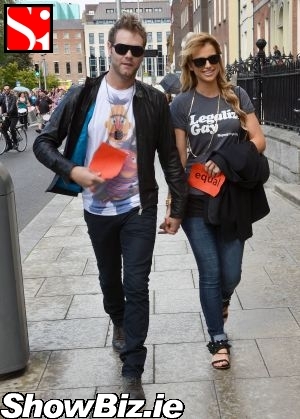 Brian McFadden & Vogue Williams