Ah Now. Vogue Shows Us The Hand...
Seriously. Graham Linehan couldn't write it into a sitcom folks. We're talking Father Ted meets Absolutely Fabulous. Yup. Vogue Williams showed ShowBiz.ie the hand at photocall she was doing this morning in Liffey Valley! On one level we're totally ashamed, but on three separate other levels we're soo fricken proud of ourselves...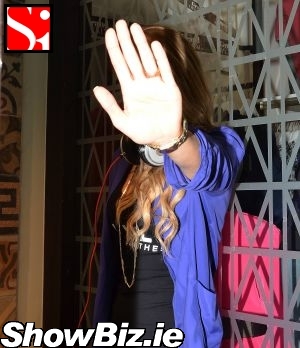 Vogue Williams
She's only back in the country five minutes yet Vogue Williams has tried to blank dear old sweet-as-a-nut ShowBiz.ie on two occasions. This week. First time was with her brand new fella Brian McFadden a few days ago, second time was at a photocall for the VILA Flagship store in Liffey Valley this morning... Is it our deodorant, or lack thereof? We're getting a complex here lads... Conflict resolution required asap. Someone call Hans Blix.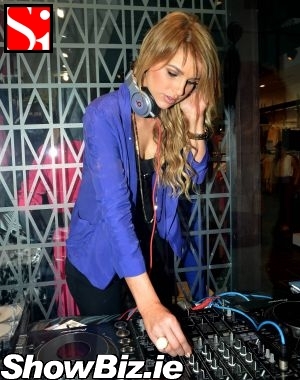 Vogue Williams
It's 10am and the shoppers out in Liffey Valley are queuing up for the opening of the Vila store. We were there with a few other invited snappers and journos with Vogue Williams as the main media attraction. As is the way with these events. Although, most of the aul dears gathered were kinda vague on who the Fade Street attraction was... Don't worry folks, we told 'em.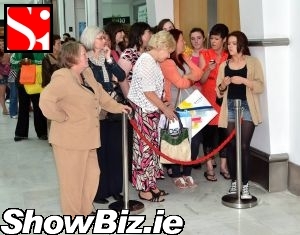 Vila Shoppers & Vogue Williams Fans
Anyways, our Vogue was booked as a DJ and didn't seem too keen to do posed snaps away from behind the glass and DJ desk... But the gathered snap hounds weren't too happy shooting her through the window with her head down busily spinning discs, and rightly so. After a bit of banter (well, snappers whinging) Her Vogueness did a few poses directed towards anyone but our lensman... Ah now. We're not that bad. Are we?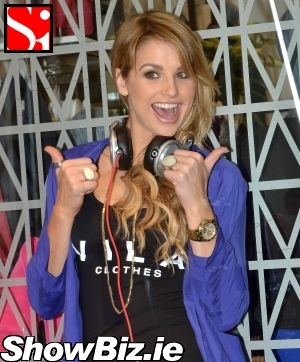 Vogue Williams
By the time our hunched dejected and deformed pap was on his merry way, The Vogue was in better form and rocking out tunes to the passing grannies, teenagers and housewives. Come on! Whoop. Whoop... Still. Don't think we're on her Christmas card list just yet folks... Like, what happened in Australia to alter our favourite Irish model's opinion of ickle old us? Hmmmm... We'll make the first step.. Whatever it was that we did, we're sorry Vogue... Fwends?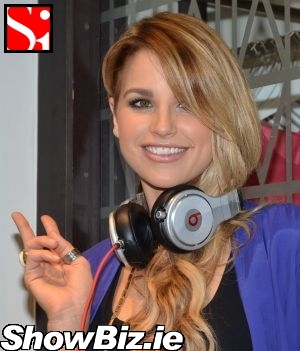 Vogue Williams