Everybody Do The Vogue Shuffle...
Love is all around as far as Vogue Williams & Brian McFadden are concerned folks, although our fav Fade Streeter seems to have fallen outta love with wee innocent ickle ShowBiz.ie during her extended Australian sojourn. Saying that, there was a new spring in her step when we spotted the compulsive Tweeters leaving Dakota yesterday...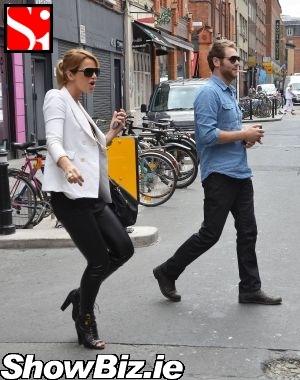 Vogue Williams & Brian McFadden
As they sat across the same table probably Tweeting each other outside Dakota on South William Street yesterday, one might have thought Vogue Williams & Brian McFadden were actually looking for a bit of the old media attention. Apparently not so. As soon as our hunch-backed snapper turned-up on the scene 'Brogue' exited stage left... We think the correct vernacular is: a legger was done.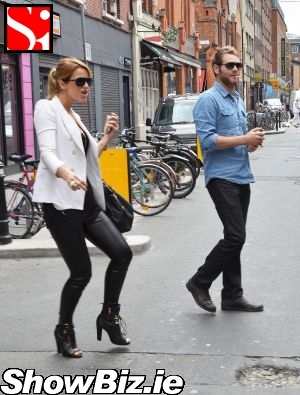 Vogue Williams & Brian McFadden
Strange. Seems even though this new celebrity pairing are hell-bent on living their personal lives through Social Media and keeping all the tabloids, sorry, fans updated with every Tweet, they definitely want it on their own terms... Sounds eerily like a conflict of interest, dunnit? How does one walk that fine line of staying out of the redtop newspapers while simultaneously keeping them updated on your every thought and movement throughout the day? Like, doesn't anyone ever text or bbm anymore?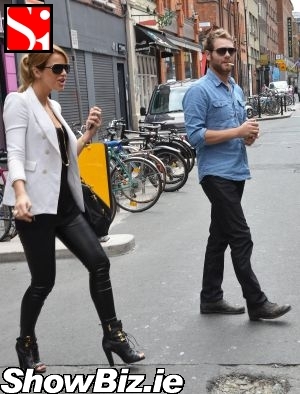 Vogue Williams & Brian McFadden
Or maybe it's just coz our Vogue has had well enough of the infamous ShowBiz.ie commentators? The model blonde who we've known since waaay back in the day apparently didn't have very nice words to say about our ickle website yesterday. Why can't we all just be friends? Bezzie buddies and all that... We're probably not as nice as her new Australian pals but we have our own special charms... Don't we??? Sure we do. ShowBiz.ie is probably going longer than the Australian Nation but with marginally less snakes... Them's be all facts folks.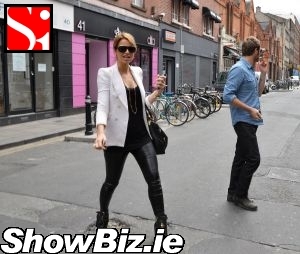 Vogue Williams & Brian McFadden
Anyhoo, Vogue & Brian ducked out of the back door of Dakota yesterday but being veteran paps that we are, we were well ahead of them and caught this sequence of snaps which seem to show Vogue kinda dancing across the road... We're calling it The Vogue Shuffle, and everybody's doing it... Apparently... It's the new Moon Walk only Vogue-i-er.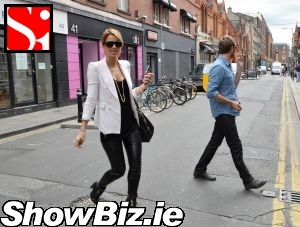 Vogue Williams & Brian McFadden