Georgia Pops Her Cherry (Blossom)...
Uber babe Georgia Salpa and a few of her Assets chums vowed to never pose for ShowBiz.ie ever ever ever again, as a few of you wayward commentators were giving them too much shtick. The bleedin' cheek of yis! Well, all that's changed folks. The Georgie wan even stripped down to her black bikini for us today as she got a few Cherry Blossoms inked onto her rather hot (and all natural) bod in Dublin Ink...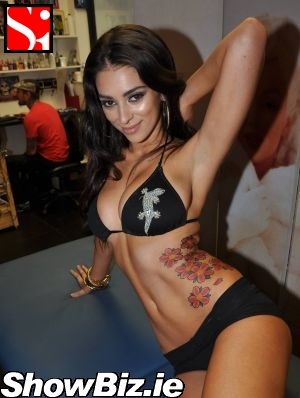 Georgia Salpa
It seems if you are planning to get all tatt-ed up these days, Dublin Ink tattoo studio on Cows Lane in Temple Bar is the place to go... No recession in ink folks.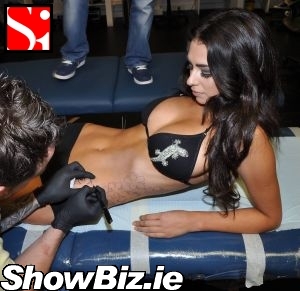 Georgia Salpa & Leigh Guerrine
Everyone from pornstars to models to plain ole punters on the street are lining-up around the block to get inked by tattoo artist Leigh Guerrine and the rest of the skilled crew at the chilled-out City Centre studio...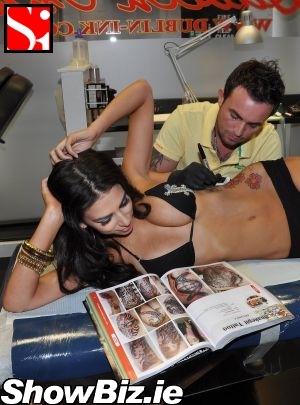 Georgia Salpa & Leigh Guerrine
Even RTE are vying to be all Dublin-Inked as their new Reality TV show 'Fade Street' is going to be broadcast from the Temple Bar premises very soon. We hear one of the beautiful people off the show, Danielle, has landed a job with the lads on Cows Lane.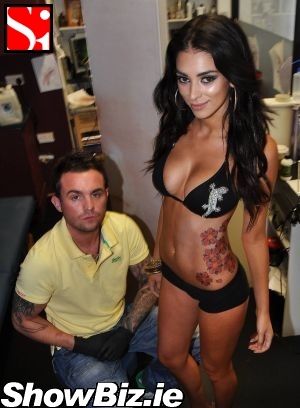 Georgia Salpa & Leigh Guerrine
Ireland's most exposed model Georgia Salpa was down at the studio to have a few Cherry Blossoms expertly inked onto her lovely Grecian skin... She was of course wearing a bikini at the time. We are starting to think she doesn't actually own any normal clothes... Like we're complaining... If you have it, and all that...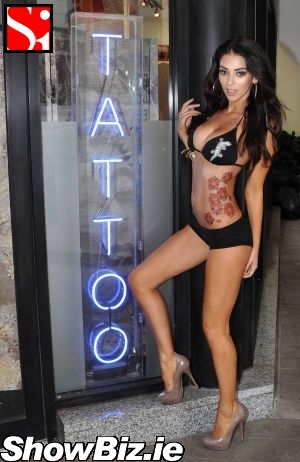 Georgia Salpa
The really good news is our Georgie Porgie-pudding-and-pie has dropped the embargo against our wee website, as it seems you lot have stopped writing nasty things about her and her colleagues. About time too... She also claims to know the true identity of the mysterious Model A1 but wouldn't say who... Feckin' tease.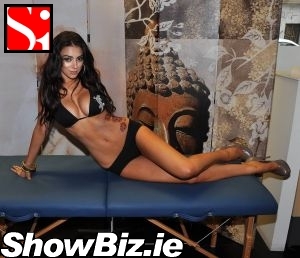 Georgia Salpa
Expect to hear and see lots about Dublin Ink on your telly box and in the rags in the coming weeks and months. What with Fade Street shooting there and also the Dublin Ink reality show going ahead, you will have tattoos and ink tales coming out of your ears.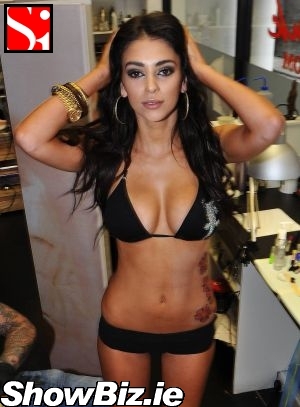 Georgia Salpa
But all of that's a tad pedestrian to us folks. All that matters is we are back in Georgia's good books! Yup. We are down with the Salpa... But for how long?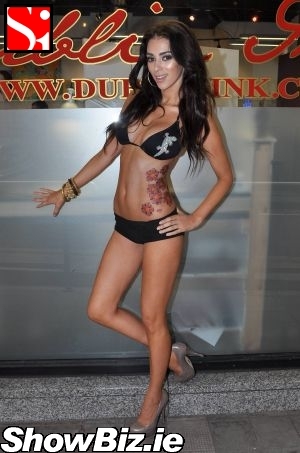 Georgia Salpa