Model Moll Mole Toll Role...
Retro's back-in folks as Daniella Moyles and Pippa O'Connor went all street yesterday... Grafton Street. This time out it was all about finding rogue moles on under protected Irish skin. Alas, we found none on these two beauties apart from a rather suspicious tattoo on Miss Moyles' shapely left buttock. Yup. We said buttock...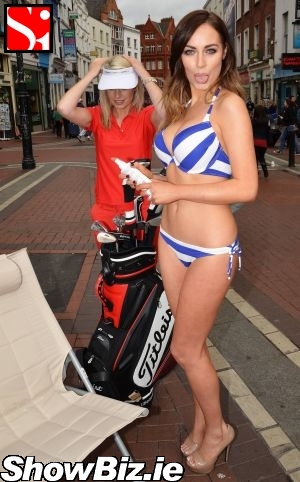 Daniella Moyles, Pippa O'Connor
Pointless headline alliteration aside, we couldn't be happier about seeing a model on Grafton Street in a bikini once more folks. Well, maybe a little happier if she had an inflatable banana under her arm or a lad dressed in a giant chicken outfit beside her, but yeah, we're pretty stoked. Italia '90 kinda happy.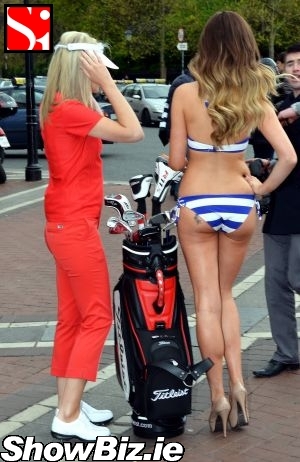 Daniella Moyles & Pippa O'Connor
Yup. Our Daniella and Pippa went old skool yesterday to launch The Mole Screening Clinic's 'Play It Safe' campaign, telling all you consumers of golf and beachwear to rub on factor far more frequently... And get those moles checked. They are mortal enemy of golfers - they keep digging-up the greens! Boom. Boom... We're here all week.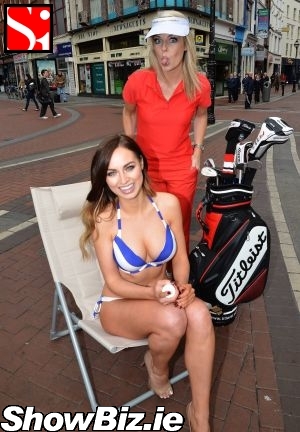 Daniella Moyles, Pippa O'Connor
Now, we know we've slagged-off the unimaginative Grafton Street bikini clad photocall in a yesteryear gone by, but considering Brian Ormond recently Tweeted a pic of Pippa's lovely arse she could have at least stripped down like our Dani. Not fair, those social interwebbers have all the fun.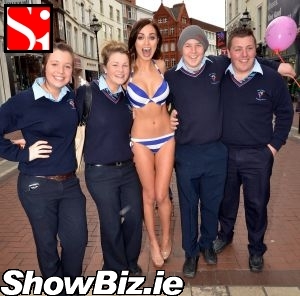 Daniella Moyles with students from Our Lady's School Castleblayney
So hopefully this here malarkey will see the return of the Grafton Street bikini-call. If for nothing else other than the faces of the confused shoppers and the school kids on-the-hop jumping into frame... Yizzar all caught rapid Castleblayney crew.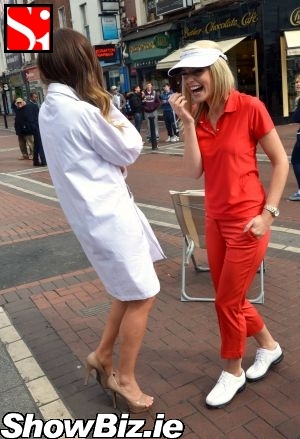 Daniella Moyles & Pippa O'Connor
So there you have it folks and what have we learnt? Well you should get your moles checked regularly, Pippa O'Connor won't do gratuitous bikini-calls, Grafton Street is more en vogue than Vogue Williams herself, and Daniella Moyles has a few stars tattooed on her arse representing God knows what. All in all, an educational day.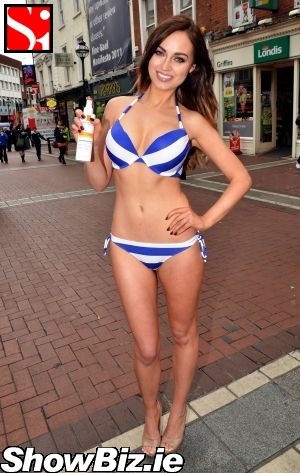 Daniella Moyles