Lorraine Looking Only McSavage?
We're big big fans of The Savage Eye here at the ShowBiz.ie. Yup. One of our favourite characters is that stereotypical middle aged RTE presenter with the babies shoved up her dress obsessed with the glamour... At first we thought it was an amalgam of The Miriam and The Blathnaid, but now we're thinking there's a lot of The Lorraine in there too...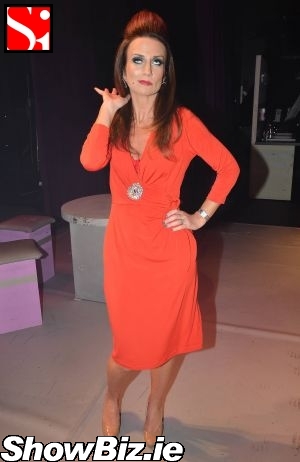 Lorraine Keane (Girls Night)
You don't have to look much further than RTE and TV3 to see the inspiration for the characters in David McSavage's The Savage Eye. All the hype thus far is around the Joe Duffy-esque character but yer wan with the plastic doll heads hanging between her legs and the magnifying glass in front of her mouth cracks us up even more so it does.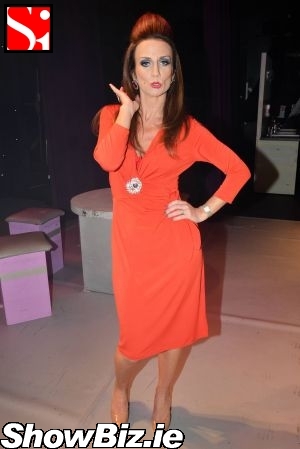 Lorraine Keane (Girls Night)
We were convinced that Miriam O'Callaghan and Blathnaid Ni Chofaigh were the two RTE lady presenters McSavage was ripping into, but after doing a shoot with Lorraine Keane in full stage make-up at the dress rehearsal for Girls Night last week, we can see a lot of the former Xpose presenter in there too... The plot thickens.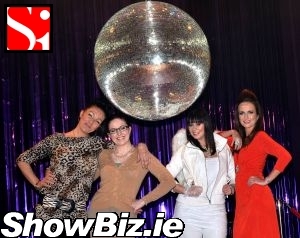 Hilda Fay, Sharon Sexton, Jacinta Whyte, Lorraine Keane (Girls Night)
Even down to Lorraine's choice of dress at The Gaiety rehearsal last week reminded us of The Savage Eye's gargantuan glamazon. Go on You Tube folks and seek out the sketches, even the hair is similar... O the glamour.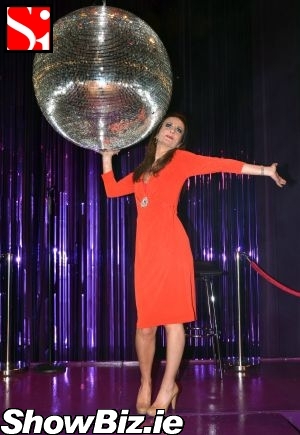 Lorraine Keane (Girls Night)
Of course, the canny McSavage has never really said who the personalities are which have inspired the likes of The President for Life but we all kinda know who he's tipping his hat too... So folks, who do you reckon The Savage Eye's glam TV presenter really is - Lorraine, Blathnaid, or Miriam? We're thinking it's The Glenda.