Models Movin' In On The Mary...
There was a time folks in our not so distant past that no self respecting photocall queen would be seen plying her trade anywhere but the top o' Grafton Street. For shame... Stephen's Green at a stretch. But those heady days are long gone, and watching our very own Nadia Forde playing kick-about on The Mary Street yesterday compounded the bleak state this country is in... And you thought the Coffin Ships were bad...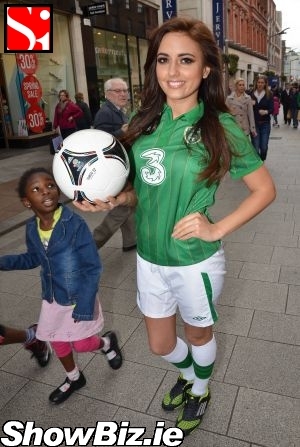 Nadia Forde
We don't need handsome Bryan Dobson on the box with all his white teeth telling us the unemployment lines are growing, that house prices are dwindling, and that Bono's just made another billion to know the balance in the Universe just aint right. Hell no Dobbo, we don't to hear your gilded words to know karmic forces are all out of kilter... All we need do for our barometer is look to the Irish photocall queens. They guide us Ireland. They guide us.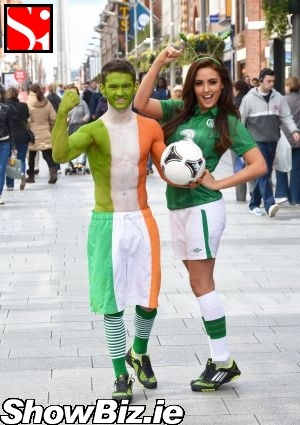 Daniel Cole, Nadia Forde
For only yesterday we found one of the shining lights of Irish modelling, Nadia Forde, working the feckiní Northside... Like a boss... Most government commentators and supposed economic svengalis said only a few years back that we'd never see a photocall model North of the river Liffey... Remember that folks? Seems like only yesterday, dunnit? Well they were wrong. Dead wrong.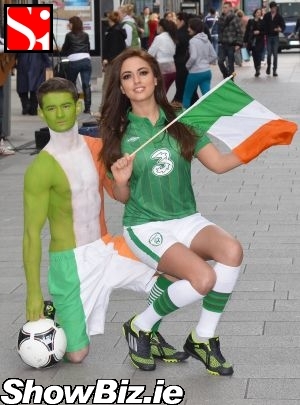 Daniel Cole, Nadia Forde
But showing what a great Nation we are when the chips are down is what Ireland's all about now folks. So what a gleaming light of inspiration Nadia Forde is showing Europe, nay, the World that the Irish roll up their sleeves and get back to work when the champagne corks stop popping... Miss Forde we salute thee... Ireland salutes thee.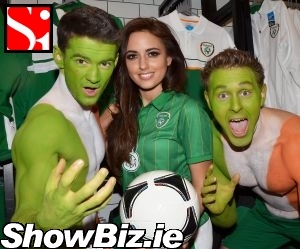 Daniel Cole, Nadia Forde, Anthony Kelly
That's right folks, Georgia Salpa's one-time bezzie Nadia Forde was doing her bit yesterday on Mary Street with patriotically painted Daniel Cole and Anthony Kelly. The trio of beauties were launching the Life Style Sports Ultimate Fan search 'How Green Will You Go To Get To Poland?' thingy... God bless them.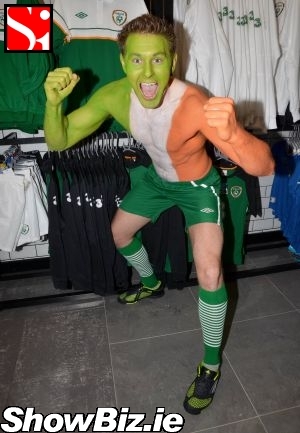 Anthony Kelly
That's right. The search for the ultimate Ireland fan takes place in Life Style Sports Blanchardstown this Sunday from 10am - 4pm but you must be over 18. The winner will feature in a big Life Style Sports campaign and will win a trip for 2 to the Euros 2012 to see the boys in green play Spain! Nice.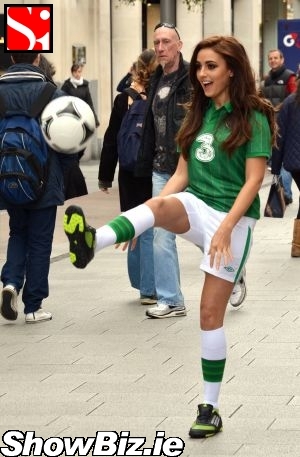 Nadia Forde
But perhaps Mr Trapattoni we've spotted a new skilled member for your team in our very own Nadia Forde yesterday when she was doing a bit of the aul keepy-uppy on Mary Street and... actually no, sorry, our bad... She was about as skilful on the ball as Steve Staunton. Thankfully, far better looking. Far far far faaaaaar better looking. In fact, we can't emphasise how much better looking Nadia Forde is compared to Steve Staunton... Saw him up close in Lillies one night... Let's just leave it at that shall we.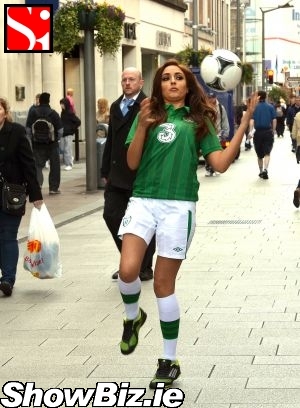 Nadia Forde