Proof: Salpa's Bod Stops Traffic...
If any of you doubting Thomas ShowBiz.ie posters ever needed proof that top photocall model and all-round babe Georgia Salpa has the natural assets required to literally stop traffic then check-out this photo sent in by one of our avid readers. We reckon the last thing the driver said before the crash was: "check out the Grecian Urns on that one"...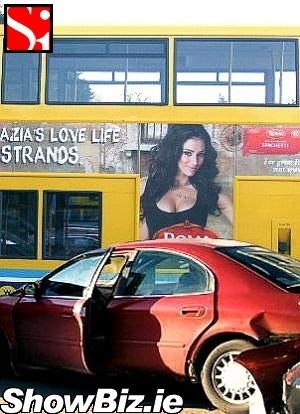 Georgia Salpa
One of our cheeky readers sent us in this photo yesterday folks. It shows Georgia Salpa's 'Roma Spaghetti' ad campaign on the side of a Dublin Bus over-looking a couple of cars in a wee bit of a banged-up bumper situation. We don't know who the photographer was who originally took this hilarious piccy but surely 'total ledge' befits this eagle-eyed snapper? We're not worthy.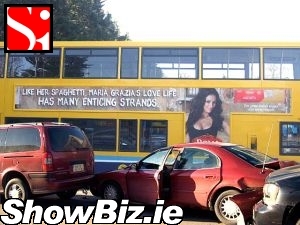 Georgia Salpa
Of course, we're not saying Georgia's ampleness combined with the caption: "Like her spaghetti, Maria Grazia's love life has many enticing strands", had anything to do with the wee crash. Perhaps the bus in question was just driving-by after this occurred? But hey, we're just appreciating the sharp photographer's eye in this composition. And yes, we have beaten our staff snappers severely with a big stick for not being able to top this shot. That'll teach the feckers.