Jonathan Rhys Meyers Is Soo GAA...
Ireland's favourite pillow lipped actor Jonathan Rhys Meyers maybe camper than a weekend away with the scouts, but the Cork bhoyo still loves his aul ball play folks. And by that we of course mean he likes to play sports that involve balls. What? Oooo come on! Get your gutter trash minds out of double-entendre land of muck smutty readers...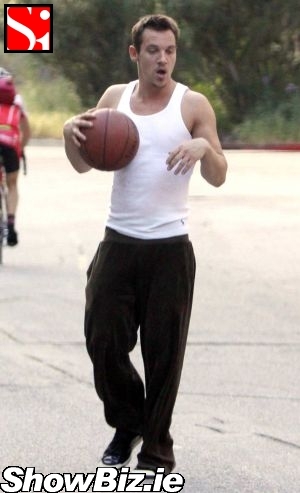 Jonathan Rhys Meyers
When we caught-up with Tudors actor Jonathan Rhys Meyers this week the wee fella from Cork was outside his pad in West Hollywood prancing around in a fitted white wife-beater vest and some loose brown velvet sweat pants. We think it's the official uniform for the People's Republic of Cork.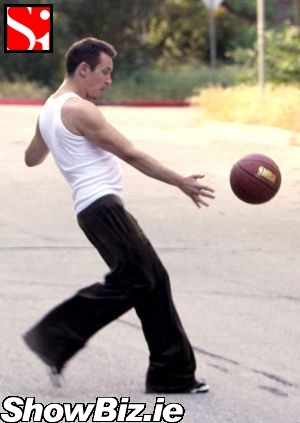 Jonathan Rhys Meyers
Anyhoo, our Jonathan (or Johnny O'Keefe to his old mates) seems to be fit and healthy despite news reports of him being ill or having gone off-the-rails on some bender or another... Apparently he missed some high profile interviews related to the third series release of The Tudors on US TV last week.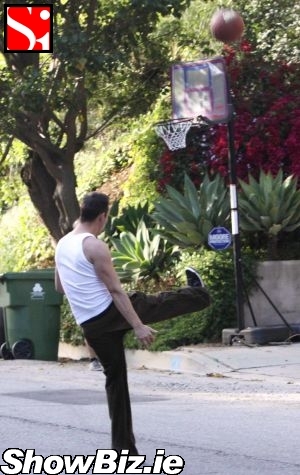 Jonathan Rhys Meyers
But none of the above seems to be bothering our prettiest actor as he played basketball with a male chum in Hollywood this week. Although, the handsome lad seems to have got basketball mixed up with Gaelic football - he was trying to punt the ball into the hoop rather than lobbing it! Maybe it's a new fandango LaLa Land sport or something?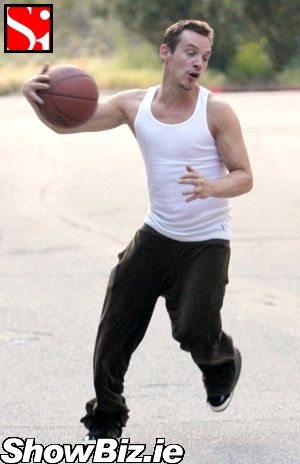 Jonathan Rhys Meyers
We just don't know with Mr. Meyers these days at all folks. Has he gone off the rails? Is he in rehab? Is he ill? Or, is he simply fine and dandy and merely a victim of shoddy tabloid rumour and speculation? We. Just. Don't. Know.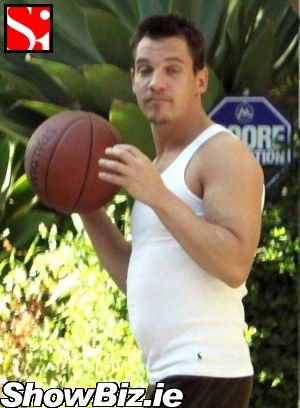 Jonathan Rhys Meyers
What we do know is Jonny boy will be back in Dublin for the summer this year shooting the next steamy episode of The Tudors. Can't wait. Hopefully he'll be back in the grounds of Christ Church filming as it's only a mere stone throw away from ShowBiz.ie HQ. Sure he can even drop in for a cup o' tea. And cake.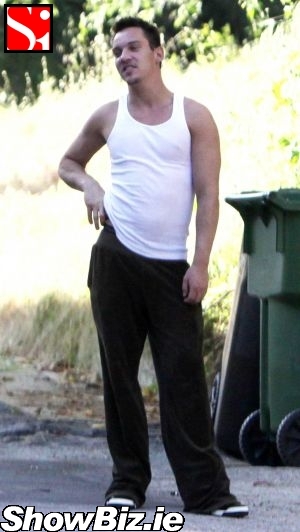 Jonathan Rhys Meyers
So there you have it folks. Jonathan Rhys Meyers is still alive, well, and very confused... About ball play. We mean, mixing basketball and GAA up. You know, the two sports? Oooo whateva, grow up!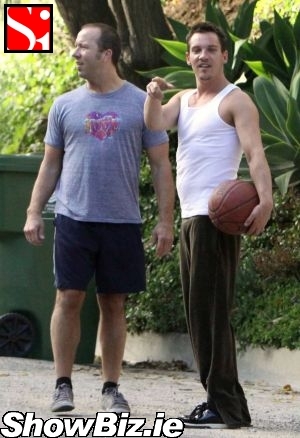 Jonathan Rhys Meyers & friend