Rosanna Finally Fashion Forward...
Modelos Fantasticos Rosanna Davison has been this country's fashion icon for a generation of young impressionable girls for the best part of a decade. Since landing the Miss World crown every little princess in Ireland wanted to ape her blonde Barbie Doll tresses and become Ireland's next top beauty queen. Heads-up folks, seems like Barbie has finally ditched the tiara...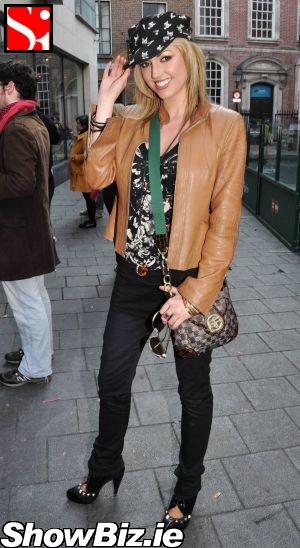 Rosanna Davison
In female fashion icon terms - the UK has Kate Moss, Peaches Geldof & Victoria Beckham, the USA has Madonna, Paris Hilton & Lindsay Lohan. Ireland, on the other hand, is a little light when it comes to fashionable femme fatales. All we really have is former Miss World Rosanna Davison. Twink just doesn't cut-it these days.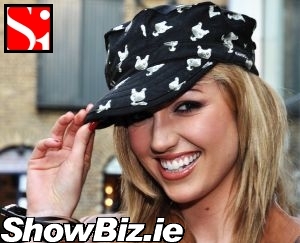 Rosanna Davison
For the longest time we've been scathing the leggy model's fashion choices. For what Rosie wears today, the model-set wear tomorrow and in turn, the teen girls of Ireland wear the following day... An over reliance on 'Debs Dress Chic' and the processed look with hair extensions, acrylic nails, false eyelashes, and the dreaded fake-bake. What ever happened to the natural beauty that won Miss World?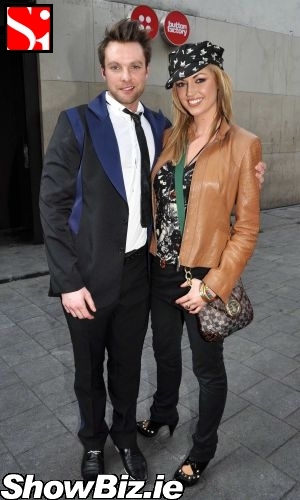 Peter Homan, Rosanna Davison
But we're happy to report that at Peter Homan's 'Saints & Sinners' art exhibition last night, a very different Rosanna Davison showed-up... Without the obligatory boytoy boyfriend on her arm, a very casually dressed and relaxed confident young woman stood in the place where the ditzy blonde gigglebox used to be... Think Olivia Newton-John in the final scene of Grease and you will see where we are going...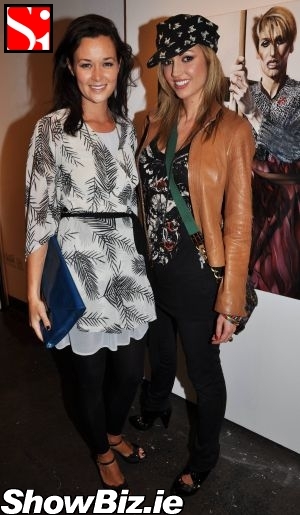 Caoilinn Taylor, Rosanna Davison
Dressed in black skinny jeans, studded heels, a short brown leather jacket, and a peaked black canvas cap with an uber cool chicken print design (yes, we said chicken print design!) - Rosanna set the whole room alight as the social-set and journos lined-up to complement her new look... Yup folks. Barbie is dead. Finally.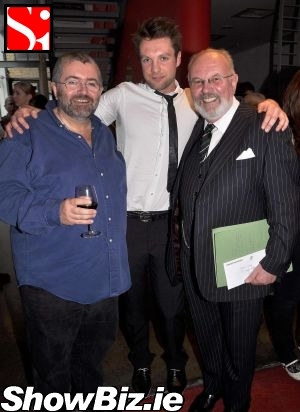 Bill Hughes, Peter Homan, David Norris
Rocking 'Bohemian Beatnik Chic' Rosanna was among the cool people attending the launch of Peter Homan's exhibition at Filmbase in Temple Bar last night... Wha? Rosie hanging out in an art gallery in Temple Bar?? Things really have taken a turn for the better.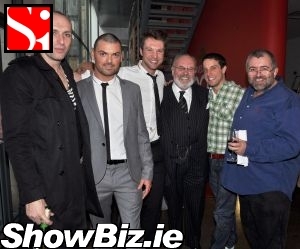 Enda Storey, Derick Carberry, Peter Homan, David Norris, Declan Buckley, Bill Hughes
Featuring paintings of well know gay Irish icons such as Senator David Norris, Shirley Temple Bar, Graham Norton, Stephen Gately, Brendan Courtney, Veda Beaux Reves, and Derek Carberry - Peter's work puts the flamboyant celebs in classic saintly poses. Hence the name: Saints and Sinners...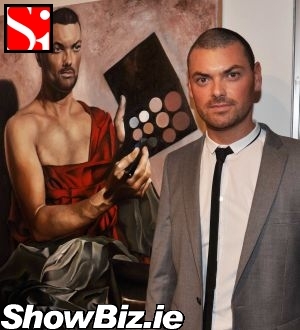 Derick Carberry (Painting: St Luke)
Apart from Rosanna 2.0, other guests at the launch included Peter Homan, Senator David Norris, Bill Hughes, Derick Carberry, Michelle Doherty & new boyfriend Fergus Kealy, Enda Storey, Declan Buckley, Caoilinn Taylor, Alan Hughes, Hazel Glynn, Sam Homan, and many more...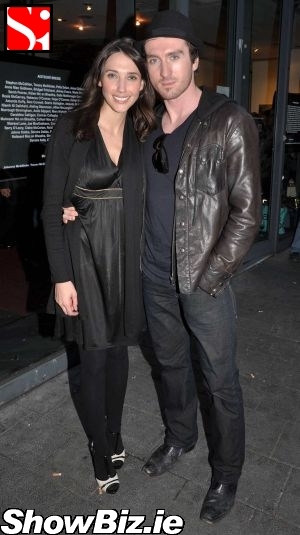 Michelle Doherty & boyfriend Fergus Kealy
If you happen to be around Temple Bar this weekend, do a Rosanna, and check out the Saints & Sinners exhibition.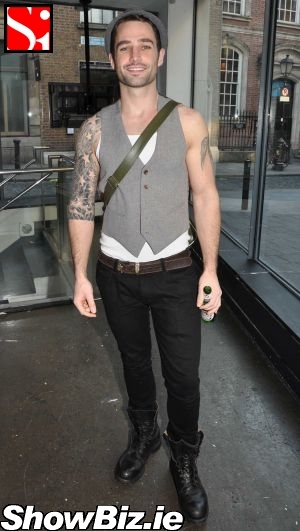 Sam Homan