Bono & Thee Edge Papped by Punter...
Some days we break-our-balls searching for celebs to snap, other days, the photos just fall into our lap. Thanks to the keen eye of an avid reader of ShowBiz Ireland; a punter turned paparazzo when he spotted Bono having a Guinness with The Edge last Sunday...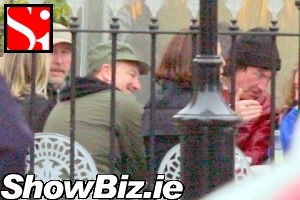 The Edge, Bono, Simon Carmody
We've been saying it for years: anyone with a digital camera or picture phone can become a proud member of the paparazzi fraternity. And more importantly, a picture supplier to ShowBiz Ireland and thus, the world!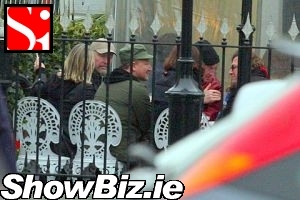 The Edge, Bono, Simon Carmody
Just look what a passer-by happened to snap as he strolled through a sleepy suburban Dublin village at the weekend... U2 boys; Bono and The Edge, having pints of Guinness with a few friends and Golden Horde frontman, Simon Carmody.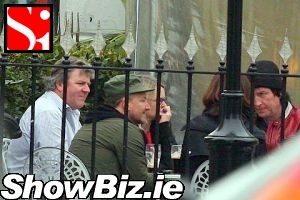 Bono, Simon Carmody
Now we're not encouraging members of the public to neither invade the privacy of celebrities nor stalk their every move. Not at all. But if you happen across a famous face; take a snap or two and send it in to us... We'll get you published and make you a few Bob Dillons toboot.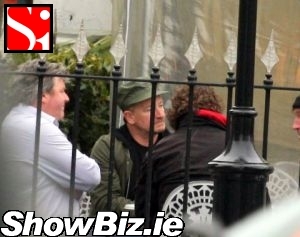 Bono
Although these pictures aren't totally exciting or controversial, it's nice that they show the rock megastar in his natural setting... Unawares of the camera, relaxing, and interacting with members of his Pride (In the Naaame of Looove). Sorry that was too tempting!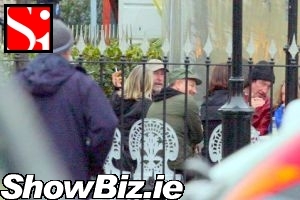 The Edge, Bono, Simon Carmody
Boy, that looked like One Beautiful Day in Dalkey - U2's Heartland. If only we could Stay for A Little While on Sunday, Bloody Sunday. That would have been The Sweetest Thing but we decided to Walk On, Wild Horses dragged us Faraway. Ahem.