Wanna Be Paparazzi & Make Easy Money?
Email us your Celebrity Digital Photos and Videos... There could be a fortune sitting in your mobile handset. If you snapped it then send it to us at:
Very. Important. Pictures.
30-01-01 news
Jordan & Sheridan direct once more...
Word on the Irish film front last night heated up when news broke that Irish film Director Neil Jordan (Michael Collins and Interview with a Vampire) is to start work on a new movie with Nick Nolte (48hrs.) The duo are to team up in a movie called Bob the Gambler and the Hollywood blockbuster is due to start filming in France in March.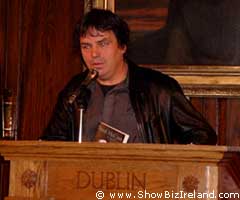 Neil Jordan
The film has a working title of Double Down and is based on a low budget French film made in black and white called Bob le Flambeur. Nolte plays a gambler whose bad luck changes when he pulls of the ultimate casino robbery.
Jordan has taken a break in writing his novel to make the movie and will follow this by making another film next year called Ned Kelly based on the famous Australian Outlaw.
Meanwhile, more news broke last night in Ireland about Jim Sheridan's plans for an Irish version of The Godfather. The Irish producer/director who made the movies My Left Foot and In the Name of the Father is said to have got £1m from Hollywood bosses for the script of the film Murphia.
The film is based on an Irish orphan who emigrates to America in 1895 and who becomes a powerful political figure through a life of crime. The story will tell his rise to the top of his fame in 1955.
Helping the script will be the writers of the new Muhammad Ali film with Will Smith, Chris Wilkinson and Steve Rivele who will share the writing credit's with Sheridan.
Sheridan is currently working on the script for his new movie which is based on the Wally Lamb hit novel, I know this much is true, in which Matt Damon will take the lead role.
Related Stories:
10-04-02
Jordan casts McGregor & Ricci
04-04-02
ShowBiz Ireland On Set with The Actors
12-03-02
The Actors Start Filming
26-02-02
Neil Jordan takes on the Borgia
25-02-02
Neil Jordan passes the baton
19-02-02
Cain in Jordan's The Actors
19-02-02
Meaney in Jordan's Intermission
13-04-01
Fiennes to Double Down for Jordan
12-02-01
Jordan's busy year ahead
30-01-01
Jordan & Sheridan Direct once more
28-11-00
Neil Jordan turns novelist
23-08-00
REM in secret film talks with Neil Jordan
06-06-00
Neil Jordan to make Vatican Mafia movie