Wanna Be Paparazzi & Make Easy Money?
Email us your Celebrity Digital Photos and Videos... There could be a fortune sitting in your mobile handset. If you snapped it then send it to us at:
Very. Important. Pictures.
28-11-00 news EXCLUSIVE
Neil Jordan turns novelist...
The Irish film director Neil Jordan (Interview with a Vampire and Michael Collins) has quit movie making temporarily to become a novelist. Speaking to ShowBizIreland.com last night in Dublin the director said he was currently in the middle of his first novel. "At the moment I have a number of movie idea's I am looking at making. But, currently I'm writing a novel. I have no plans at the moment for my next film but there is a lot of actors I'd like to work with."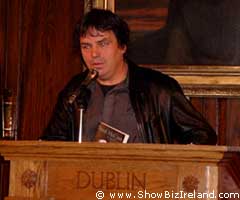 Neil Jordan
The director also crushed any rumours of a sequel or prequel to his hit Interview with a Vampire which starred Tom Cruise and Brad Pitt. "No there are no plans at present," he told ShowBizIreland.com.
The director was speaking last night as he launched a book called "Donal McCann Remembered" a tribute to the late Irish actor Donal McCann who died last year.
McCann last starred in The Nephew with 007 star Pierce Brosnan who's a partner in his Production Company Irish Dreamtime (the makers of The Thomas Crown Affair). Beau St Claire was the late actor's partner.
When McCann died Brosnan paid a tribute to the actor by telling ShowBizIreland.com that "Donal was a Knight of Ireland."
McCann also starred alongside Angelica Huston in her father John's last film The Dead.
Neil Jordan told of working with Donal on two films The Miracle and Angel and said of the actor that he was a better actor then Tom Cruise. The director also said it was a heavenly situation that Donal did not make it to Hollywood. "It was some sort of heavenly glitch that stopped him from becoming a major Hollywood icon in the 60's and 70's."
Also at the launch to pay their respects to McCann were Star Trex actor Colm Meaney plus a host of Irish actors and VIPs.
Related Stories:
10-04-02
Jordan casts McGregor & Ricci
04-04-02
ShowBiz Ireland On Set with The Actors
12-03-02
The Actors Start Filming
26-02-02
Neil Jordan takes on the Borgia
25-02-02
Neil Jordan passes the baton
19-02-02
Cain in Jordan's The Actors
19-02-02
Meaney in Jordan's Intermission
13-04-01
Fiennes to Double Down for Jordan
12-02-01
Jordan's busy year ahead
30-01-01
Jordan & Sheridan Direct once more
28-11-00
Neil Jordan turns novelist
23-08-00
REM in secret film talks with Neil Jordan
06-06-00
Neil Jordan to make Vatican Mafia movie