Wanna Be Paparazzi & Make Easy Money?
Email us your Celebrity Digital Photos and Videos... There could be a fortune sitting in your mobile handset. If you snapped it then send it to us at:
Very. Important. Pictures.
04-04-02 news EXCLUSIVE WITH PHOTOS
ShowBiz Ireland On Set with The Actors...
Oscar winning actor Michael Caine took time out yesterday to talk exclusively to ShowBizIreland.com on the set of his current film, The Actors, shooting in Dublin.
Alongside Caine is the BAFTA award winning Irish comedian Dylan Moran, who plays Caine's sidekick in the movie.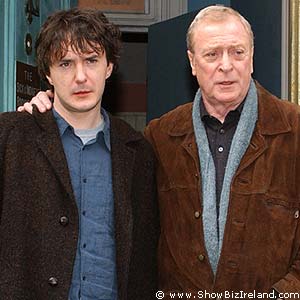 The Actors: Dylan Moran & Michael Caine
Irish playwright Conor McPherson, who also wrote in the script for the movie, is also directing the movie.
Speaking about filming Caine said that working with Dylan was easy to say the least, even though it is only one of his first big roles.
"It's easy to work with this fellow. He is really good", Caine admitted. However, Dylan joked that working with Caine was taking its toll after all it was Caine's 126th movie: "It's a nightmare. Nobody is talking to anyone on the set. There is a lot of arguing."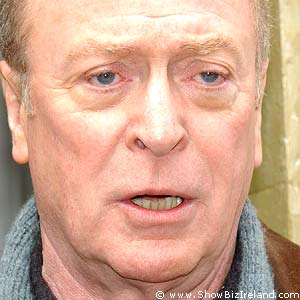 Michael Caine
Caine insisted however that he himself was the real star of the film saying, "I am only here to cover for Dylan. You are only supposed to talk to me and not to him. I'm the upbeat one."
Dylan however intervened and said "I think Michael has a lot of potential and if he plays his cards right he has a real future in film acting."
"Yes, I do try my best." Caine replied.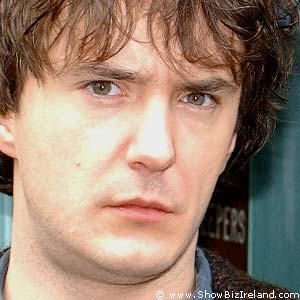 Dylan Moran
Caine also spoke about the full story of the film. "Its about two actors in a company in Dublin who are broke and they steal some money off some gangsters. And it's their efforts basically to give it back after as they are so scared. So, being actors they resort to all kinds of disguises and from then it becomes a comic chaos. It's very funny. It was the script first that attracted me to the role and the part was a wonderful as I get to play Richard the third which I would never do in real life."
Full Set of Photos from the set below: