Wanna Be Paparazzi & Make Easy Money?
Email us your Celebrity Digital Photos and Videos... There could be a fortune sitting in your mobile handset. If you snapped it then send it to us at:
Very. Important. Pictures.
09-10-00 news EXCLUSIVE
Brosnan filming in Ireland next year...
007 Pierce Brosnan has revealed exclusively to ShowBizIreland.com that he will be back in Ireland next year to make a new movie. However, the star refused to comment on if the movie would be the next James Bond film "Beyond the Ice."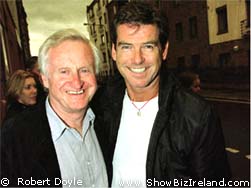 Brosnan & Boorman in Dublin
"I don't know if Bond will be made here," Brosnan told ShowBizIreland.com at the opening of Jeffery Rush's new play in Dublin last week where 007 was attending with the director of his and Rush's latest film, John Boorman, who is based in Ireland.
Brosnan, who was born in County Navan, is in Ireland to shoot the final scenes of Boorman's The Tailor of Panama. He met with the Irish Minister for Arts Sile De Valera and confirmed that he would be bringing his production company Irish Dreamtime to Ireland next year for a secret production.
The meeting with the Minister was due to Brosnan connecting with the Irish Screen Commission of which he is a member. Speaking to ShowBizIreland.com Brosnan who was wearing a Buddhist necklace after his recent meeting with the Dali Lama in India said "I don't know if our wedding is going ahead in Ireland but Keely is fine and the baby is doing great. But, I don't know when it's due."
Pierce is on his trip to Ireland with his son Sean who is in school in England and who's car accident was the reason Pierce and Keely's wedding was canceled a few months ago.
Related Stories:
12-02-04
Brosnan to Retire from Bond role
10-10-03
Brosnan Dons Sombrero in Mexicali
18-09-03
Brosnan Wants to Sex Up Bond
12-08-03
Brosnan Lands Red Dragon Director
11-08-03
Sinead's Back in the News!
31-07-03
Brosnan Brings Son on the Job!
28-07-03
Pierce Brosnan Receives OBE
16-07-03
Now The Name's Bond, Sir Bond!
03-07-03
Salma Hayek After Brosnan
24-06-03
The Name's Bond, Dr. Bond!
18-06-03
Brosnan Needs 100 Lawyers
16-06-03
Brosnan's Acting Masterclass
20-05-03
Brosnan's Cheech & Chong Role?
08-05-03
Brosnan Takes On The Matador
30-04-03
Pierce Brosnan Vs Colin Farrell
26-03-03
Pierce Brosnan is After the Sunset
20-03-03
Brosnan Appears All Over Dublin
14-03-03
Brosnan gets Clinton for Bond 21
05-03-03
Brosnan Changes Laws for Dublin
14-11-02
Brosnan will Drink Another Day
08-11-02
Brosnan Signs On for 5th Bond
01-11-02
Brosnan is a true Father Figure
15-10-02
Brosnan Hits Back at Christian Brothers
09-10-02
Brosnan an All Round Hero
29-08-02
Brosnan lands another Top Model
16-08-02
Brosnan thinks he's Bond
07-08-02
Bond to get the best lay of his life
16-07-02
Brosnan & Bale in The Pale
10-07-02
Madonna Not Up For Grabs to Brosnan
03-07-02
Brosnan Schools in Tibet
06-06-02
Brosnan's Laws of Attraction
23-05-02
Brosnan's Cannes Double Bill
25-04-02
Brosnan Has Another Affair
09-04-02
Brosnan's other Day - After Tomorrow!!
22-03-02
Brosnan's son stops filming on Bond
20-03-02
Madonna's Bond role Up for Grabs
07-03-02
Brosnan under surveillance
20-02-02
Brosnan shaken but on stirred
18-02-02
Connery to do a Brosnan
12-02-02
Madonna sings for Brosnan
16-01-02
Brosnan's Wedding makes him cringe
14-01-02
Brosnan in for one more Bond
10-01-02
Aussie lands Bond Girl role
09-01-02
Irish stars in the World's Sexiest
14-12-01
Brosnan wants to help the Children
22-11-01
Brosnan Alters History
21-11-01
Fr. Jack to Star as Bond's Dad
19-11-01
Pierce Brosnan Interview
14-11-01
Elton joins Brosnan in Bond 20
12-11-01
Stars come out for Harry Potter
05-11-01
Stars come out for ShowBiz Ireland
02-11-01
Aiden Quinn Interview
01-11-01
Brosnan stops Holding Fire
01-11-01
Margulies talks about Evelyn
25-10-01
Spoilers & pics from Brosnan's Evelyn
22-10-01
12 pics from Brosnan's Evelyn set
15-10-01
Brosnan's cast arrive in Dublin
10-10-01
Brosnan denies his Goldmember
25-09-01
Evelyn is a movie close to Brosnan's heart
21-09-01
Brosnan helps stepson back to health
19-09-01
No Rush in Brosnan's Car
11-09-01
"Evelyn" to be Brosnan's next flick
07-09-01
Bond 20 close to Brosnan's next movie
03-09-01
Brosnan's next Dreamtime project
23-08-01
Brosnan mad over Bond leak
07-08-01
Brosnan cancels Honeymoon
07-08-01
ShowBiz Ireland get into 007's Wedding
03-08-01
Brosnan's Quite Man style Wedding
01-08-01
Brosnan's Bride to be has landed
30-07-01
Countdown to Brosnan Wedding
27-07-01
Brosnan gets Waterford Crystal
16-07-01
Brosnan books The Chieftains
12-06-01
Confirmed: Brosnan Wedding back on
30-05-01
Bond to lose his British passport?
29-05-01
Connery was a cheap Brosnan
16-05-01
Bond's greatest foe: Marriage!!
17-04-01
Brosnan denies Bond rumours
12-04-01
Brosnan Defiant of his critics
10-04-01
007's Ashford Secret
05-04-01
Brosnan barely made Le Carre's cut
02-03-01
Brosnan's baby son Paris
27-02-01
Brosnan's Tailored as anti-hero
16-02-01
Brosnan's Sound of Thunder
30-01-01
Irish Stars on the World's Rich List
23-01-01
Brosnan's got family trouble?
11-01-01
007's UN Mission
13-12-00
Brosnan's Larceny for Lovers
05-11-00
Brosnan to become US citizen
03-11-00
Brosnan has GQ Style
23-10-00
Brosnan movie set to flop in the USA
09-10-00
Brosnan filming in Ireland next year
05-10-00
Brosnan "Tailored" for wedding
22-09-00
Brosnan's brothel creepers
01-09-00
Bond star scouting locations in India
01-08-00
New Brosnan baby on the way
28-06-00
New Bond to be shot in Ireland
19-06-00
Jane Seymour stays in Brosnan's wedding suite
16-06-00
Brosnan takes time out with recovering son
09-06-00
Brosnan Wedding hold-up
16-05-00
Happy Birthday Bono, Andrea, & Pierce
16-05-00
Brosnan Wedding called Off
15-05-00
007 Licensed to Wed in Irish Abbey
07-05-00
Brosnan's wedding date confirmed
30-04-00
Brosnan's Irish Wedding Plans
27-04-00
Pierce Brosnan's son 00K
10-04-00
Brosnan to tie the Knot in Ireland