Wanna Be Paparazzi & Make Easy Money?
Email us your Celebrity Digital Photos and Videos... There could be a fortune sitting in your mobile handset. If you snapped it then send it to us at:
Very. Important. Pictures.
19-11-01 news EXCLUSIVE INTERVIEW
Pierce Brosnan Interview...
ShowBizIreland.com's Jason O'Callaghan interviews Pierce Brosnan from the set of his new movie Evelyn and quizzes him about Bond and other projects.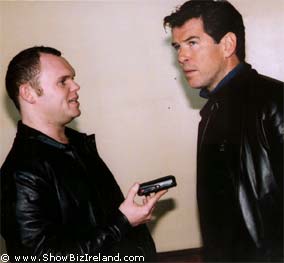 Jason O'Callaghan & Pierce Brosnan
Will the new Bond be shot in Ireland?
Reports that parts of the Bond film will be shot in Ireland are just rumors, unfortunately Ireland will not feature in the next Bond film.
Will you ever move back to Ireland?
I keep dreaming about living here but never get around to doing anything practical about it. But, I am very happy to be back working in Ireland at the moment.
Why this script (Evelyn) and not one of the hundreds of others you get?
It was the script that attracted me. Then when Bruce Beresford got involved with his cinematic flare I just could not refuse.
But it is so far from Bond?
This is a little step away from the Bond. But Bond can also be a milestone around your neck. You have to step away from that as one can get pigeon holed so easily by it. You have got to stay on your toes as an actor and search for roles that can stretch you. And take you in a different direction. And this is a far cry from the world of Bond.
So, what is the secret with your Bond plans?
We finish here on December 17th and Bond starts shooting on January 13th with a short break over Christmas. Contractually that's it. They have me for three with the option for a forth and this is the option. I don't know where it's going to go after this. As for a fifth Bond, I'd like to do one - I've never really got them too tightly about a fifth.
Were you happy with the one's you have made?
I always think you do the best you can. They have been very successful.
Did you want to be Bond since you were younger or has it been more of a burden?
When I started out as an actor at 18 years of age I wasn't going out to be James Bond it just came along and I talked to the studio and I said yes. Then I could not get out of the contract with Remington Steele. So, it sort of lingered around and it finally came back and here I am. The most important thing for me is to enjoy what you ever you do. I enjoy playing Bond it's been great for my career and allowed me to set up my production company Irish Dreamtime. It's allowed me to come back and do The Nephew and Thomas Crown.
The role does leave you with a certain stigma or typecast?
I was trained as an actor to take up many roles and I like to think that I have some versatility but you do find with a role like Bond that you are nailed to the floor.
How does it feel to be the producer of Evelyn as well as its lead actor?
I have a very good partner in Beau St Claire. I just have the title of producer but I am an actor. But, when I put on the producers hat if there is such a job is to find the material, which we started doing five years ago. We started off making The Nephew with the late great Donal McCann. Now we have this great script and I sent it to Bruce who worked with me on a movie ten years ago in Nigeria and he took to it and here we are. That's how it differs.
What is the mission statement of your company Irish Dreamtime?
The intentions of the company being Irish Dreamtime is that we keep coming back to Ireland and make movies and find stories that touch me and hopefully be entertaining. We hope to work between here and Hollywood.
Do you like your character in the film Evelyn?
This story just moves me. The courage of Desmond Doyle and the truth of the man and the simplicity of the man. It was just a well-written story by Paul Pender and it just touched me as I tuned the pages we just worked on it and it got better and better.
Did you cast the movie?
The Hubbard's did the casting and they got everyone and I just said yes. Stephen Rea is one of my heroes. The material is good and the whole set is just relaxed it's great. It just works you have don't to push anything.
Is this in anyway a personal story?
There is no similarity between Desmond Doyle and me. Apart from both being Irish. But, I left when I was four and under different circumstances and I just liked the story cause it's was such good quality.
Do you miss James Bond?
It a good break from Bond but it is nice to go back to Bond.
Do you like making films here more then in Hollywood?
There is a great ease in the people here. And it's very comfortable making films here. Although sometimes the whether can be a bit of a thorn in your side but I have a need to come back as this is where I come from. Down the road in Navan, County Meath. I find it just a kick in the pants to come with my own company after the success of Bond.
When is Evelyn due out?
It's not a big film so it will be have to placed well as it would get lost in the summer blockbusters so I would say next autumn.
You have got a lot of criticism over the past two months for taking the script for Holding Fire, about the death of New York fireman. Can you clear up any of those rumors?
I know little about. It came to my company and through an executive in Hollywood. I have read an article that was not that negative but I don't know if we are going to make it or not.
Any plans for Thomas Crown Affair 2?
We have talked of Thomas Two. But I think Thomas One was good enough.
Do you have big plans for Evelyn?
I have high hopes for this film as I followed my own heart. I have enough fame and enough money and just want to get on with what turns me on like this film.