Wanna Be Paparazzi & Make Easy Money?
Email us your Celebrity Digital Photos and Videos... There could be a fortune sitting in your mobile handset. If you snapped it then send it to us at:
Very. Important. Pictures.
15-03-02 news PHOTOS
SIX to change for the UK...
Reports in the Irish press state that the popstars SIX may be forced to change their name, similarly to Westlife (formerly Westside), before they launch in the UK.
Head of BMG Records in the UK, Simon Cowell, has reportedly requested dramatic adjustments in advance of the bands UK launch.
These changes may include the new name as the current one of SIX is seen as unoriginal.
Plans are also underway to use a different single for their UK debut. It seems that their current Irish hit, A Whole Lot Of Lovin' Going On, is too Steps-like for the lucrative UK market.
A close source has said: "It's going to be a complete nightmare for the group if they have to change their name. It would be a big embarrassment because they are known as SIX and have topped the charts with that name. But their record bosses in London think the name is too plain and boring and won't attract young fans".
The group - Kyle Anderson, Sarah Keating, Liam McKenna, Sinead Sheppard, Emma O'Driscoll and Andy Orr - looked sullen in Dublin last night at the launch party of a new Sunday paper, Stars On Sunday.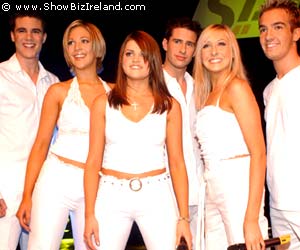 SIX (for the moment)
The insider concluded: "There are a number of new names in the hat at the moment but nothing is for certain. They want to pick something original. The final decision is down to Louis Walsh but if changing the name will make big things happen then they are prepared to do it".
This will not the first time that Louis Walsh has had to change the name of one of his groups. Westlife were originally called Westside, but it was discovered that an R'N'B group in the US had the name.
Meanwhile, the UK version of SIX, Hear'Say, have cancelled their tour, six months before it's scheduled start. Ticket sales were said to have been poor.
If you want to suggest a new name for SIX please email it to: six@showbizireland.com - we'll make sure Louis gives your suggestions the once over...