Wanna Be Paparazzi & Make Easy Money?
Email us your Celebrity Digital Photos and Videos... There could be a fortune sitting in your mobile handset. If you snapped it then send it to us at:
Very. Important. Pictures.
22-01-02 news EXCLUSIVE WITH PHOTOS
ShowBiz Ireland finds 2 of Six!!
Two members of Irish Popstars band Six revealed that they heard about the competition from, you guessed it, ShowBizIreland.com.
Both Liam and Andy,who got into the final six in the band, admitted in an exclusive interview that they only heard about the competition because of their online gossip bible ShowBizIreland.com.
Liam had heard of the show but checked out details last September on the site. But, it was Andy, who only heard of the competition first on the site.
Here are the the full Six finally revealed below: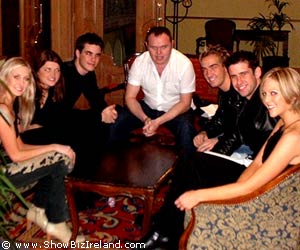 From Left: Emma, Sinead, Liam
Middle: ShowBiz Ireland's Jason O'Callaghan
From Right: Sarah, Andy, Kyle
In two weeks time viewers in Ireland can see a full interview with Liam from the band and ShowBizIreland.com's editor Jason O'Callaghan that was recorded in secret two month ago.
ShowBizIreland.com was picked out of all media publications in Ireland and the UK as the only trustworthy company who could keep the Popstars secret... And we did!!
The interview was set up after ShowBizIreland.com was given exclusive access to the band weeks before they were announced to advise the band on how there lives would change once the press found out who they were.
The secret interview is now due to be screened on the show in two weeks.
However, we also got another exclusive interview with the band this week when the sixth member Sarah Keating was announced.
We can now reveal that the band are about to vacate the Popstars house in Kiliney in Dublin after hundreds of kids flocked around it making it impossible for the band to leave.
The band is now looking for a new home.
The band has also signed a deal with Nokia and Esat Digifone just like their Westlife friends.
Three of the Six band members have full time and long-term boyfriends and girlfriends.