Wanna Be Paparazzi & Make Easy Money?
Email us your Celebrity Digital Photos and Videos... There could be a fortune sitting in your mobile handset. If you snapped it then send it to us at:
Very. Important. Pictures.
14-02-02 news EXCLUSIVE WITH PHOTOS
Our SIX fan-atic Interview...
ShowBizIreland.com gave Ireland's No.1 SIX fan-atic the chance to meet and chat to the band to celebrate our traffic exceeding 4 MILLION page impressions per month.
We gave one of our regular Web Site visitors the chance to met her favourite band, SIX, and interview them for ShowBizIreland.com.
Here are the results:
Interview by Ruth Dowling, from Dublin, Age 16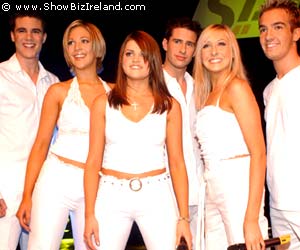 SIX
Q1. What do you want to achieve over the next couple of years?
Kyle: loads and loads of number ones, and be very successful and obviously enjoy the whole experience as much as we can, that would be my main goal.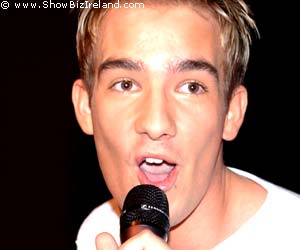 Kyle
Q2. Do you think your pop band, will be dominated by one member?
Sarah: Absolutely no way,
Liam: YES it will, it will be dominated by Sarah because she kicks all our ass whenever we try to do anything!!!.
Sarah: " and you better know it"
Liam: But when Sarah isn't doing it Sinead is doing it, we don't stand a chance.!!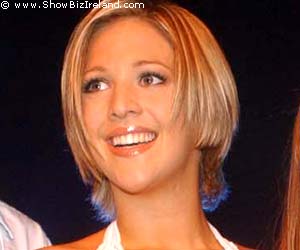 Sarah
Q3. When you open the paper and see bad publicity written about you how do you feel?
Emma: At the beginning it was hard but now you don't care, and you just let it go over your head and you just don't worry about that kind of thing any more there's a lot of goods things in the paper and you just focus and the positive and forget about the negative.
Q4. Are all your friends jealous, and do they treat you differently?
Sinead: No not at all, your good friends are going to be your friends no matter what so they treat me exactly the same. I don't get to see them that much now but I'm always on the phone to them. They are not a bit jealous.
Q5. How have your family been coping with the sudden fame?
Andy: (Laughing) My family are loving it, they have all these kids calling at the door and they invite them in and show them around my house. And they bring them up to my room and they give them all my socks!!! My parents love it.
Q6.Who is the bossiest band member?
Liam: I've already answered that one. Sinead.
Kyle: Sinead makes all the rules and we have to abide by them, I know I'm going to get killed tonight just for saying that in public.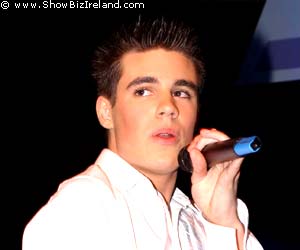 Liam
Q7. Who keeps the band on top form when your down?
Liam: Emma, she always makes us smile when were down (all the band nod and agree)
Emma: ah thanks guys
Q8. I was at Childline and I was very impressed by your performance how did it feel?
Sarah: It was amazing we were so nervous going on. Because bands like Hear'say, Westlife and Sclub7 were wandering around backstage and we were just like oh my god I cant believe were going to be on the same stage as them. The minute we got on stage and heard everyone screaming, the nerves just disappeared we loved it was brilliant.
Q9. What is the first thing you will buy with your first big pay cheque?
Liam: There is loads of stuff we all have in mind the main thing is to just look after are family and everyone around us.
Andy: (LAUGHING AGAIN) A nice fancy sports car a house and the rest (The rest of the band laugh and shout at Liam to be honest).
Liam: Okay I have got my eye on a Mercedes as well, and I'm determined to have it within the next year.
Q10. Are you happy with the name six?
(all the band agree with a very positive yes)
Kyle: I don't think anyone is going to like the name straight a way, S Club 7 and hear'say would probably be the worst names ever heard of but it just grew on people, Six I hope will grow on people too.
Ruth's final thought:
"As this was my first ever interview I was extremely nervous but as soon as I started asking SIX questions I became so relaxed in their company. They were so nice and friendly towards me it didn't seem like a interview it was more like a friendly chat.
From just speaking to them for 10 minutes I found that this band was just like one big happy family; Sarah was like the mummy, Liam like the dad and Andy was just like the big kid who never stopped laughing!!
I could see what they mean about Emma being the happy one because throughout the whole interview she didn't stop smiling.
Sinead was just like the wise one. And Kyle was just Kyle he was gorgeous.
I really enjoyed interviewing them I really hope that their single goes straight to number ONE because the totally deserve it. All the hard work they have but in."
Thanks Ruth, a job well done..