Wanna Be Paparazzi & Make Easy Money?
Email us your Celebrity Digital Photos and Videos... There could be a fortune sitting in your mobile handset. If you snapped it then send it to us at:
Very. Important. Pictures.
11-09-06 news EXCLUSIVE WITH PHOTOS
Glenda's Backstage Picnic...
Irish modeling phenomenon and tabloid favourite Glenda Gilson has made the transition from the catwalk to the small screen - and all in the name of schmoosing with the stars...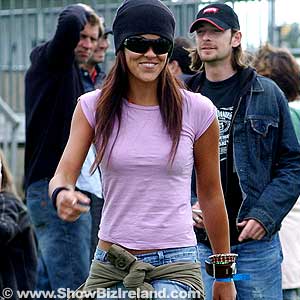 GLENDA GILSON @ ELECTRIC PICNIC
These days, if Irish model Glenda Gilson so much as much as says "Howya" to a bus driver, the media immediately assume she has found a new love and finally moved on from her ex Brian O'Driscoll.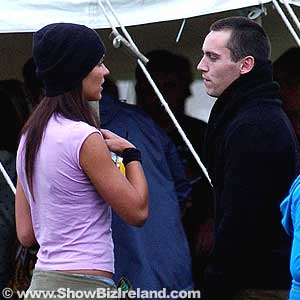 GLENDA GILSON & JONATHAN RHYS MEYERS @ ELECTRIC PICNIC
Not that we're complaining - most of these baseless stories originate from our photos! But as the most snapped gal in Ireland moves from being the source of media interest and slides over to the dark-side, with her new job as Bubble Hits' TV journo, will she be able to strut-her-stuff on both sides of the fence?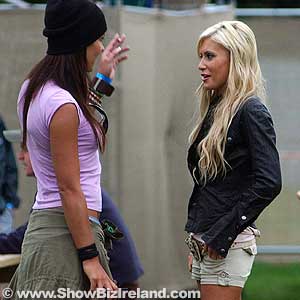 GLENDA GILSON & CLAUDINE PALMER @ ELECTRIC PICNIC
As an established model and socialite sexy Glenda is in the privileged position where she has full access to every party invite and backstage-pass on the go - but in her new role as a member of the media she's going to have to re-train her button nose to sniff out celebrity news and gossip...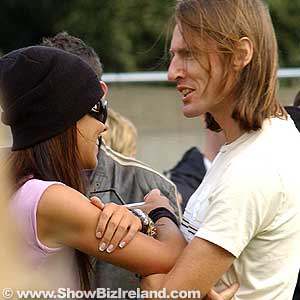 GLENDA GILSON & ROBBIE WOOTON @ ELECTRIC PICNIC
As we watched her seamlessly glide her way between the stars backstage at Electric Picnic last week it occurred to us that her access-all-areas bubble may burst as ever vigilant celebs begin to ponder which side of the low-carb bread Ms Gilson is buttering...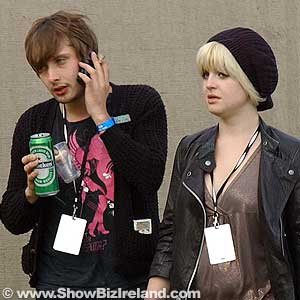 KELLY OSBOURNE & MATT DERHAM @ ELECTRIC PICNIC
But Glenda was eager to tell us at ShowBiz Ireland that she won't be giving the skinny on her celeb pals nor hassling them for interviews. She told us: "I'm not in fact acting as a journalist for Bubble Hits, instead I view my role as a muse to the stars: promoting their latest concerts & CD's through indept interviews and reviews..."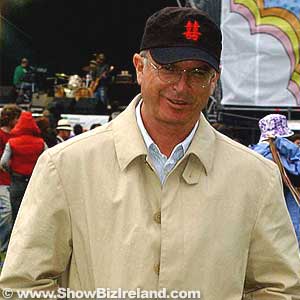 KELLY OSBOURNE & MATT DERHAM @ ELECTRIC PICNIC
She went on: "and just for the record I wasn't on Jonthan Rhys Meyer's case for an interview as some newspapers seem to think. I was merely chatting to him as a friend, he won't be appearing on Bubble Hits any time soon..."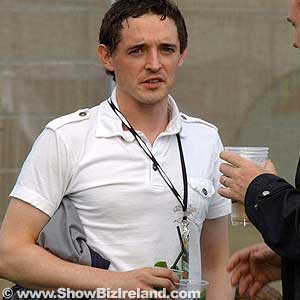 HUGH O'CONNOR @ ELECTRIC PICNIC
And it seems Glenda's new job away from modeling has allowed her to drop the polished image down a peg-or-two and adopt the persona of her best pal Colin Farrell... We spotted her backstage wearing a t-shirt and jeans finished off with a beanie-hat, and with a beer in one hand and a fag in the other she chatted to the likes of actor Jonathan Rhys Meyers, Robbie Keane's fiancee Claudine Palmer and Spirit boss Robbie Wooton.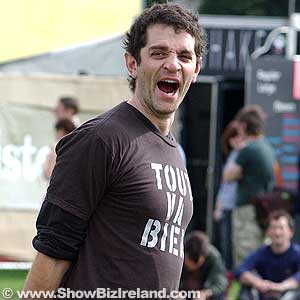 JAMES FRAIN @ ELECTRIC PICNIC
Other celebs backstage with Glenda included Kelly Osbourne and her new fella Matty Derham, Aussie actor Sam Neil, our favourite little Lamb Hugh O'Connor, 24 actor James Frain and The Commitments' Bronagh Gallagher.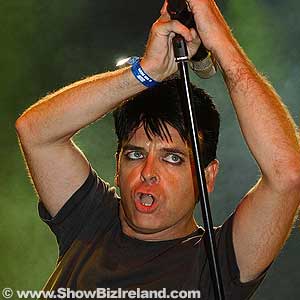 GARY NUMAN PLAYS @ ELECTRIC PICNIC
Most VIP's in the backstage hospitality area seemed more interested in the free booze than the acts on stage (nothing new there!) but for our money Sam Neil spent the most time enjoying the concerts followed closely by James Frain and Kelly Osbourne...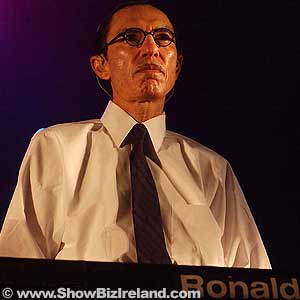 SPARKS PLAY @ ELECTRIC PICNIC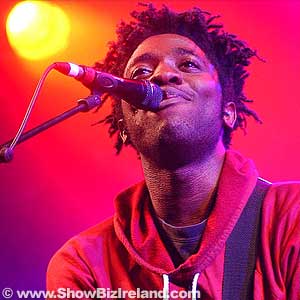 BLOC PARTY PLAY @ ELECTRIC PICNIC
Discuss this story in ShowBiz Ireland's Forums