Wanna Be Paparazzi & Make Easy Money?
Email us your Celebrity Digital Photos and Videos... There could be a fortune sitting in your mobile handset. If you snapped it then send it to us at:
Very. Important. Pictures.
21-09-04 news EXCLUSIVE WITH PHOTOS
Celebs Shun the Camera...
There must have been something in the water over the weekend as celebs were camera dodging like mad when they spotted ShowBiz Ireland's lenses on the streets of Dublin...
It's a sad day when celebrities start covering their faces if a camera is pointed in their general direction because of the apparent irony... These people have worked their whole lives to attain fame and when they get it, they shun it!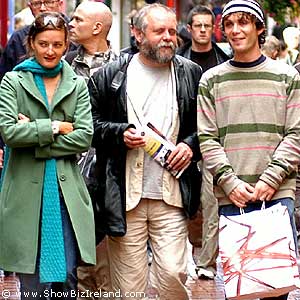 YVONNE MCGUINNESS, PAT MCCABE & CILLIAN MURPHY
That's fine if you are a big-name star - but when up-and-coming actors start camera dodging and throwing diva-like strops we feel like telling them, "relax there lads we weren't here to shoot you in the first place!"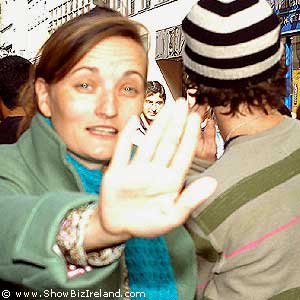 CILLIAN MURPHY & WIFE YVONNE
ShowBiz Ireland's snappers happened to be on Grafton Street last Saturday to shoot Paul Weller when Cork actor Cillian Murphy walked by with his new bride Yvonne McGuinness and the author of his current movie Breakfast on Pluto Pat McCabe.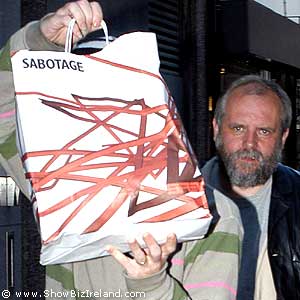 PAT MCCABE & CILLIAN MURPHY
Naturally we asked him for a photo but instead of doing the clever thing Cillian and his better half started jumping around Grafton Street with hands and bags in front of their faces, making themselves even more conspicuous... Take it easy!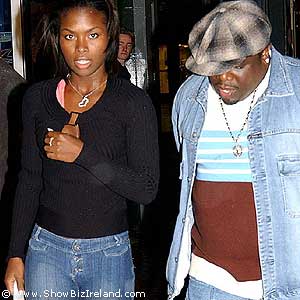 CEDRIC THE ENTERTAINER
The same thing happened a few days earlier when one of the stars of the Hollywood movie currently being made here, The Honeymooners, Cedric The Entertainer (who we hear you say) and a mystery beauty darted in opposite directions when they realised there were photographers outside Lillies Bordello.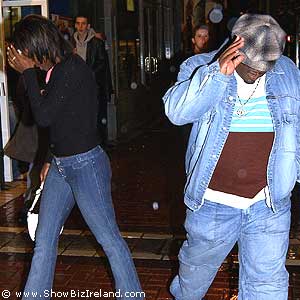 CEDRIC THE ENTERTAINER
Well there's something for the books - photographers outside Lillies! The funny thing was if they hadn't of acted like they didn't want to be photographed our photographer wouldn't have even recognised them!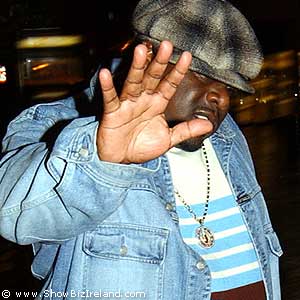 CEDRIC THE ENTERTAINER
We think all you would-be celebrities should take a leaf out of the Daddy of all famous people, Bono... When we snapped him entering Lillies Bordello last week, rather than pulling a J-Lo he merely gave the litter bin on the street a swift little kick!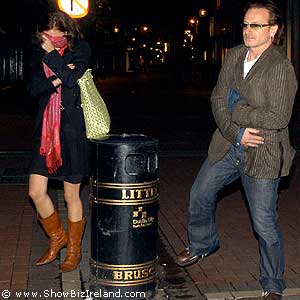 BONO
But we'd love to know who was his female companion that night - no doubt with the amount of covering up she was doing she's obviously no one to talk about?
Discuss this story in ShowBiz Ireland Forums...