Wanna Be Paparazzi & Make Easy Money?
Email us your Celebrity Digital Photos and Videos... There could be a fortune sitting in your mobile handset. If you snapped it then send it to us at:
Very. Important. Pictures.
06-09-04 news EXCLUSIVE WITH PHOTOS
Brian Stole O2 From Westlife...
When was the last time you saw a member of a Westlife crowd-surfing? Never? Well, Brian McFadden celebrated his newly found solo freedom at O2 in the Park with a bit of a mosh!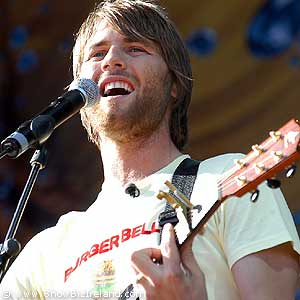 O2 IN THE PARK: BRIAN MCFADDEN
There was a stark contrast both back and front stage at O2 in the Park on Saturday as all eyes and cameras were firmly pointed in Brian McFadden's direction while his former Westlife bandmates seemed to be left in his shade...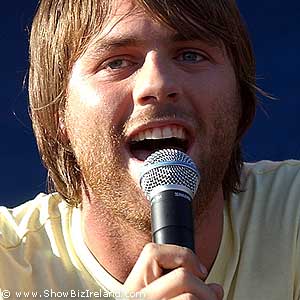 O2 IN THE PARK: BRIAN MCFADDEN
In fact the contrast didn't end there - Brian's new outlook, style, music and performance seemed to highlight Westlife's stagnation as an act and perhaps was a big wake-up call for the foursome to drop the matching outfits and cover songs and roughen up their image.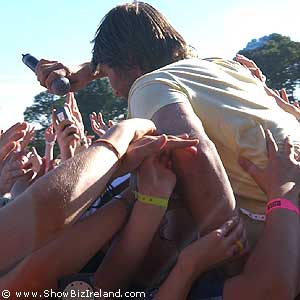 O2 IN THE PARK: BRIAN MCFADDEN
Not that we are knocking Westlife - they are still a top drawer act, it was just seeing Brian leaping into the 100,000 strong crowd and then being carried out by security still singing his heart out that made us think that time may be up on Westlife's highly polished and choreographed image?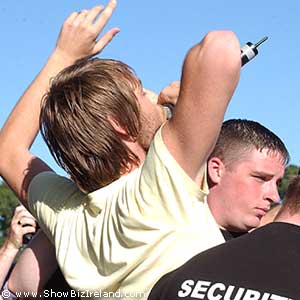 O2 IN THE PARK: BRIAN MCFADDEN
Maybe, maybe not - but it was a breath of fresh air out of the clear blue sky at O2 in the Park to see a former member of a boyband get up in front of tens of thousands of people and sing live while strumming a guitar...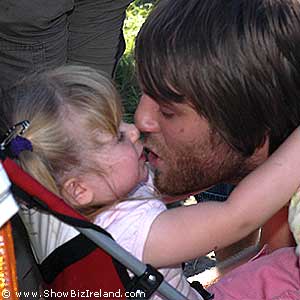 O2 IN THE PARK: BRIAN & MOLLY MCFADDEN
And it didn't stop there - backstage Brian's two adorable kids Molly and Lily Sue had all the attention as their busty mother Kerry Ferried them around dressed in sexy Cowboy hat and boots, and denim skirt.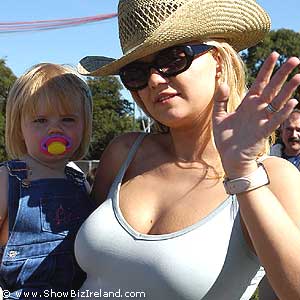 O2 IN THE PARK: KERRY & LILY SUE MCFADDEN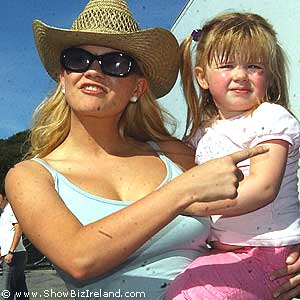 O2 IN THE PARK: KERRY & MOLLY MCFADDEN
But Westlife did raise a few eyebrows backstage but mainly they were due to Shane Filan's new side-parting hair style. Perhaps married life has prematurely aged the young heartthrob?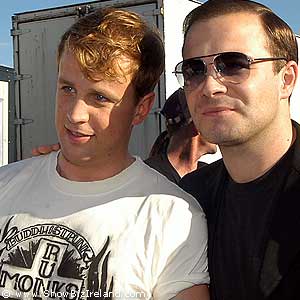 O2 IN THE PARK: KIAN EGAN & SHANE FILAN
Other things of note which occurred at the O2 concert (apart from the sunshine) was Brain happily hanging out with his former Westlife chums and Sarah Harding from Girls Aloud hobbling around with her foot tightly bandaged.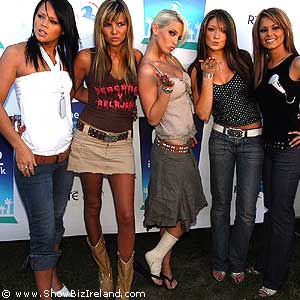 O2 IN THE PARK: GIRLS ALOUD
New Irish acts like ZOO, Minx, and Carol Anthony look like promising up-and-coming talents to watch out for... ShowBiz Ireland chatted to some of them at an afterparty in Lillies Bordello and you'll be happy to hear that they are all really nice down-to-earth guys aswell!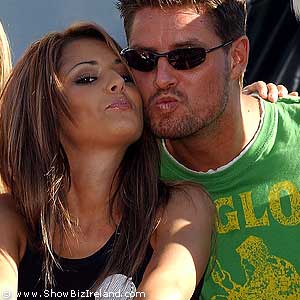 O2 IN THE PARK: KEITH DUFFY & CHERYL TWEEDY
Already we are looking for to next year's party in the park - let's hope the weather holds!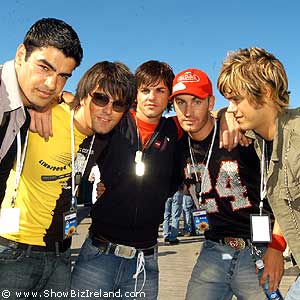 O2 IN THE PARK: ZOO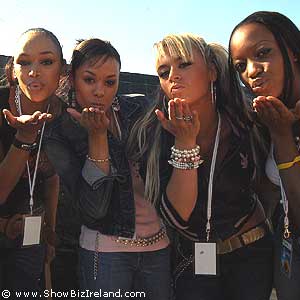 O2 IN THE PARK: 411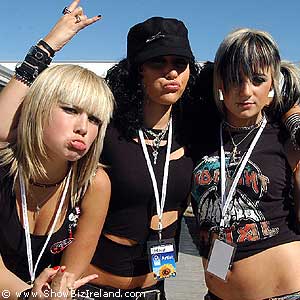 O2 IN THE PARK: MINX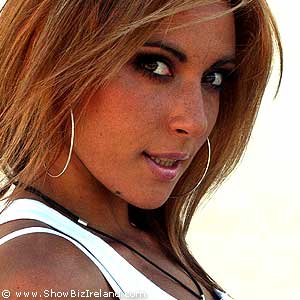 O2 IN THE PARK: CAROL ANTHONY
Discuss this story in ShowBiz Ireland Forums...