Wanna Be Paparazzi & Make Easy Money?
Email us your Celebrity Digital Photos and Videos... There could be a fortune sitting in your mobile handset. If you snapped it then send it to us at:
Very. Important. Pictures.
01-09-04 news EXCLUSIVE WITH PHOTOS
Nadine Bounced Black & Blue...
Derry girl Nadine Coyle looked stunning as she left Blue singer Simon Webbe's Party in London with her Girls Aloud bandmates in a black Versace top until it all went badly wrong...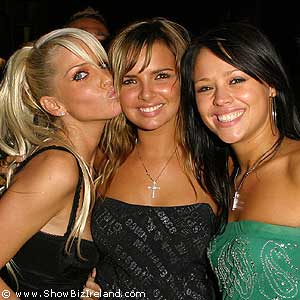 NADINE COYLE WITH GIRLS ALOUD CHUMS
Blue singer Simon Webbe has become a bit of an entrepreneur of late - moving behind the scenes into management and now has his own PR company with partner Jade Reuben. But after the "Basketball Players and Cheerleaders" themed launch party for his PR company last Sunday night in Attica Nightclub things got a little bit out of control...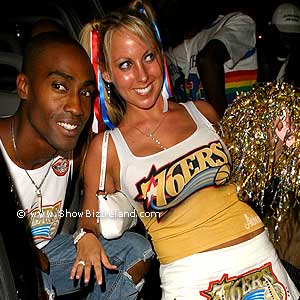 SIMON WEBBE AT ATTICA PARTY
As 150 to 200 people spilled out onto the street after the party in the early hours some partygoers started playing Basketball on the using the balls to smash up street signs and shop grills.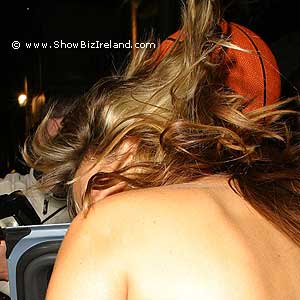 1. NADINE GETS HIT IN THE HEAD WITH BASKETBALL
But no one could have foreseen Girls Aloud singer Nadine Coyle having a heavy Basketball purposely and forcefully thrown at her head as she attempted to get into a waiting car...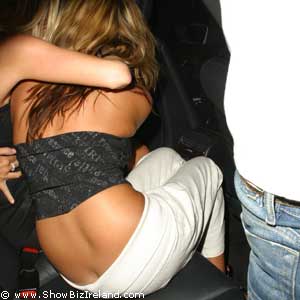 2. NADINE JUMPS INTO WAITING CAR WITH GIRLS
As Girls Aloud left the party they were followed by a group of photographers including some of ShowBiz Ireland's finest and seemed in good cheer as they kissed each other and posed in front of the cameras.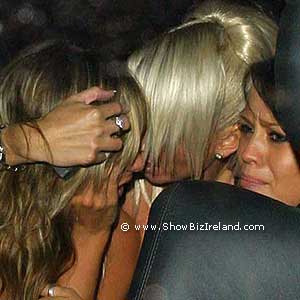 3. NADINE GETS COMFORTED BY GIRLS ALOUD
But as they got into their car someone shouted from the crowd, "Why are you fighting and arguing with Nicola Roberts" - referring to a story that had been printed in a Sunday Newspaper. Kimberly Walsh from the band retorted to the tabloid rumour saying: "are you f*cking winding me up, are you taking the piss?" before climbing into the car followed by Sarah.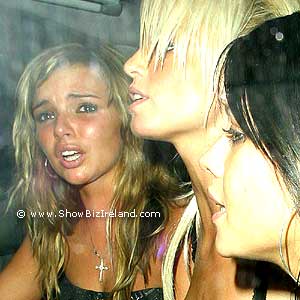 4. NADINE STARTS TO CALM DOWN AFTER ASSAULT
But before Nadine could get into the vehicle a Basketball came flying out of nowhere and blasted the Irish beauty in the head!
And it was no little tap, in fact ShowBiz Ireland's photographer noted at the scene that if the ball hadn't hit poor Nadine's head it would have left a large dent in the car as it was the same ball that had been used to smash street signs earlier that night.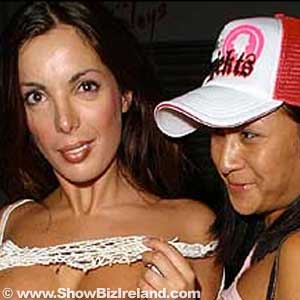 MODEL CORALIE ROBINSON AT ATTICA PARTY
As the car sped off Nadine had her head down with Sarah and Kimberly supporting her. The ball did not break the skin but we can imagine Nadine having a bit of a headache when she woke up the next morning...
Discuss this story in ShowBiz Ireland Forums...