Wanna Be Paparazzi & Make Easy Money?
Email us your Celebrity Digital Photos and Videos... There could be a fortune sitting in your mobile handset. If you snapped it then send it to us at:
Very. Important. Pictures.
07-09-00 news
Brad gives Irish Gypsy image a makeover...
He's made being an Irish Gypsy trendy and where a genuine Irish man failed (i.e. Gabriel Byrne as his role as a tinker) in Into the West. Now Hollywood heart-throb Brad Pitt is also being penned with the title of succeeding for the fist time in history with making the Irish traveler sexy. In his latest movie Snatch, Brad plays Mickey the Irish Gipsy and is tipped to win his first Oscar for his role.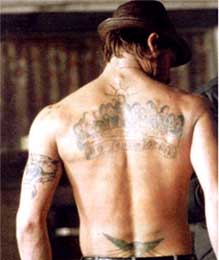 Pitt shows his Last Supper tattoo as Mickey the bare knuckle "Pikey" boxer
One-punch Mickey is a volatile Irish Gipsy who is hired by a group of aspiring boxing promoters to take a dive in the fourth round of an illegal bare-knuckle match. To get the part, Jennifer Aniston's hubby was whisked off to a traveler campsite to get the feel for the character.
Although he plays a violent mumbling fighter, Pitt's character is sexier than the first ever Irish traveler to appear on our screens - The Riordan's Eamonn Maher. Joe Pilkington, who died last year, played the lovable, tousle-haired, donkey-coated Eamonn and paved the way for the introduction of other travelers on television.
However, a far sexier image of the traveler was introduced by real-life couple Gabriel Byrne and Ellen Barkin who teamed up as husband and wife in Into the West.
The Irish Travelers Movement has said that although there was nothing wrong with an American playing the part, they were disappointed with the image of a bare-knuckled fighter.
Unfortunately some films, particularly gangster-type films, focus on violent and criminal travelers which is very negative. While some travelers are involved with bare-knuckle fighting, the idea that this is all travelers are about is not very welcome, said spokesman David Joyce to the Irish Independent newspaper recently. He added that there was a long history of travelers in both film and television with some portrayals accurate and some not.
In Ritchie's first film Lock Stock and two smoking barrels he used former world supermiddleweight champion Steve Collins, briefly. Now, in Snatch he's got Mickey Cantwell (London flyweight, used to be British champ) and Scott Welsh, who used to be the British heavyweight champion. Also, the Commonwealth welterweight champion Scott Dixon was Brad Pitt's body double for the bare knuckle punching close up shots, and Brad was given some advice on gypsy style street fighting by former pro Bobby Frankham, who is a Gipsy as they come.
Here's some indept information about the fighters Ritchie has used in his last two flicks supplied by a reader: the-dude-abides - Thanks Jim
The big guy who Brad Pitt fights bare knuckle style at the climax is Scott Welsh, the former UK heavyweight champion. He lives in Hove, N. Brighton, and unlike most boxers, he is pretty loaded from owning and running a string of nursing homes, so he didn't even need the money from boxing ! He won the amateur (ABA) heavyweight title before turning pro, and eventually won the UK professional championship from six foot nine James Oyebola. Scott went on to beat an aged Joe Bugner (he was 46 at the time!) in Germany, before challenging for the WBO version of the world title; he went the distance, but lost clearly on points in America. After that he had a few fights, but could not get the motivation, so he packed boxing in and I never heard anything about him until he showed up in Snatch ! Great part.....
Scott Harrison, the Commonwealth welterweight champion, was Brad Pitt's body double for the close ups, I read that in last Sunday's News of The World, and it mentions things like how he taught Brad Pitt to box for the part of Mickey, basically I think Scott taught him the boxing skills, and banned ex-pro Bobby Frankham, a true gypsy bare knuckle fighter (he was on the recent channel five program about bare knuckle boxing) taught Brad some of the dirty tricks that unlicensed fighters use, obviously pro boxers have a limited range of punches and target areas, but anything goes in street fighting !
In Lock Stock, Irish ex-world champion Steve Collins appeared briefly as a doorman.
The second guy to get killed by Bricktop in the boxing gym (the smaller guy, who get's a plastic bag put over his head by some heavies) is Mickey Cantwell, who like Scott Welsh and Steve Collins has no previous acting experience. Cantwell has fought for a few versions of world flyweight titles, I think he did hold a world title for a while, he held the UK title too, he was a very successful amateur, many feel he turned pro too late. He regularly pops up on Sky TV's boxing coverage as a studio pundit. Nice guy actually.
The guy who plays Gorgeous George in Snatch is an ex professional boxer as well, his name is Adam Fogerty and he had one hell of a future in front of him when he packed in boxing about ten years ago. He boxed out of Halifax, West Yorkshire, and built up a great record. He was the classic big punching, white rugged heavyweight and could have made a lot of money, but for some reason he quit and went into professional rugby for a few years, and then he turned up on the odd TV program, playing bit parts, so it's quite an achievement to get that decent part in Snatch.