Wanna Be Paparazzi & Make Easy Money?
Email us your Celebrity Digital Photos and Videos... There could be a fortune sitting in your mobile handset. If you snapped it then send it to us at:
Very. Important. Pictures.
10-10-06 news EXCLUSIVE WITH PHOTOS
Wezanna: Bebo's Golden Couple...
For all you people out there looking for love on the internet there is hope! Ireland's latest golden couple Wesley Quirke and Miss World Rosanna Davison found each other on Bebo...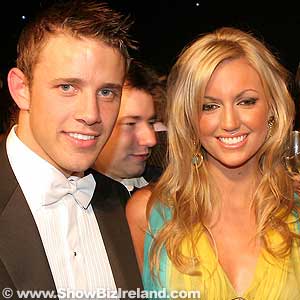 WESLEY QUIRKE & ROSANNA DAVISON @ MR IRELAND
For the past week Irish newspapers have been filled with stories on Miss World Rosanna Davison's new boyfriend Wesley Quirke - son of mega rich former Garda and owner of Dr. Quirkey's Goodtime Emporium.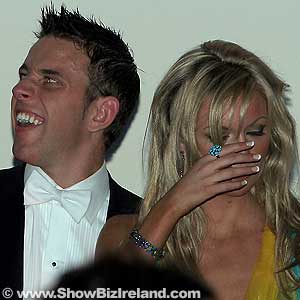 WESLEY QUIRKE & ROSANNA DAVISON @ MR IRELAND
ShowBiz Ireland spotted the young lovers at the Mr. Ireland 2006 finals in the Mansion House last Friday, where Wesley's (Wez to his friends) brother and Colin Farrell look-a-like Andy Quirke was competing under the sponsorship of Mr. Social & Personal.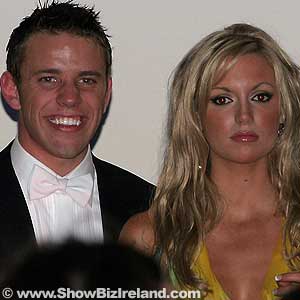 WESLEY QUIRKE & ROSANNA DAVISON @ MR IRELAND
On spotting the couple with our camera lenses poor Rosie didn't seem at all too happy at first but on realising that it was pointless avoiding being snapped she grabbed her handsome new man and happily posed up beside his brother Andy...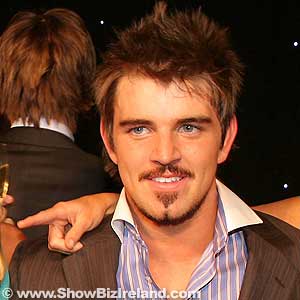 ANDY QUIRKE @ MR IRELAND
Now that the Rosanna and Wesley are officially Ireland's latest golden couple we want to give them their own celebrity moniker such as Brad Pitt & Angelina Jolie's 'Brangelina' or Ben Affleck & Jennifer Lopez's 'Bennifer' - after much deliberation we reckon 'Wezanna' fits them perfectly...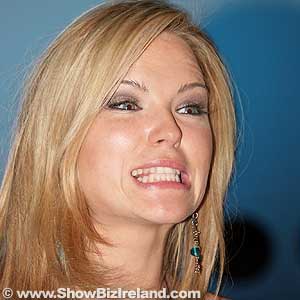 SARAH MORRISSEY @ MR IRELAND
Well it's far better than 'The Lady in The Goodtime Emporium' suggestion!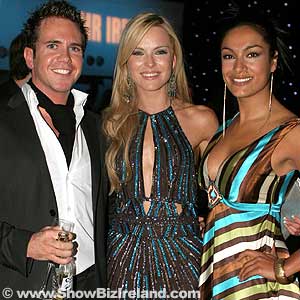 DECLAN LEAVY, SARAH MORRISSEY & GAIL KANESWARREN @ MR IRELAND
According to reports in the media this week the couple met up when Wesley contacted Rosanna via her Bebo webpage and the romance evolved from there...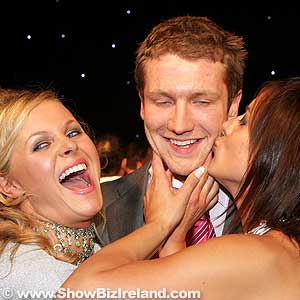 AMANDA BRUNKER, SIMON HALES & LUCY KENNEDY @ MR IRELAND
And credit-where-credit-is-due we would like to give much respect to our man Wesley Quirke - the man who pulled Miss World on Bebo... One word: Legend! We are not worthy, we are not worthy...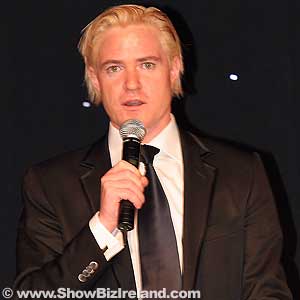 PJ GIBBONS @ MR IRELAND
Apart from all the commotion created by Wez and Rosie at Mr. Ireland, the competition delivered craic in buckets for the mainly female audience with Mr. Howl at The Moon, Simon Hales, finally taking the crown.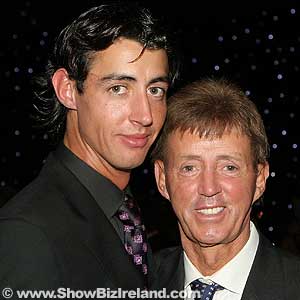 DICKIE ROCK & PETER ROCK @ MR IRELAND
Simon now heads off to China for the Mr. World finals very soon but for us Mark 'Linford Christie' Underwood should have taken the winner's tiara home to Lillies Bordello... We're sure Marko will really appreciate us putting this photo up...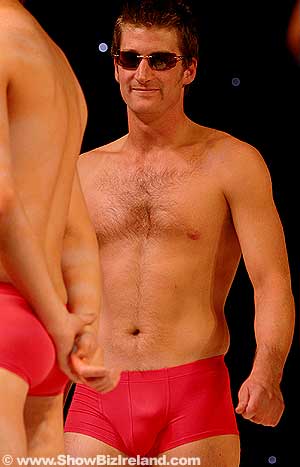 MR LILLIES BORDELLO MARK UNDERWOOD @ MR IRELAND
We are sooo barred!
Discuss this story in ShowBiz Ireland's Forums