Wanna Be Paparazzi & Make Easy Money?
Email us your Celebrity Digital Photos and Videos... There could be a fortune sitting in your mobile handset. If you snapped it then send it to us at:
Very. Important. Pictures.
03-10-06 news EXCLUSIVE WITH PHOTOS
Pete & Kate: Irish Bonnie & Clyde...
Last week saw Kate Moss & Pete Doherty, the most infamous couple since Sid & Nancy or even Bonnie & Clyde, fly into Dublin amid a torrential media storm...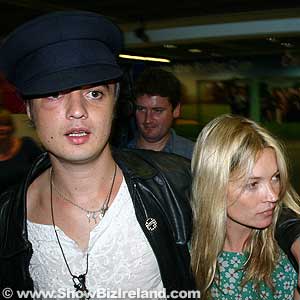 PETE DOHERTY & KATE MOSS @ DUBLIN AIRPORT
Their relationship is played out in the media with a story-line taken from a dark film script filled with drug abuse, rock-and-roll and the constant peering eyes of the world's paparazzi, but Pete and Kate seemed to be stronger than ever when they rekindled their love in Ireland last week.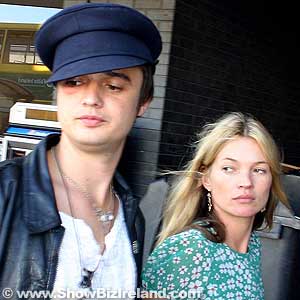 PETE DOHERTY & KATE MOSS @ DUBLIN AIRPORT
Last Monday-week the notorious couple landed in Dublin airport amid a swarm of photographers with Kate dressed humbly in a green flowery dress while Doherty was sporting a black-eye, a leather jacket and a military hat.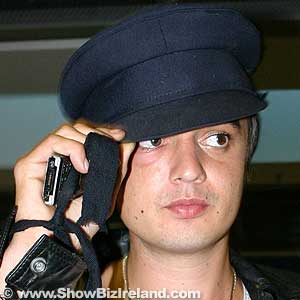 PETE DOHERTY @ DUBLIN AIRPORT
Never letting his dearest Kate more than an inch from his side he kissed and hugged her as he swept through the photographers and made his way to a waiting car...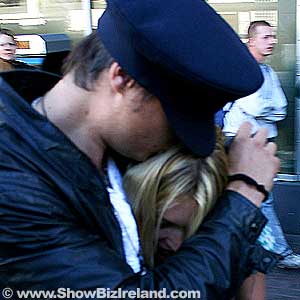 PETE DOHERTY & KATE MOSS @ DUBLIN AIRPORT
The couple seemed inseparable as they landed on Pete's ancestral soil, for this was their first time to be together since the Babyshambles frontman landed himself in The Priory for an extended rehabilitation from his hedonistic lifestyle.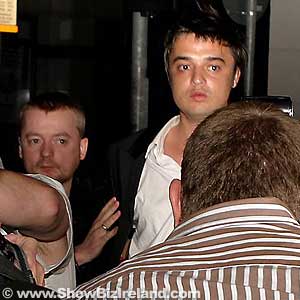 PETE DOHERTY @ THE MORRISON HOTEL
Once in their blacked-out car the couple fled from the assembled media and went straight to Room 136 in the Morrison Hotel, only emerging 2 hours later to head off to Pete's gig in Carlow where Kate Moss provided backing vocals wearing a skimpy pair of denim shorts...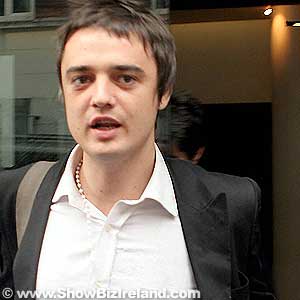 PETE DOHERTY @ THE MORRISON HOTEL
Pete and Kate used the Morrison Hotel as their base whilst in Ireland but didn't get to do much sight-seeing as there was about 20 photographers and journalists camped outside...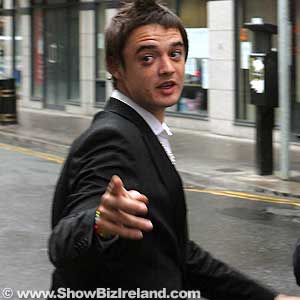 PETE DOHERTY @ THE MORRISON HOTEL
The following night they emerged again to face the flashing camera bulbs and sped off to Pete's gig in Dublin's Ambassador - after the gig it was reported that Pete arrived back at the hotel with blood streaming from his arm after an injury at the concert.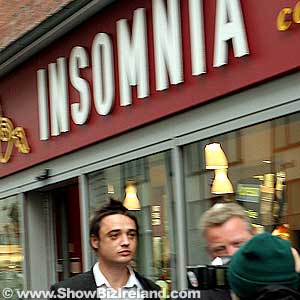 PETE DOHERTY @ INSOMNIA COFFIE HOUSE
Before checking out of his hotel and relocating to Belfast on the last day of their Dublin sojourn Pete kissed Kate goodbye and she left the hotel by the-back-door - giving the press the-slip and flying back to London...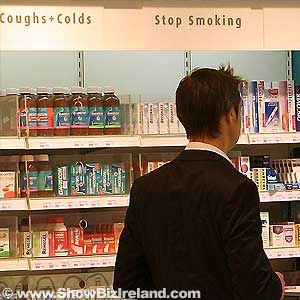 PETE DOHERTY @ HEALTH EXPRESS
ShowBiz Ireland exclusively spotted Doherty making a dash to the nearby Health Express Pharmacy were he bought some items that he kept hidden in his trouser pocket. According to our pals in the The Irish Sun he apparently bought two syringes!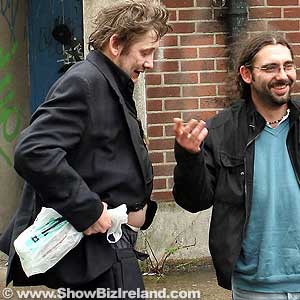 SHANE MACGOWAN @ THE MORRISON HOTEL
Before the Pete Doherty carnival left town and relocated to Belfast another notorious party animal, Shane MacGowan, emerged from The Morrison Hotel with a bottle wrapped up in a plastic bag and his trousers wide-open falling down his legs...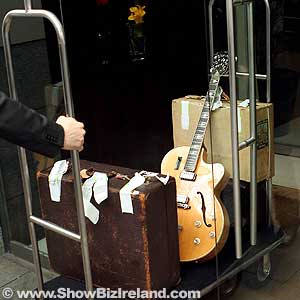 PETE DOHERTY'S LUGGAGE @ THE MORRISON HOTEL
All we can say after all that is: what a week!
Discuss this story in ShowBiz Ireland's Forums