Wanna Be Paparazzi & Make Easy Money?
Email us your Celebrity Digital Photos and Videos... There could be a fortune sitting in your mobile handset. If you snapped it then send it to us at:
Very. Important. Pictures.
20-11-06 news EXCLUSIVE WITH PHOTOS
Paris' Beauty Secrets Revealed...
Media unfazed Billion-Dollar-Baby Paris Hilton jetted into Dublin last week amid a storm of cameras to launch her Heiress perfume and inadvertently reveal her beauty secrets...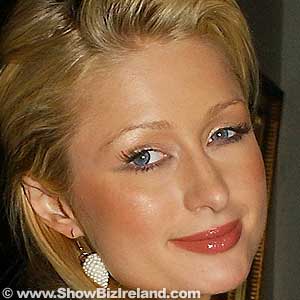 PARIS HILTON LAUNCHES HEIRESS IN DUBLIN
Every woman on the planet must be seething with jealousy every time they see a photograph of Paris Hilton in a magazine or newspaper, for it seems the party girl was born with both the looks and the money that almost guaranteed she would become world famous.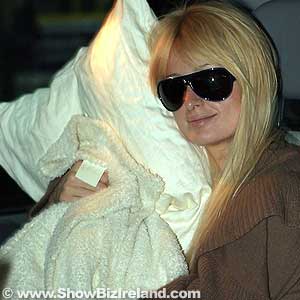 PARIS HILTON LAUNCHES HEIRESS IN DUBLIN
But when she arrived in Dublin airport last week (minus her pooch) looking pale with no make up, enormous dark glasses covering her eyes, messy hair, and dressed in a drab stained gray tracksuit we saw a completely different side to the style icon.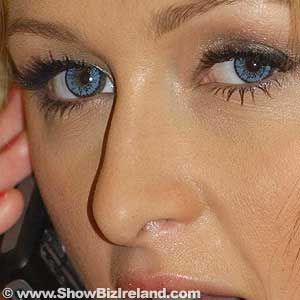 PARIS HILTON LAUNCHES HEIRESS IN DUBLIN
So with the knowledge that all may not be as it seems in beauty terms with Paris Hilton we instructed our photographers to zoom-in close on the blonde haired, Blue eyed, flawlessly tanned beauty during her two-day stay in Dublin...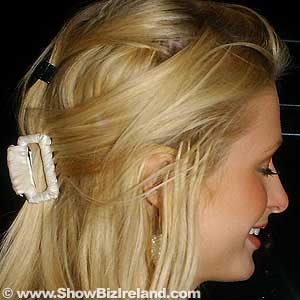 PARIS HILTON LAUNCHES HEIRESS IN DUBLIN
And what we found out will give hope to all you women out there trying to achieve the Paris look. First off her eyes aren't blue, they look more mottled green when you look beneath her tinted contact lenses as our photo clearly shows...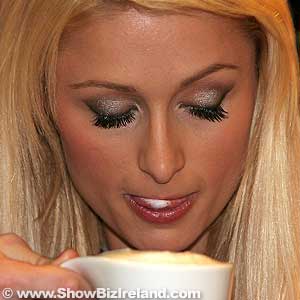 PARIS HILTON LAUNCHES HEIRESS IN DUBLIN
Secondly, her long blonde flowing locks are quite clearly enhanced by Hair Extensions glued to her roots. Thirdly, her fluttering eyelashes look like they're fake and lastly, her brown stained finger-tips suggest she applies fake tan!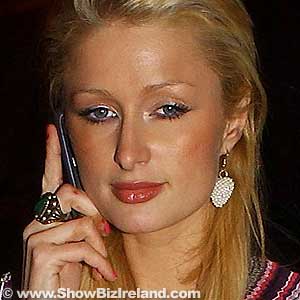 PARIS HILTON LAUNCHES HEIRESS IN DUBLIN
So there you are girls - with loadsa money and access to fake hair, fake eyelashes, fake tan and fake eye balls you too can look like Paris Hilton...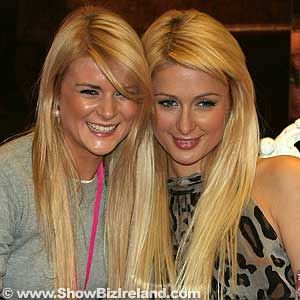 PARIS HILTON & IRISH FAN @ BT2
Paris was in Dublin to launch her new perfume range called Heiress in BT2 where 200 fans who bought the smelly stuff got to meet the sexy blonde.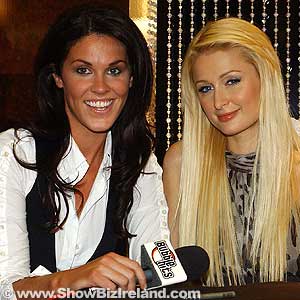 GLENDA GILSON & PARIS HILTON @ BT2
Our own sexy party girl Glenda Gilson was also amongst those waiting to meet Paris but on professional terms, as leggy stunner was interviewing her for the Bubble Hits TV Channel...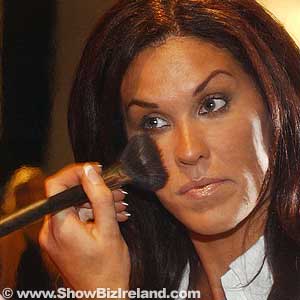 GLENDA GILSON @ BT2
Not to be outdone in the glamour stakes we spotted Glenda putting on a bit-of-slap before she went in front of the cameras with Paris. And we thought it was all natural!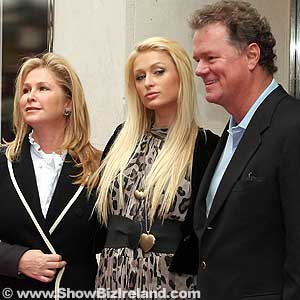 PARIS HILTON WITH PARENTS KATHY & RICK @ BT2
Paris Hilton stayed in Dublin for two days accompanied by her parents Kathy & Rick. She reserved tables at Cocoon bar, partied at Lillies Bordello and Renards nightclubs and stayed at the plush Merrion Hotel.
Discuss this story in ShowBiz Ireland Forums...