Wanna Be Paparazzi & Make Easy Money?
Email us your Celebrity Digital Photos and Videos... There could be a fortune sitting in your mobile handset. If you snapped it then send it to us at:
Very. Important. Pictures.
10-11-05 news EXCLUSIVE WITH PHOTOS
Rebel Yells: ERIN GO BRAGH...
It's sooo cheesy when big rock stars come to your town and give a big-shout-out in the native tongue, and predictably the crowd go crazy! Well, Billy Idols seems to have a unique slant on the practice...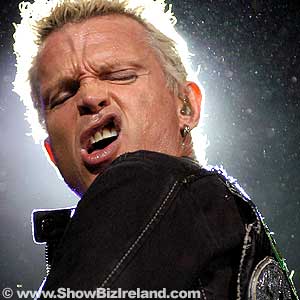 BILLY IDOL @ THE POINT
While watching the MTV European Music Awards each year it always makes our skin crawl when celeb after celeb walk-out onto the stage and say something in the native language, really badly...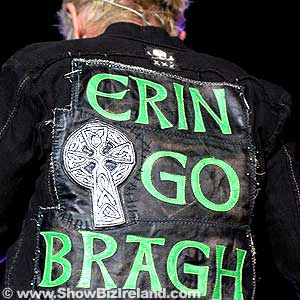 BILLY IDOL @ THE POINT
Plus, most concerts you go to these days the singer always says something like: "we love coming to Dublin, you Irish are the craziest fans on the planet!"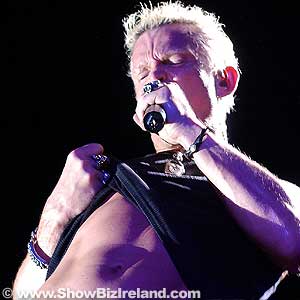 BILLY IDOL @ THE POINT
This practice stinks of cheese, but when Billy Idol turned around, in The Point last night, to reveal a giant patch reading "Erin Go Bragh," (Ireland Forever) we were very impressed...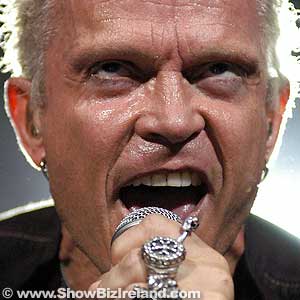 BILLY IDOL @ THE POINT
And for a guy now over 50 who was raised in a town in the UK called Dorking, Billy still is the original bad-boy. The years of partying seemed to have preserved the fish-hook lipped rocker!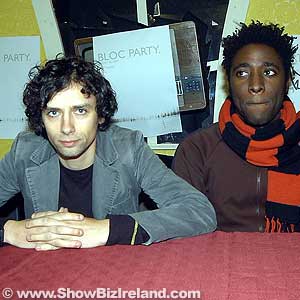 BLOC PARTY @ TOWER RECORDS
Indie Rock band, the excellent Bloc Party were also around Dublin over the past few days...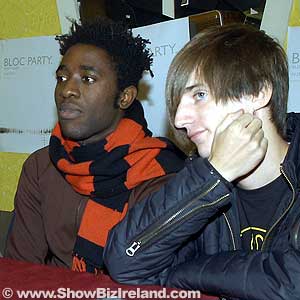 BLOC PARTY @ TOWER RECORDS
The UK foursome were in Tower Records to meet fans and sign copies of their new album Silent Alarm as well as play a sold-out concert in The Olympia.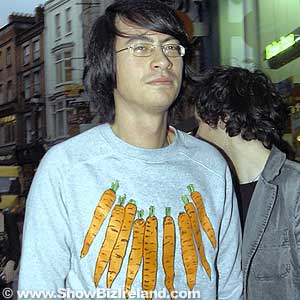 BLOC PARTY @ TOWER RECORDS
From their general composure it was hard to tell if they were bothered by Liam Gallagher's latest comments: "You've got Kings Of Leon, you've got the Strokes - I'd much prefer listening to them than Bloc Party."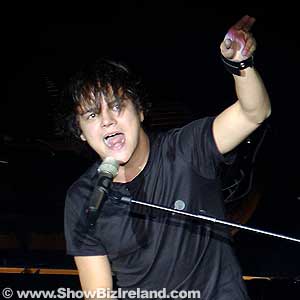 JAMIE CULLUM @ THE POINT
Jamie Cullum, Britain's fastest rising jazz star, played the National Stadium on Monday night with a high energy yet intimate performance with tracks from his latest album Catching Tales. Jamie delivered a another fantastic set.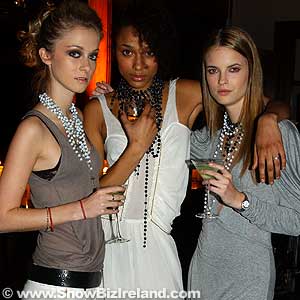 PORTIA FREEMAN, PATRICIA MATZDORF & SOPHIE HOLMES @ ALLSAINTS
Lastly, the new fashion store in the Powerscourt Towncentre, ALLSAINTS, opened with a bang last night with a bevy of beauties enjoying the Westcoast Cooler and tunes by DJ's Bones & Ramsey and the Lancaster Bombers.
Make sure you check out ALLSAINTS new slim fitting, punked up and slightly gothic collections for both men & women...
Discuss this story in ShowBiz Ireland Forums...