Wanna Be Paparazzi & Make Easy Money?
Email us your Celebrity Digital Photos and Videos... There could be a fortune sitting in your mobile handset. If you snapped it then send it to us at:
Very. Important. Pictures.
30-11-00 news
Welcome to Huey's bar...
Andrea Corr's ex-boyfriend Huey Morgan (the lead singer with the New York band The Fun Lovin' Criminals) is to open his own bar in Dublin this Friday. The unofficial opening of the bar which is called Voodoo will swing open it's doors this Friday with a big official party being set up for the 14th of December.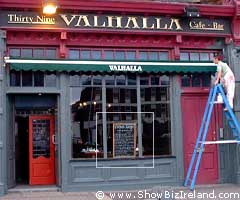 Huey's bar changing signs yesterday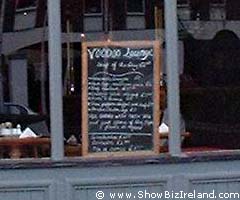 "Voodoo Lounge" coming soon
According to Dermot Doran who was speaking exclusively to ShowBizIreland.com this week the bar may open with the FLC on stage on the 14th when Huey and the boys hit town.
"The bar is owned by four partners and myself and Huey are two of them. He hopes to be here on the 14th for the opening and who knows they might even do a gig even though Voodoo doesn't have a stage."
Huey Morgan who dated the Irish stunner from The Corrs last year will be dishing out the scooby snacks and serving the Guinness for a VIP guest list. The funk rocker, who is a big fan of Ireland's drinking holes, has bought a significant stake in the bar and is partners also with the New York club king Nick Cohen.
Huey will be involved in the music policy the bar takes and reports suggest that the venue will be "a dark den of reggae, R&B, hip hop, house and Caribbean music."
Speaking about his new venture, Huey said "I'm half-Irish myself. I've made some good friends there, and I like the vibes in Dublin. It's very relaxed and that appeals to me."
This is not the first time Huey has been involved in hospitality this side of the Atlantic. He set up a restaurant in London last year because he said he hated the food in England and couldn't find anything worth eating.